Shopping Cart
Your Cart is Empty
There was an error with PayPal
Click here to try again
Thank you for your business!
You should be receiving an order confirmation from Paypal shortly.
Exit Shopping Cart
Features, Reviews and a Blog by John Sciacca
| | |
| --- | --- |
| Posted on May 7, 2013 at 3:10 PM | |
Last week, I attended a vendor expo in Scottsdale, Arizona hosted by Ingram Micro. Our awesome rep, Brian Whittington, solidly hooks this brother up with an invite to the event each year, and I dutifully repay the favor by attending and sending as much business his way as I can.
In the past, the expo has been held at The Talking Stick Resort on an actual Indian reservation. As nice as the that Stick was when it was Talking, the hotel this time was even more awesome-er-er. This year they put us up at the Fairmont Scottsdale Princess, a AAA 5-Diamond rated property that was just #Winning.
After just four days, I can assure you that the Fairmont Princess is truly how the other half live. And, let me further assure you, they do have it better. Their skin has a healthy glow. They laugh a little louder and a little longer. They lounge by beautiful blue waters while young ladies bring trays of drinks and bento boxes full of delights. At that's how those that are hanging at the Fairmont roll. (Though, after spending several hours by the pool, I have to say that they aren't necessarily the beautiful people...)
Here's a view of the front of the resort at night.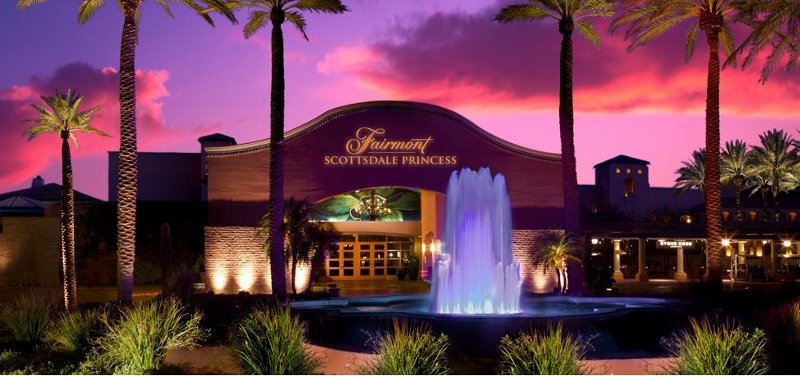 Doesn't it just say, "Please, pull your exotic Italian sports car around and let our man relieve you of all your luggage while he hands you a delicious chilled tea from our lobby to cool your delicate palate! The stress of travel must have weighed on you…complimentary chair massage while you prepare for check-in?" They have this sweet deal called the Fairmont President's Club. It is free to join and in exchange for being willing to receive a once/monthly e-mail the Fairmont will grant yuo free WiFi privileges all over the property during your stay. Also, when I was checking in, the girl at the front desk saw my elite Presidential Club member status-ness and said, "I'm going to give you the room with my favorite view on the property." I, of course, accepted in a manner benefitting a Presidential Club member. Before I get to the view, here are the obligatory shots of the room…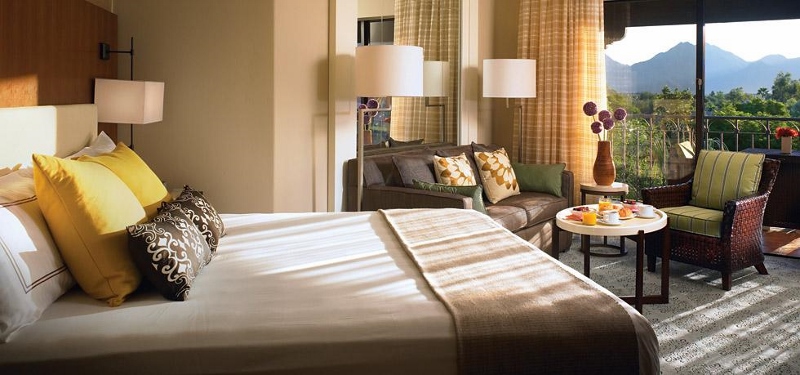 Tech-wise the room was a solid B. There was a 46-inch Sharp TV and a clock radio thing that had an iPod dock. Unfortunately, with my new iPhone5 and lightning connector, it didn't work for me. There was a well-stocked mini-bar with *just* enough room to slide in a leftovers-filled Styrofoam container Tetris-style. There was a Keurig single-serve coffee brewing system which was nice; way better than the drip-brew systems you usually have to suffer with.
Here's the bathroom…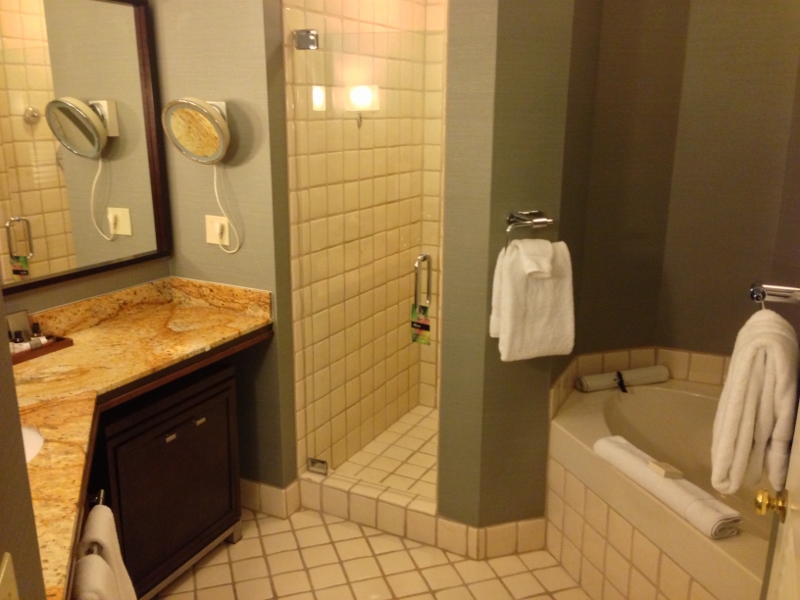 A pretty rockin' bathroom with a big shower and rain-fall shower head. Did I feel a little guilty with my twice-a-day, lengthy stand there and just let the water rain down on you for like 10-plus minute showers? In a totally desert, "Dear God! Where will our next drop of water come from?! Please! Just…a…single…life-giving…DROP!" Meh.To be fair, I did hang my towel back up to keep them from having to wash it. So I figure that makes me and Arizona water even-steven.

So, here is the glorious view that I had to suffer through looking out of my room's balcony.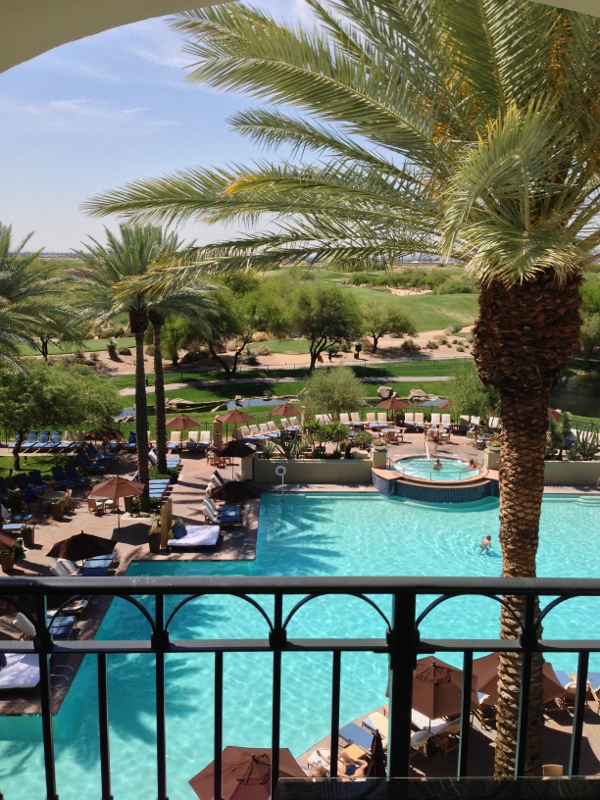 Just sitting up there enjoying the warm dessert air and the cool AC breezes from my room, creating a perfect tropical climate as I sat on my balcony tapping away on my laptop, sipping a glass of wine and overlooking one of the five pools and the #4 tee at the TPC Stadium Golf Course. It's the kind of hang-out you can picture Hemmingway enjoying; sipping on a Sazerac, starring off into the grassy, desert-ey distance, occasionally looking down to see if there is any new talent in the pool, and steadily banging out his next great work. I wrote a blog on theater design mistakes. So, pretty much tomayto/tomahto. Though, in the mornings these birds would fly up into the palm tree and then either try and kill each other or mate-to-death right outside my room. It was a little disconcerting. Not quite like a peacock screaming -- which, if you've ever heard, is a sound you'll know to haunt your dreams for eternity -- but not like the gentle, restless lapping of water against rocks.

Here's a view from the pool looking back.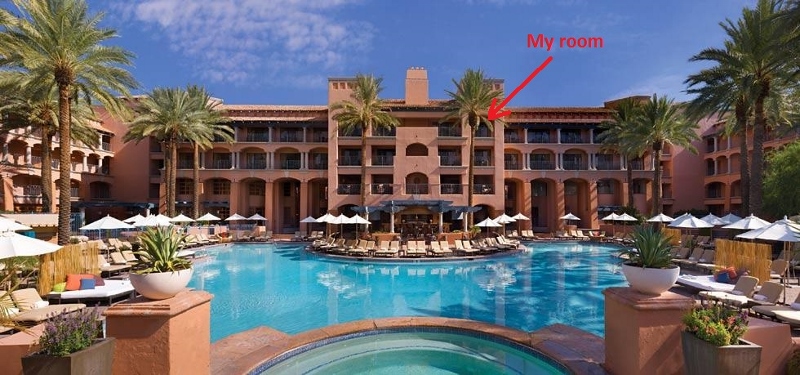 I did spend some sweet time by this pool. The funny thing about Arizona weather is that while it is hot-hot – like 101 while I was there – it is a dry heat. Sure, in the summer, when the weather is cresting a buck twenty-three it is dry like the way crawling into your oven would be dry. But at "only" 100, it really isn't too bad. And you hardly sweat. Once a single pour even contemplates producing a droplet of body moisture, the sun *immediately* whisks it away to never land. But, just sitting by the pool, you can literally feel your skin baking, and can just lie there and watch any exposed bits of flesh turning red. It's like your own time-lapsed nature documentary.
Also, if you don't like this pool, there are several other you can visit. Including this tower of awesome: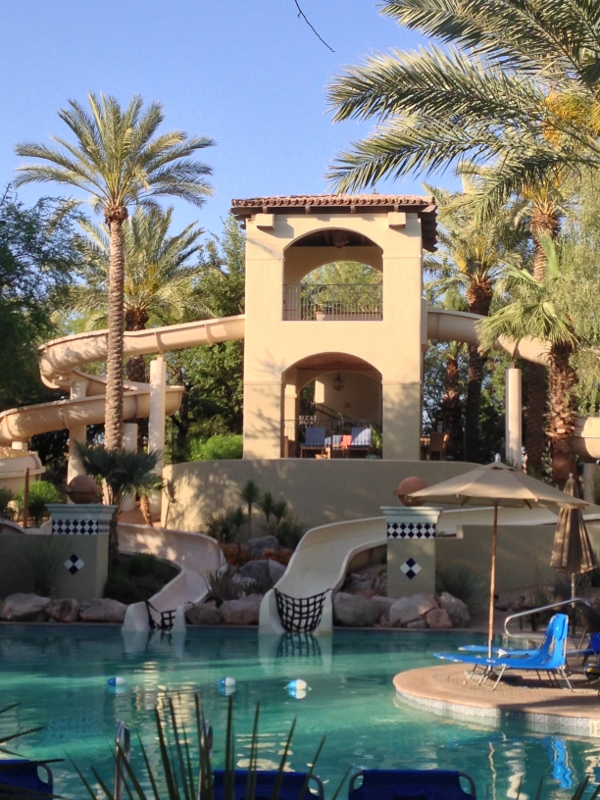 Yeah. That's right. A double waterslide tower. I think this was pretty much meant for kids – especially since I was literally twice as tall as the "You must be this tall to ride" sign – but no matter. There were no kids rockin' the tower, so I took a couple of rides in Lauryn's honor. Should you find yourself in a waterslide race at the Princess, the right slide seems to be faster, and I highly recommend a serious back arching technique where only your shoulders and heels are touching the slide. #ProTip
I should mention one unseen danger lurking in the pool area. (And I don't mean walking barefoot even like two steps on the liquid magma hot concrete surrounding the pool.) There were these large umbrellas, and I'm lying there, shielded from the intense solar radiation bombardment by scant millimeters of cloth umbrella when a small scirocco (the hot desert wind, not the Volkswagen) wanders through and upends an umbrella across from me, narrowly avoiding smashing this couple that was lounging. The woman cries out in panic as she is suddenly covered in the unwelcome embrace of a groping umbrella. The pool man runs over and replaces the rogue 'brella, and the couple gets in the water to soothe their jangled nerves. Like five minutes goes by and the umbrella goes flying over again, totally heart-piercing the lounger right where the lady had been lying! It was kind of horrifyingly awesome. From then I kept a wary eye out for another episode of When Umbrellas Attack.

The grounds of the property are also awesome. Instead of a cramped, hallway of room upon rooms feel, it is a sprawling open wonderland with paths the take you around the golf course (from #3 tee to #4 green). I stumbled on this area which was something out of a Universal Studios' Wild West show.

It had these buildings labeled "Jail" and "Undertaker" and "Bank" and "Saloon." There was a stage where it looked like they would perform shows and a rodeo kind of area. I truly have no idea what this space was, and as I wandered around going through all the buildings, it was totally void of people and totally felt like an abandoned ghost town.
This is a shot of the courtyard that I took just because I loved the symmetry of the composition. I know. I'm an artiste.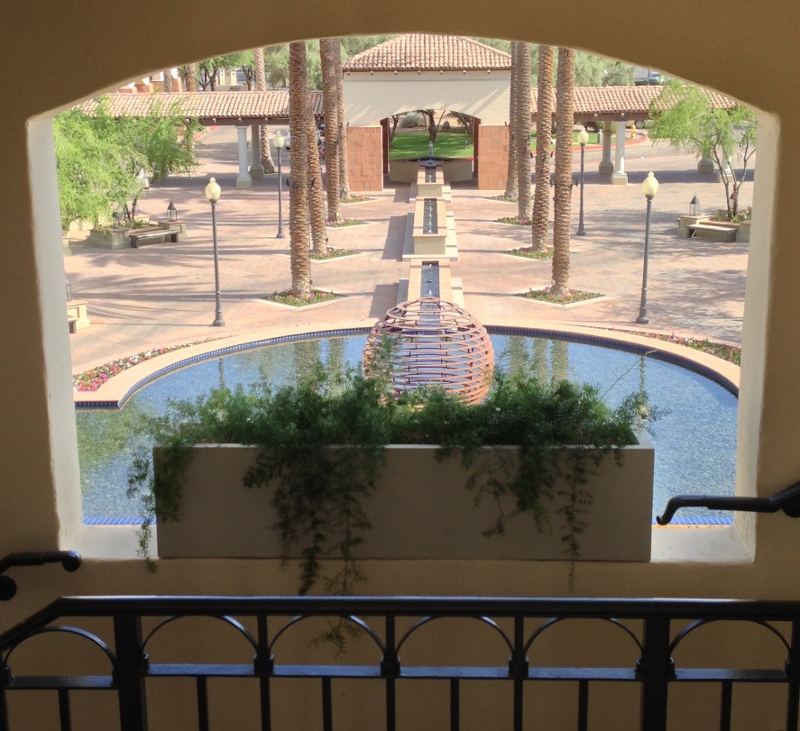 There are lots of cool places to just hang out around the property. You can just grab a comfy seat and plop down and nap or drink or read or just stare off into the distance and softly mumble to yourself like you've got it all figured out. Also, if you get cold when the temps dip into the chilly-90s at night, don't worry! The Princess staff lights a bunch of stuff on fire!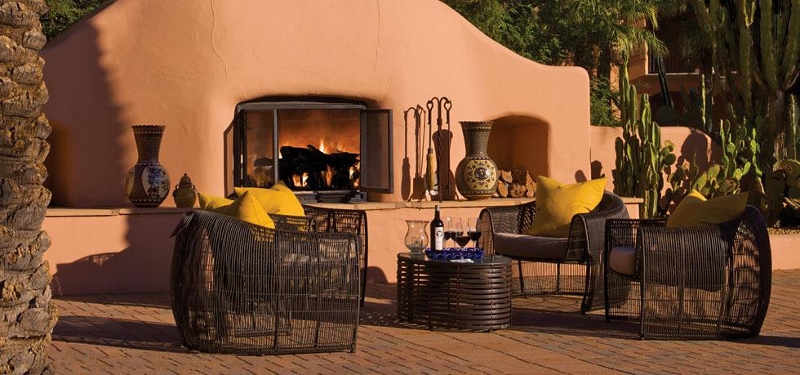 The Plaza Bar is in the middle of the courtyard and has multiple TVs and enough giant JBL speakers to ensure that if you get bored of talking to the people around you, you can just say, "Sorry, dude! Can't hear you!" And then kind of shrug your shoulders and point to your ears and the speakers. The bar also stocks 30 year Macallan which is a pretty sweet attribute in a bar, and probably what garnered the Princess its 5th Diamond from AAA.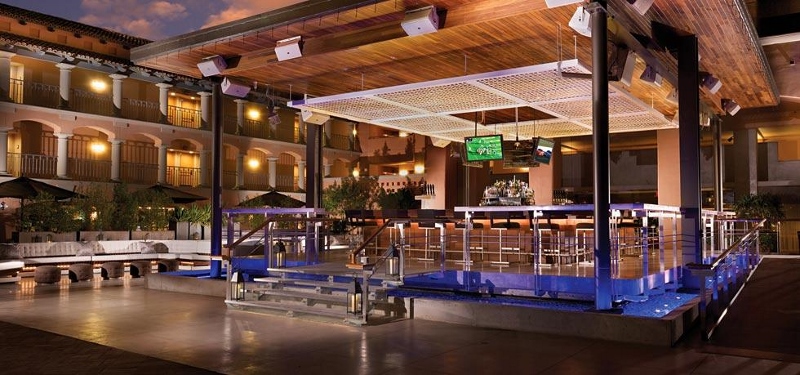 One of the venders at the expo was Ergotron/OmniMount, and they happen to employ one of the most awesome PR-gals in the industry – technically "Communications Manager" – in the form of Betsey Banker. (And I'm totally not just saying that because she has sent me some mounts and enjoys the amazing hop freshness of Stone's EnjoyBy IPA. My review of said deliciousness here.) Omni's HQ is like 30 minutes away from the Princess and Betsey was able to steal away from work for a wee-bit and show me around the area.
And by "show me around" I mean take me on a dessert mountain death climb in the very height of afternoon when the Arizona sun was a white-hot monster in the sky and weather was cresting 102. I believe the hill was called Everest or Kilimanjaro.
So we get to base camp and park and Betsey says she thinks this is a nice fitness climb that is good for getting the heart rate up and then starts motoring up this unsummitable peak. It's like truly desert conditions. Like things are dying from heat and parched-ness all around us. Pebbles are sliding underfoot and cascading down the mountainside below. I might have started crying, but it was hard to tell since the sun stole any moisture the second it hit exposed air. And meanwhile Betsey is just troopering away. (And, in case any OmniMount or Ergotron people are reading, she was *totally* talking about your product lines, and vertical integration, and workplace ergonomics, and #JustStandOrg the entire way up! It was inspiring!)
She also tells me that she recently did like a 15 mile run with her dad, just got a new food dehydrator to make her own food for her overnight mega-hike trips, and does Bikram yoga. For fun. Bikram yoga, in case you've never heard of it, is this thing apparently developed by Saddam when he found out that the world frowned on gassing people. Instead, they make you do an hour of intense yoga in a totally closed room that is packed with HEATERS until the sweat chamber reaches like 100+ degrees and mega humidity. So, yeah. That. For fun!
So we're going along for like 20 minutes or so, eerily not sweating before the very gates of Hell, but probably dying a little each second, when we get to this scenic waypoint:




If you look real close, you can see the teeny-tiny cars like 500 miles off in the distance. That's where we parked. And I'm like totally trying to be a trooper, sucking it up in my blue, slip-on "thought I was going to be hanging by the pool" tennies, gulping down the water Betsey brought – and trying not to feel like a wuss because Betsey is hauling the water around like my personal blonde-and-uber-peppy Sherpa – and sucking in battling gasps of hot-oven air and hoping not to have a heat-stroke-vomit. (Which I've heard is pretty way uncool on a nature fitness hike.)




Taking in the scenic while I clutch on to the water bottle like life itself, staring pensively off into the distance, I manage, "So, umm, percentage-wise...where do you think we are right now? Like half?"




Betsey thinks for a moment. Takes a teeny, bird sip of water. Looks up, looks down, and then says, "Umm… 20? Maybe 25%?"




ARE YOU F-ING KIDDING ME?!? Ugh! You win this round, mountain! They should actually put Betsey's picture on a T-Shirt that says "Climb like a girl." I'd wear it. (Actually, I'm totally not even deserving to wear it. I'd aspire to getting to a point in my life where I *could* wear it.)




As we're heading back down the mountain, a dusty cloud of shame raising at my every step, Betsey says, "I guess I just assumed that since you're tall and thin, that you'd be athletic, like a runner or something…" Ouchey. But true. Clearly just standing at an OmniMount standing desk and occasionally walking around our flat neighborhood at a lumbering 20-minute-mile pace has not prepared me for a more adventurous lifestyle. That's why I've asked Betsey and the Ergotron team to develop me a new variable incline, running desk. Sure, it will be tough to get work done, but by next year's expo, I should be able to solidly hit 50% of the trail…




As nice as the property was, I came out to Scottsdale for the expo, and it was cool. (A full post with many'a picture is coming...) Also cool was getting to hang out with my DBL rep, Brian. After the show, we hung on my balcony, drank some beers, talked about music and sports. So, thanks, Brian! I appreciate all that you do for me and my company and hope we can hang at the Princess again next year! And thanks to you too, Betsey! I'm not sure that "whatever doesn't kill you makes you stronger" is totally applicable in this case. More like "whatever doesn't kill you probably won't kill you right away." Either way, it was fun and you're a heck of a sherpa!


Categories: May 2013

0

/