Shopping Cart
Your Cart is Empty
There was an error with PayPal
Click here to try again
Thank you for your business!
You should be receiving an order confirmation from Paypal shortly.
Exit Shopping Cart
Features, Reviews and a Blog by John Sciacca
| | |
| --- | --- |
| Posted on May 9, 2013 at 12:20 AM | |
The world's largest technology distributor, Ingram Micro Inc., owners of CE distribution powerhouses AVAD and DBL Distributing, hosted a vendor expo for resellers this past week in Scottsdale, Arizona, at the absolutely beautiful Fairmont Scottsdale Princess resort, a AAA 5-Diamond rated property. (You can read all about this uh-MAY-zing hotel and my mountain nature trail fitness hike/death march with OmniMount's Betsey Banker here...)

The theme of this year's expo was "Plugged in to CE" and during the kick-off keynote, Ingram's VP/GM Tom Bamrick remarked the event was "a collaboration and partnership to increase business and relationships."

Also on hand were some heavy-hitting representatives from CEA, including CEO, Gary Shapiro, and Senior Research Analyst, Chris Ely, who both shared interesting insights into the future of this CE industry including Top Planned CE purchases for 2013. (Spoiler: it's headphones.)


The expo drew 450 attendees and featured more than 135 different vendors including Samsung, OmniMount/Ergotron, Monster, Atlantic Technology, Sanus, Sherwood, and Microsoft, allowing west coast integrators that didn't attend CEDIA an opportunity to check out some of the latest technologies and meet with vendor representatives to discuss business opportunities.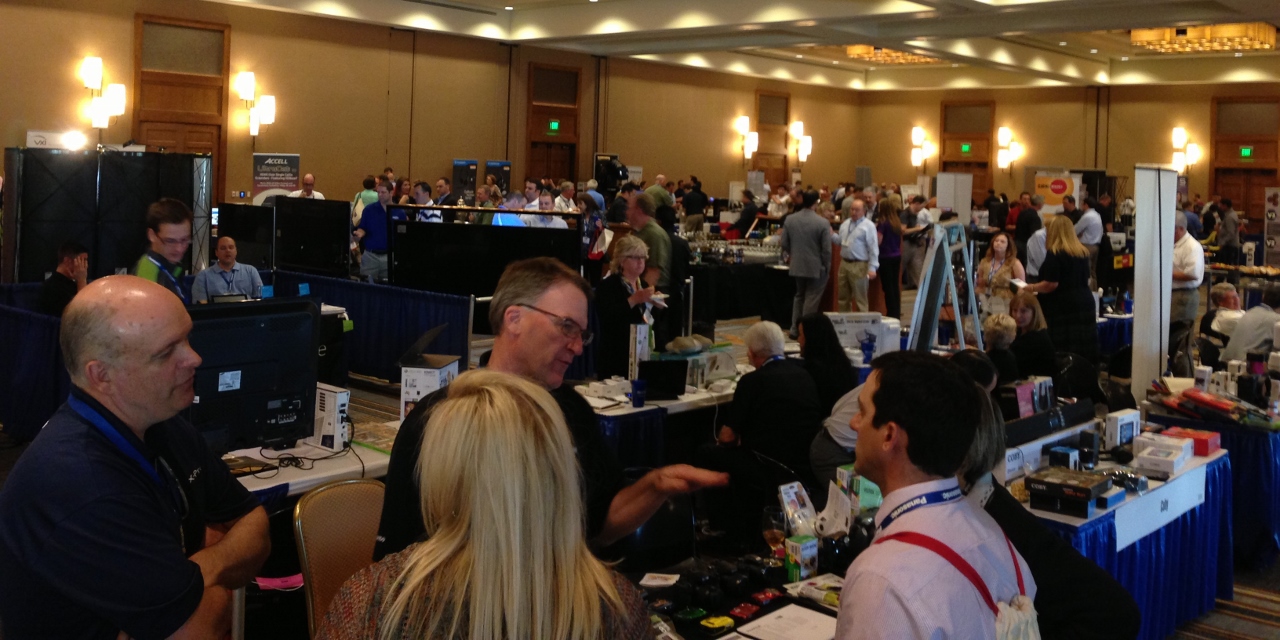 Gary Shapiro introduced the event by saying, "Our only mission is to grow the industry," and he spoke for over an hour on the state of the CE industry and took audience Q and A. (I asked him about PRIMA Cinema and what he thought the future of day-and-date streaming might be, but unfortunately he wasn't familiar with PRIMA.)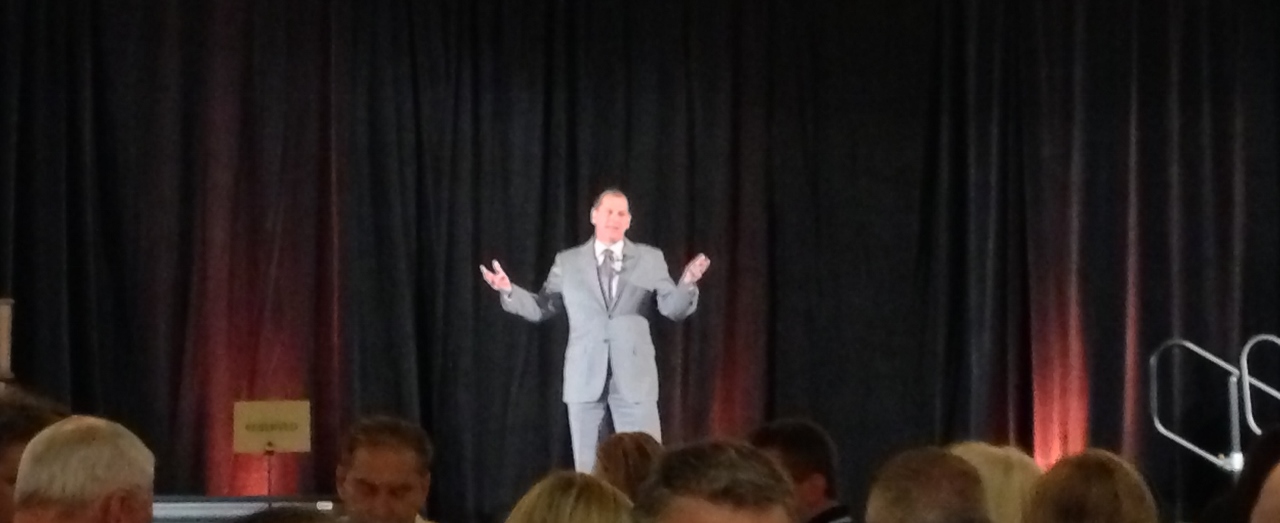 Shapiro is bullish on UHD, thinking that it will be "the next big thing." I asked him if he thought that it would just be another 3D, a technology basically foist upon the public, but he felt that 3D was always destined for difficulty citing multiple factors such as people not wanting to wear glasses, a portion of the population not being able to see the 3D effect and others that feel ill effects from the technology. Whatever your thoughts on UHD or 4K, it is coming, so be ready for it…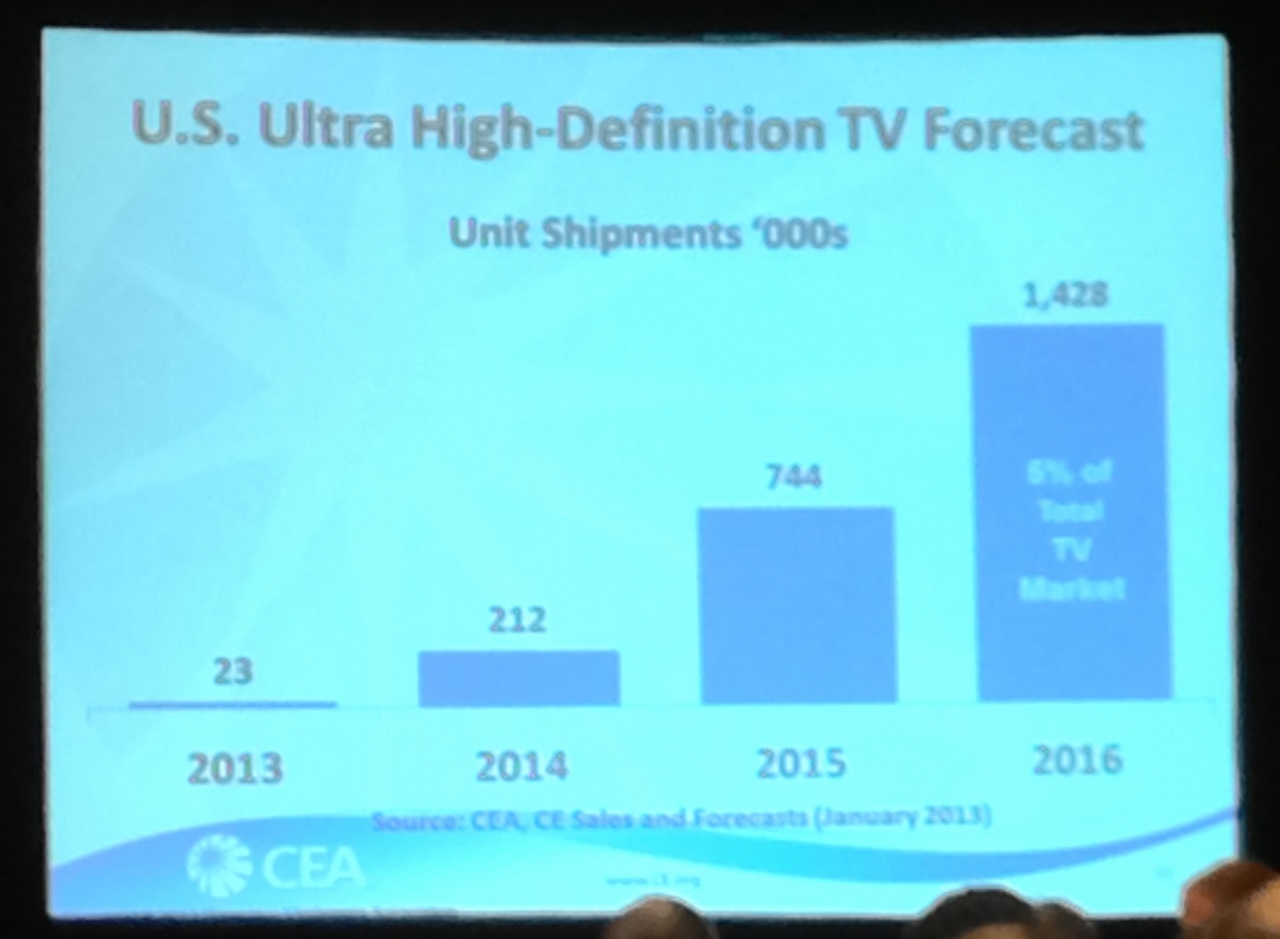 Probably not surprising to anyone, 3D led the list of "Least Prevalent CE Products" with only a 9% household penetration. (And the majority of those likely people that purchased a set that just happened to have 3D as a feature.) Showing incredibly room for growth in the category is the 11% soundbar penetration. With HDTV having a 74% market penetration, it is clear that this soundbars is a growth category that can fuel a lot of sales. For more on how to sell high-end soundbars, read this post, coincidentally written by yours truly.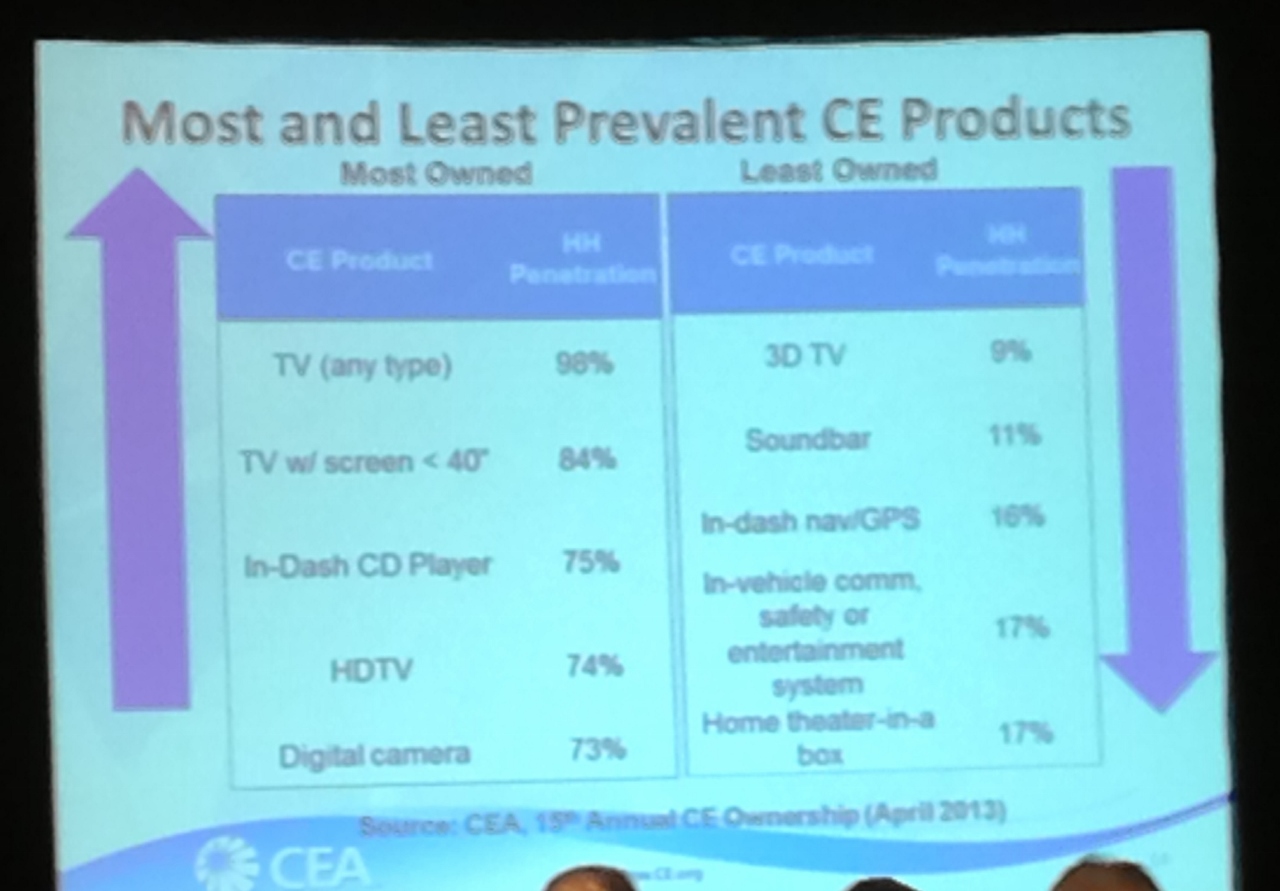 Every attendee was given a copy of Shapiro's book, "Ninja Innovation: The Ten Killer Strategies of the World's Most Successful Businesses," and Gary and took a few moments to chat with each person and personalize copies. In mine he wrote, "To John, Thank you for shifting from golf to CE! Be a Ninja Innovator!! Gary." Dear CE, Thank you for saving me from golf! I love you much more!! John.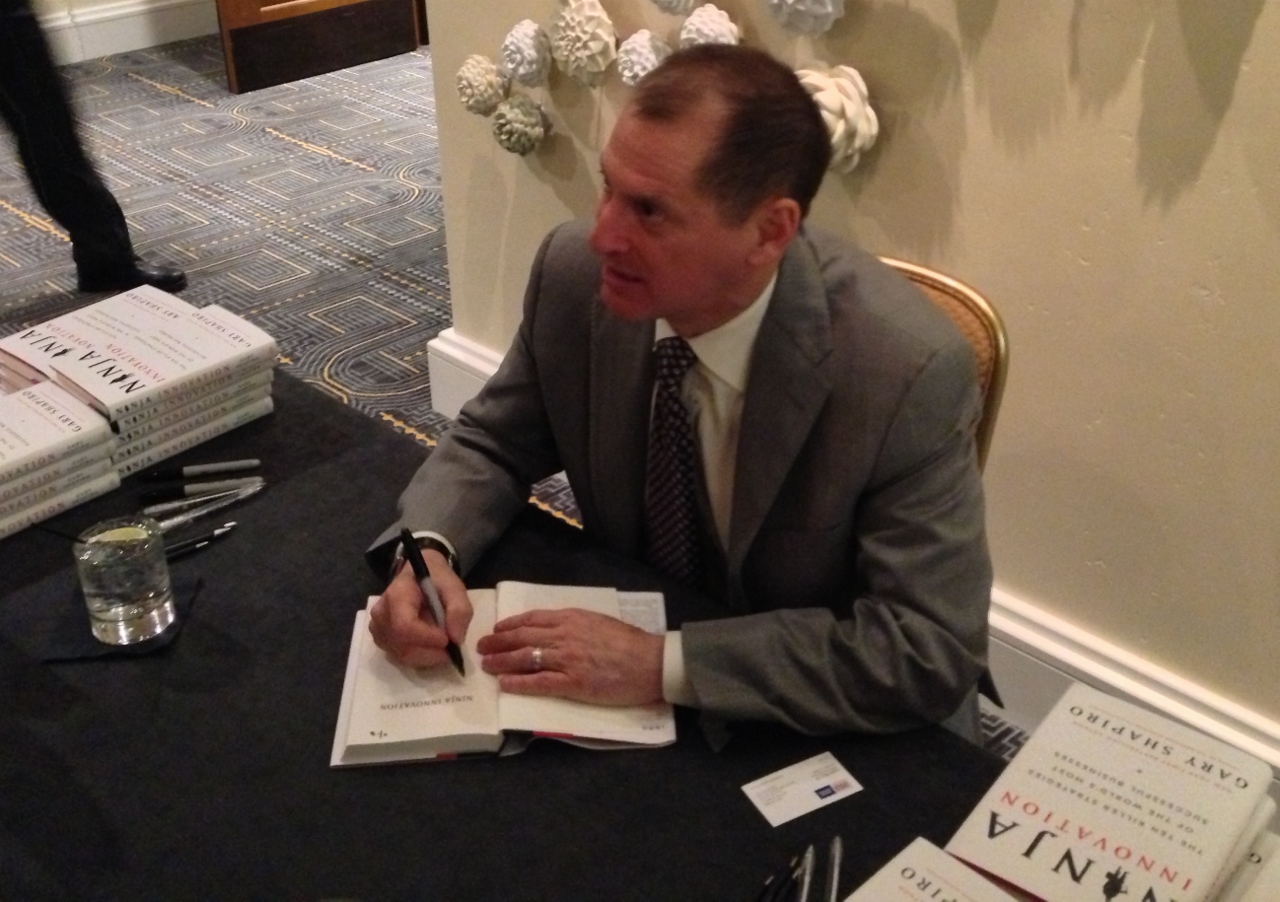 A new twist to the expo this year was a "Speed Dating" session where you were given 12 minutes with a manufacturer that you did business with or were interested in learning more about. The speed dating session took place before the expo started, and was a really nice chance to spend some uninterrupted, quiet time asking questions and getting to know more about the vendor and their products.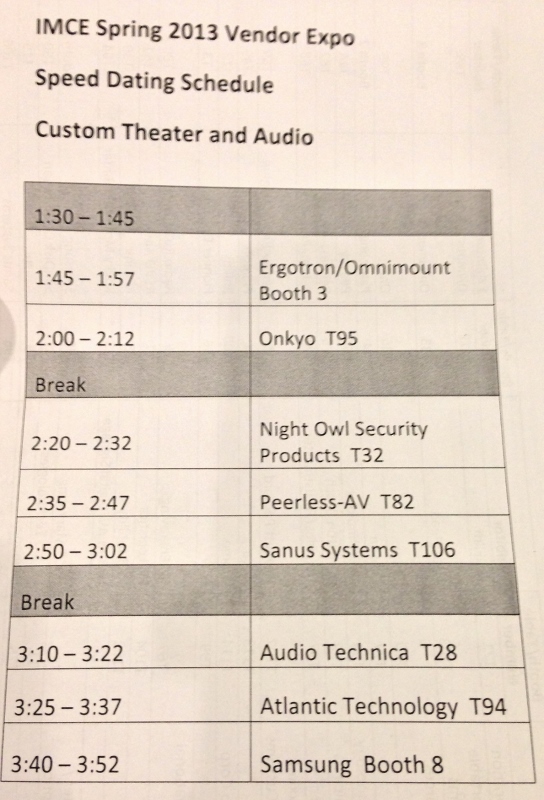 One of the coolest things I saw at the expo was from garage door manufacturer, Chamberlain. Yes. A garage door manufacturer. Why garage door companies can't provide a discreet up/down command has boggled my mind for years. This would enable easy integration with a variety of systems to easily know the status of the door. Instead, I can't tell you how many times have I had to get up and check to see if the door is closed to appease my wife?! Usually when I'm in bed. At like midnight. It's my personal hell. But with this ingenious device and free app, you can now check the status of your garage door from the civilized, scotch drinking recesses of your couch/bed and close the door! Or do it from the comfort of anywhere in the world! And, oh sweet serendipity that I happen to have a Chamberlain garage door opener. And that they gave me the "Internet Connectivity Kit" to control my door! Installation took minutes and the system is working terrifically. This is a great add-on sales opportunity to give some real-world automation to anyone at an incredibly affordable (sub $100) price! It's such a cool product, I'm actually planning a full review, so stay tuned…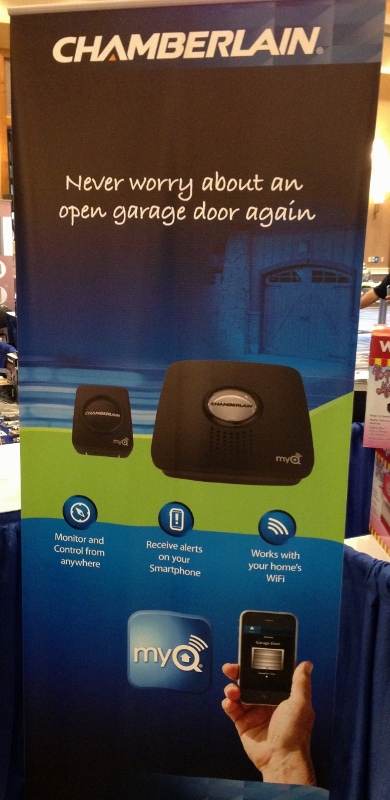 If you didn't make it to CES then you haven't laid eyes on the full might and awesomeness of 8 million glorious pixels (3840 x 2160) courtesy of Samsung's new flaghip 9000 series UN85S9AF. The picture looked uh-MAY-zing showing native 4K material that was so realistic you wanted to leap into the screen and start frolicking about. It also sits on a "Timeless" (their words) stand/frame which is like an art easel. Includes all the smart features you could ever want, including an ultra-fast quad core processor. But it will cost you. Dearly. Those wanting to go with 85-inches of UHD awesome will need to shell out just under $40,000. Yep. Forty. Thousand. Dollars. Ka-boom! (drops mic)
Categories: May 2013, CTA, Electronics
/