Shopping Cart
Your Cart is Empty
There was an error with PayPal
Click here to try again
Thank you for your business!
You should be receiving an order confirmation from Paypal shortly.
Exit Shopping Cart
Features, Reviews and a Blog by John Sciacca
| | |
| --- | --- |
| Posted on May 29, 2013 at 5:10 PM | |
Dana and I had the pleasure of seeing Steve Martin and the Steep Canyon Rangers play with very special guest Edie Brickell this past Monday night (May 27) at the North Charleston Coliseum.
Don't feel bad if you weren't aware that Steve Martin is an accomplished  banjo player (banjoist?), as that would just make you like 99% of the rest of the free world. (Apparently he is huge in North Korea. Kim Jung Un is a freak for some bluegrass, and loves singing along to a quality murder ballad . . .) While wasting his time and talents on acting, writing and comedy, Steve has also managed to squeeze in some pickin' and grinnin' for the past 50 years, and it's clear that the banjo is a real passion of his. If you recall, the banjo was part of Steve's early stand-up comedy.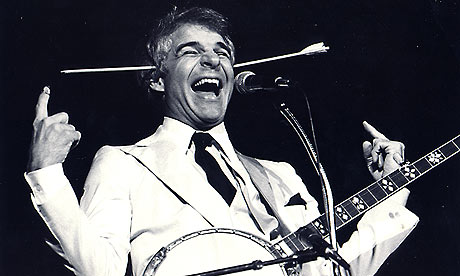 He also performed a lovely version of "Tonight You Belong to Me" on the banjo with Bernadette Peters in The Jerk.
Like many of you, my first real brush with bluegrass music — defined by Wiki as "a form of American roots music, and a sub-genre of country music. Bluegrass was inspired by the music of Appalachia. It has mixed roots in Scottish, Irish and English traditional music, and also later influenced by the music of African-Americans through incorporation of jazz elements" — was in the film O Brother, Where Art Thou? The music is free and easy, earthy and light, and often tells a story in the song. (Imagine Kenny Rogers' "The Gambler" or "Coward of the County" with more banjo and fiddle and less three-pack-a-day-cigarette voice . . .)
To be honest, while I enjoyed much of the music in O Brother, and am a big Steve Martin fan ("The Diarrhea Gardens of El Camino Real" anyone...?), I would have gone to see Martin and the Rangers if they had been beating oil drums with hammers accompanied by the soothing staccato of an air-raid klaxon when I found out that Edie Brickell was playing with them.
I love Edie Brickell. Like I italics, bold, underline, all caps LOVE Edie Brickell. Her Shooting Rubberbands at the Stars is one of my Top 10 albums. I also have Ghost of a Dog (particularly love, "He Said" and "Me By the Sea"), Picture Perfect Morning, Volcano (ditto "What Would You Do?" ) and Stranger Things. So I was not -- NOT -- going to miss a chance to see her perform live.
Prior to the show, I downloaded Martin and Brickell's new album, Love Has Come For You, and gave it multiple listens, and I have to say that I really enjoy many of the songs.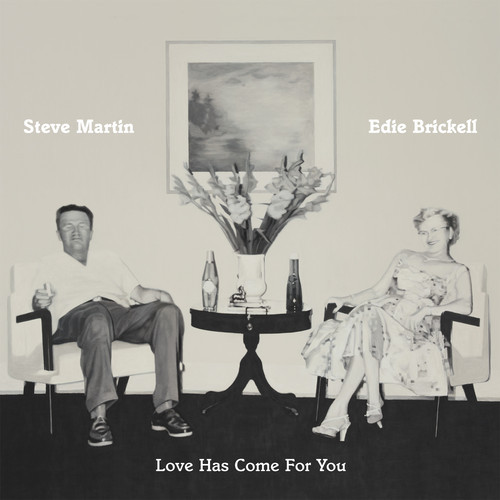 The album is pretty short at sub 40 minutes but it is easy to listen to, and is so refreshing compared with the overly engineered and synthesized pop music flooding airwaves today. And not a drop of autotune to be found on any track! The bluegrass music seems a perfect fit for Brickell's airy, ethereal, floaty/dreamy voice and lyrical quality, and it would be easy to see many of these tracks as part of her early work with the New Bohemians. (And that's high praise.)
So while I knew the 13 tracks on the album, I didn't really know what to expect at the show. And while I hoped that Edie would perform some/any of her own material, that didn't happen. Also, if you are expecting any King Tut or "I'm a wild and crazy guy!" schtick, you'll be disappointed. Even so, it was a great concert, and was evident that terrific performers shine regardless of the genre.
The show opened with Martin and the Rangers walking out to no fanfare. We were seated near the center in Orchestra Row H about 30 feet back, but Steve was wearing a virtually iPhone-photo-proof white suit that horribly overexposed in the stage lighting, which made taking a good picture almost impossible.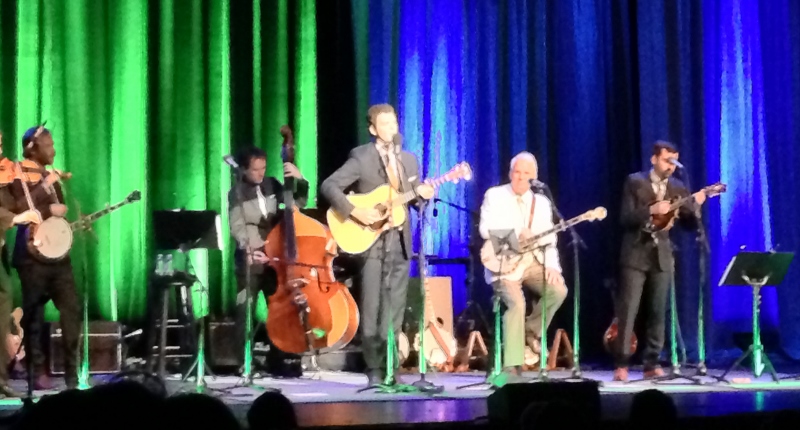 Steve kept up a steady bit of comedy patter before each song, talking easily about his love for banjo and bluegrass, how he met the Steep Canyon Rangers ("I don't consider them so much as my band as I am their celebrity" ) and random observations: "I understand that an invitation to see me in concert playing banjo is a little out of context. A bit like finding out that Jerry Seinfeld is doing a show. Playing bassoon."  
Steve is an easy showman, and his wry, insightful, straight delivery kept the audience laughing throughout the two-and-a-half-hour show. He started off the night saying, "They say it's impossible to come to a bluegrass show and not have a good time. So let's show 'em how it's done guys!"
Click here to continue reading my review/recap of this terrific show...

/