Shopping Cart
Your Cart is Empty
There was an error with PayPal
Click here to try again
Thank you for your business!
You should be receiving an order confirmation from Paypal shortly.
Exit Shopping Cart
Features, Reviews and a Blog by John Sciacca
| | |
| --- | --- |
| Posted on June 3, 2013 at 11:10 AM | |
As much as I enjoy enjoy drinking, writing and talking about beer, I actually have no interest in trying to make any for myself. It's kind of like sausage. Huge fan, don't want to know or be involved in any part of how it is made. (I'm sure it's a totally non-gross process that wouldn't involve bits and scraps and snouts or anuses at all...)
My first encounter with home brewing was none too impressive. My friend, Travis, purchased something he called a "brew sack" that basically looked (from what I can remember) like a burlap bag that was filled with a variety of ingredients and activated by adding boiling water. You then stuck this sack away in a dark closet for some period of time. Travis was excited by the process of the epically cheap beer that he was going to make, but all I can recall was that sack periodically belching out foul smelling gasses, making going into that closet a running joke. And the resulting beer that we were so long-suffering waiting to enjoy was totally unimpressive.
Since then, I've had the opportunity to experience some truly delicious and inspired home brews. Notably I had the pleasure of sampling several excellent offerings from Derek "Beard" Dellinger (aka @BearFlavored on Twitter and found here on the Interweb) at CEDIA this past year. Derek's beers had all the care, flavor and skill of any craft beer, with the added bonus of being able to discuss all of the brewing decisions with the very person that made them. And Derek has an encyclopedic knowledge of beer. Like, his site is basically a digital bible for home brewers.
Due to this, I have a totally new respect for home brewers, many of whom are quite accomplished and take the craft of brewing to passionate, deeply invested levels. So, when two home brewers offered to let me try their latest batch, I jumped at the chance.
Hello My Name Is…Beer – Pliny the Elder Recipe
7.0% ABV, IBU Unknown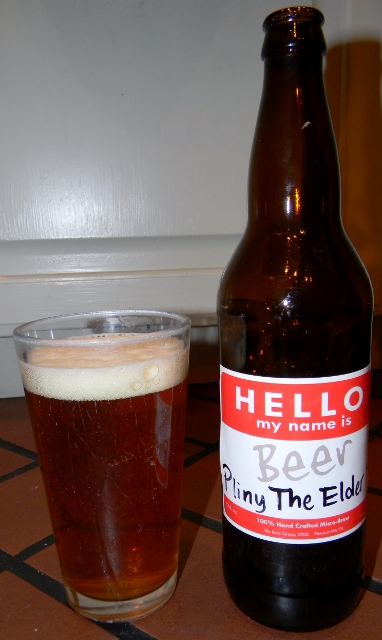 This beer was brewed by my very own brother, Adam, and his friend, Jessie. This is (I believe) Adam's first go with home brewing, though Jessie has been at it for quite some time and has invested quite a bit of money in his brewing rig. I've also sampled several of Jessie's beers in the past, and I'll say, I found them damn tasty. In fact, when Jessie shows up at a party with a growler of his beer, it goes quick. This was a Pliny the Elder recipe, with an extra hopping added near the end because, um, more hops…? If you're going to try to knock off a recipe, might as well be the Elder, amIright? (Though, adding to the recipe is a bit like taking a perfect Mozart sonata and adding some extra sonata-ness to it.) Pours a nice rich golden amber that I believe is a shade darker than the actual Elder with a nice rich two fingers of off-white, slight-khaki-tinted head that sticks around and around. I remember the head on the Elder being whiter and not as long lasting. Beer has a beautiful, jewel-quality clarity that you can read through and there is a ton of visible carbonation in the form of millions of bubbles ascending to their sudsy heaven. Smell is sweet, almost caramel-malt sweet, and the nose reminds me of the Simcoe Double IPA. First sip…well…if I'm rating this as an Elder clone, I would have to say that it misses the mark. It doesn't have the Elder's wonderfully clean, fresh pine-hop and pine-sweet notes. But, as a beer rated in its own right, it has some nice notes. It get the initial tingle on the tip of my tongue and then is has a mid-sweet center flavor and then a rich, hop-filled bitter finish that has a nice linger. It's clearly an IPA, but tastes a bit more like a 1.5 rather than an Imperial. As it opens in the glass a bit, I am getting a bit of a honey-malt flavor. And even at the very last swallow, I've got a near finger of head still hanging around and some thick foam coating the side of the glass. Second pour produced a volcanic amount of head; producing three fingers that again hang around for a long time. This beer certainly wants for no carbonation. Very similar tastes here to the last sips, with that kind of caramel-honey-malty-hop flavor being the dominant note. The bitter linger is definitely abated as well, as the beer seems to have lost of a bit of its punch and slam after being opened for a while. In conclusion, I guess I'd say as an Elder clone, it comes up short. As a home brewed IPA, very drinkable.
Bamford Brewing Co's – Citroe IPA
6.3% ABV, IBU Unknown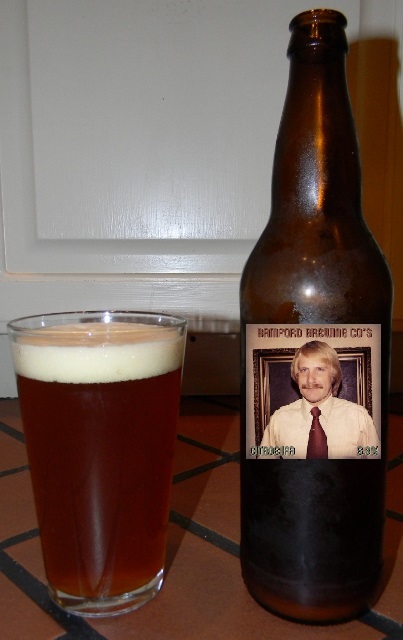 Trey Astbury (@TreyTweeting on Twitter) works PR in the A/V industry and also loves beer. So it was clear that our paths were destined to cross. I also like to think that I helped goad Trey into seeking out and finding some of the elusive Pliny the Younger which he reviewed here. So Trey mentioned that he was just about to start bottling his latest batch and I suggested he send me some. Cause, you know, free beer. So one day this showed up on my front porch: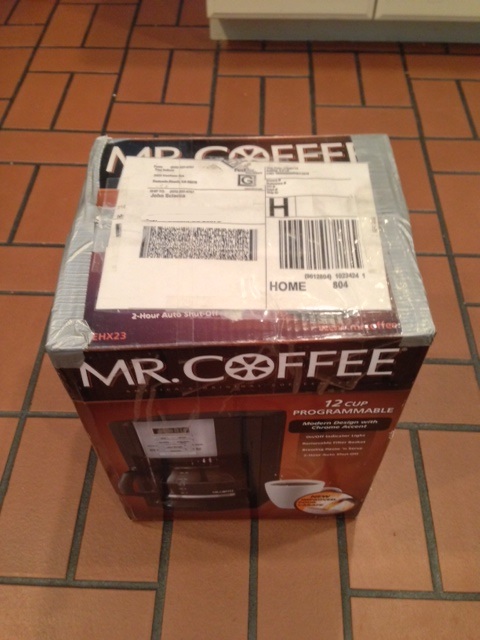 If you are going to send me -- or anyone else -- beer through the mail, this is an excellent lesson in packing 101. You want the beer to arrive safe and happy. And bubble wrapping and styrofoaming the interior of the shipping container as if you are shipping a vial of plutonium is the way to roll here. Also, like a total Boss, Trey also included some snacks with the beer: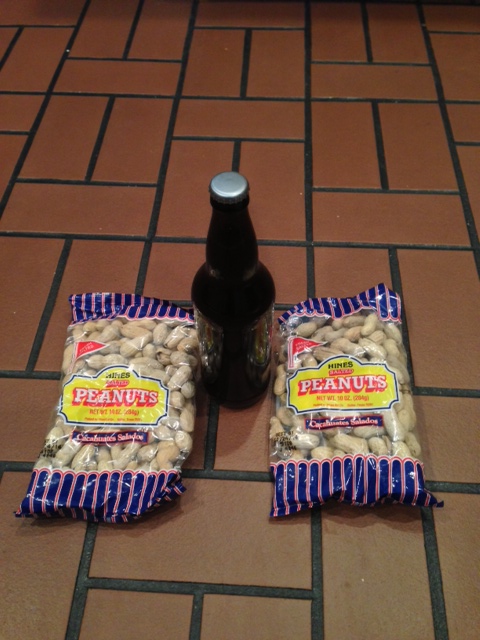 After letting the beer settle and recover from any bottle shock from its cross country journey for a couple of days in my fridge, I was ready to take Trey's beer for a pour. Pours a very nice, rich deep golden amber color with a little haze and a ton of visible carbonation. Beer has a nice near-two-fingers of creamy off-white head that is nice and densely packed. , Leaves a thick coating of froth on the sides of the glass. Nose is redolent with sweetness of hops and caramel malt. It has a nice, almost Bit 'O Honey candy bar aroma with the hops and malts working. The aroma again brings forward synesthesia memories of Weyerbacher Double Simcoe. (Clearly that beer has Incepted me.) First sip and the beer lands with some nice sparkle on the mid-tongue, a light flash of sweet and hoppy flavor, and then a caramel-malt finish with a bit of bitter on the linger. Taste is leaning towards the light side with nice flavors but nothing beating you over the head. It seems like the kind of beer you could hang with for a lengthy day of afternoon drinking. Say, a whole football Sunday where you don't want to get filled up or overwhelm your taste buds with a searing repeated assault of IBUs. As it is opening up in the glass, I'm getting a little more flavor on the finish, which gives the beer a better action. Since Trey included a couple of bags of salted peanuts with the beer, I decided to break them out for the second pour. I'm not sure if they were a pairing recommendation, but, hey…beer and peanuts. How could it ever go wrong? (Though, peanuts and a Belgian sounds like it would be a weird, unholy combination, but I digress...) Second pour produces another two-fingers of dense head that is like a light-tan topped cappuccino. Again a nice initial mouth engagement, a bit of the hop flavor and then a nice finish rich with caramel and malt notes. The salty peanuts are a nice balance to the beer and fill in the dip in the beer's flavor profile at the point between swallow and finish.




What these two homebrews have demonstrated is that making a quality, interesting, enjoyable ale at home is within reach of those willing to take the time and care to do it right.

Categories: June 2013, Beer/Liquor/Wine, Reviews

0

/