Shopping Cart
Your Cart is Empty
There was an error with PayPal
Click here to try again
Thank you for your business!
You should be receiving an order confirmation from Paypal shortly.
Exit Shopping Cart
Features, Reviews and a Blog by John Sciacca
| | |
| --- | --- |
| Posted on July 31, 2013 at 12:45 AM | |
While practically every day is IPA Day in my home, tomorrow is the third annual actual IPA Day; a movement dedicated to celebrating the unquestioned awesome which is a fresh, hop-juice filled IPA. That sweet, sticky-icky resinous, pine-juice that engages your entire mouth in a taste sensation of liquid heaven.
Wonder how you can celebrate IPA day? Read this post from Ashley Routson (aka @TheBeerWench on Twitter).  To further get you in the proper IPA drinking frame of mind, here are five delicious IPAs I've recently sampled, giving you something to look for tomorrow.
Please to enjoy! And feel free to share in the comments how/where you plan on drinking your IPA Day celebration...

Green Flash Brewing – Palate Wrecker Hamilton's Ale
Hop Variety: Unlisted
9.5% ABV, 100+ IBU
$10.99/4-pack
Drank March 26, 2013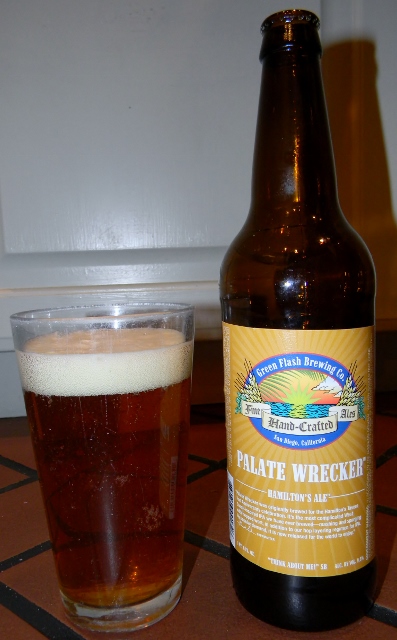 Description: "Palate Wrecker was originally brewed for the Hamilton's Tavern 2nd Anniversary celebration. It's the most complicated West Coast–inspired IPA we have ever brewed—mashing and sparging with hopped wort, in addition to our hop layering regimen for IPA. By popular demand, it is now released for the world to enjoy. Taste the punch of sparged hopped wort! With 6 pounds of hops per barrel, Palate Wrecker is officially the hoppiest beer in the ring. Our Double IPA is the result of a complex and innovative double-brewing process that is exclusively ours. After the first mash, we sparge the second round with hopped wort, adding a hit of kettle caramelization. This champion will challenge the tongues of even the most serious hop heads with its one-of-a-kind, aggressively hop forward taste, yet refreshingly balanced flavor. Your palate will recover – but it will remember that last round forever!"
From what I recall, the original Stone Brewing Co Ruination has something about being so ruinously hoppy that it will wreck – or ruin – your palate. I love what Ruination does to my mouth hole, and if Green Flash thinks they can wreck me with an uber-hoppy ale, I say pour it! Pours a beautiful golden color that is incredibly clear, and reminiscent of the Bell's Hopslam and Stone Brewing Co Enjoy By IPA. It is totally, perfectly, gorgeously clear like peering through a wonderful glob of clarified Jurassic amber. There is also a ton of visible carbonation going on inside, with thousands of bubbles dancing and floating their way to the top of the glass. The pour produced a finger-and-a-half of really nice, snowy white head. The head retains its nice, cloudy, puffy density well into the drink, cushioning the delicate liquid gold beneath, and leaves a thick coating of lacing all along the sides of the glass. Smell is really rich with sweet, hoppy goodness with prominent rich pine notes. Just from the smell I'm thinking this is gonna be an *outstanding* brew. First sip…yeah. Like Ferris Bueller OH YEAH. You immediately feel the hops just blast your mid-tongue and then get a full mouth involvement as the beer moves to the back of the mouth and then a flash of sweetness and then a really hop-filled lengthy bitter finish that just rides and rides. The beer has a really great flavor arc, with a nice initial hop-juice on the tongue, some wonderful hoppy sweet in the middle, and then a great bitter finish. This is really a great flavored beer, and a terrific representation of the DIPA style. Nearing the end of glass one, the words that are sticking out in my mind are "fresh," "hoppy" and "juicy" which are the quintessential words you want to use in your IPAs. (Second pour) A little less care on the pour and I get a big three-fingers of creamy, thick head creating an almost perfect "beer ad" pour in the glass. There's something about a great DIPA where I just *love* them when they are fresh and crisp and cold right from the fridge, so I'm excited about this first sip. And….oh yeah. That's the stuff. Just *so* good. I'm not sure what more to tell you about Palate Wrecker; it's just a really great beer. If you like IPAs and stumble across it, I can't recommend it highly enough. Especially considering that I bought a 4-pack for $9.99, this is a brew that has an amazing taste-per-dollar ratio and could be called outstanding.
Jacob Leinenkugel Brewing Co - Big Eddy Imperial IPA
Hop Varieties: "Five distinctive hops"
8.2% ABV, IBU Unlisted
$8.99/4-pack
Drank May 11, 2013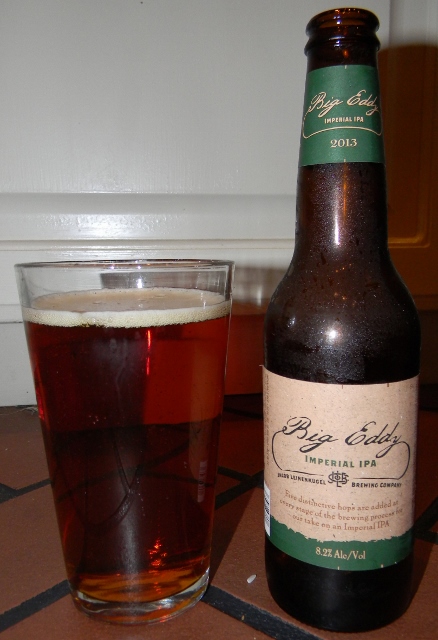 Description: "In the 1700s, British soldiers serving in India longed for the comfort and refreshment of beer from their homeland. Sensing the demand, an English brewer created a new Pale Ale using more hops and a higher alcohol content that would survive the long journey from Britain to India. This was the birth of the India Pale Ale. With the same inventive spirit, American brewers continued to build on IPAs over time. The Imperial IPA was born as a bigger, bolder interpretation. Our own Imperial IPA has a strong malt backbone to balance the five distinct hops that are added at every stage of the brewing process. Invigorating hope complexity reveals grapefruit, citrus, tropical fruits, and a hint of pine. Big Eddy Imperial IPA is our tribute to those brewers who helped popularize the style, and honors the majestic spirit of our storied water source, the Big Eddy Spring. More than a name. Big Eddy. Behind this noteworthy name lies the inspiration to more than 140 years of genuine brewing heritage. Since 1867, the Big Eddy Spring has been the lifeline of the Leinenkugel Brewing Company. Once dubbed 'the finest water in the world,' The Big Eddy runs through the heart of Chippewa Falls, Wisconsin, carrying in its flow the long-standing tradition of quality folks have come to expect and enjoy from Leinenkugel's. Our brewery was born on the Big Eddy Spring, its waters guiding us through five generations of family brewing success. And with a legacy as rich and mighty as this, one can only imagine the character of the beer that bears its name."
I don't know much about Big Eddy, but he has a plain, no nonsense label that simply declares "Imperial IPA" and I like the cut of his jib. He doesn't need to be all flowery, wasting monies on fancy labels and sassafras. Big Eddy puts his care into his beer makin'. If he wanted to make labels, he'd have moved to the city and become some kind of beret wearin' artiste, not a brewer! Pours a very rich, deep, coppery amber in the glass with just a half-finger of light-khaki head that quickly vanishes to a thin topping of micro-froth. Does leave a little bit of lacing on the sides of the glass; like finger streaks drawing down against the condensation on a bathroom mirror. Body is very clear with lots of visible carbonation. Mmmm, nose is rich with sweet, hop-juice filled citrusy notes. First sip, and the beer lights up the entire mouth with carbonation, has a really rich wave of sweet, hop-filled flavor, and then a nice finish with good bitter and a nice balance of malt at the end. The flavors on this are really all right there, giving a good showing from start to swallow. The flavor is rich and engaging, with lots going on. There is a nice bit of grapefruit citrus, but also a good bit of piney sweetness. The finish has a nice linger with a solid, hop-forward bitter. I don't want to oversell Big Eddy – it's not a top 10 contender – but it is a damn fine showing for an Imperial and a great representative of the style. If you find Big Eddy, take him for a spin.
New Belgium – Rampant Imperial India Pale Ale
Hop Varieites: Mosaic, Calypso, Centennial
8.5% ABV, 85 IBU
$9.99/6-pack
Drank May 11, 2013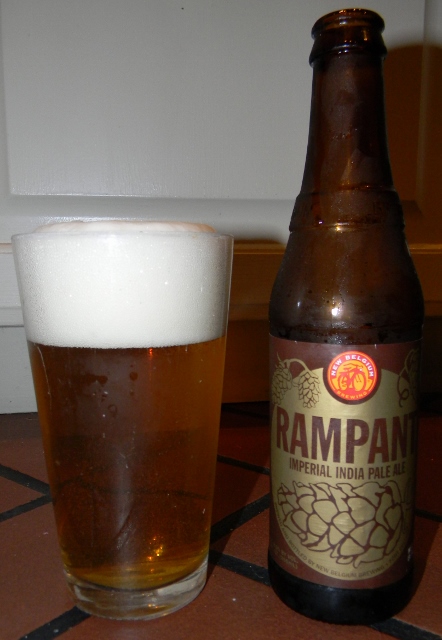 Description: "A burly and bitter Imperial IPA, Rampant pours a pure copper and carries the sheen of a rightly hopped beer. The Mosaic and Calypso hops bring stonefruit to the front seat, and the addition of Centennials nod towards citrus for a well-rounded aroma. The taste expands these hops with heavy peach tones and a profoundly bitter bite. There is some malt sweetness to stand this beer up, and Rampant's finish is bone-dry."
It takes a confident marketing team to describe a beer as "burly," but here we are… I've been pretty pleased with many of New Belgium's offerings in the past, so I was pleased to disvoer this Imperial from them. A medium pour produced a giant three fingers of snow, whipped cream thick head that just lasted and lasted. You could seriously flout a small armada of ships on that head. The color is a lighter shade of golden, with a beautiful clear body with just enough haze to keep you from being able to read through it, but enough clarity to reveals a cascading ballet of thousands of tiny dancing bubbles. Leaves insane, thick rings of dense foam on the sides of the glass marking every sip with a big white hoop around the glass. Tough to get a lot of nose through the dense polar ice cap of foam, but there are hints of dank more than sweet. After letting the head settle for a bit, the nose seems to have a bit of fresh grass and some hints of lemon citrus. Enough talky; time for taste-ey…Surprisingly not as much carbonation as I was expecting, but a nice creamy mouthfeel. There are some definitely grassy notes, with a nice swell of grapefruit-citrus hops in the middle, and then a nice balance of smooth bitter at the end. The finish doesn't linger, definitely living up to the "bone-dry" description, and the lacking carbonation gives the beer a very creamy finish. I'm not sure if I shot this beer's wad during the pour, because clearly it had a ton of carbonation to give, but I would like a little more IN the beer instead of floating on top of it. I would score this a mid-pack Imperial, perhaps a B-. It's enjoyable, and has a lot of flavor and definitely conceals the 8.5% ABV well, but the grassy notes and lack of a lengthy finish make it a middling contender for my palate.
Moylans – Hopsickle Imperial Triple IPA
Hop Varieties: Yakima's Chinook, Simcoe, Columbus, Cascade and Ahtanum
9.2% ABV, 100+ IBU
Drank March 19. 2013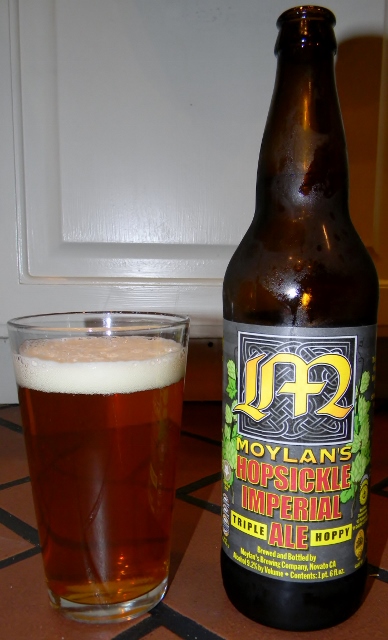 Description: "In celebration of the Hop…this is a 'Hop' tribute, worthy of a King's Imperial Court! Enjoy the blast of fresh Tomahawk, Cascade and Centennial Hops as they stimulate the taste buds in a truly imperial fashion. Pucker Up!"
The Triple IPA is a relatively new and still a rare-ish thing. In fact, I'm not even sure when a beer crosses the threshold from being a normal, stately, awesome Double/Imperial into the rarefied air and hop-filled Holy Land of Triple-dom. Napa Smith Hopageddon is 9.2%, 144 IBU and is an Imperial, where the Moylan's is 9.2% ABV and 100+ IBU and a Triple. (The Founder's Devil Dancer is 12% ABV and 112 IBU...) Of course, the most famous Triple around is Pliny the Younger, but since that is almost impossible to get, my brother did me the next closest solid, and sent me this Moylan's Hopsickle. If there were actually such a thing as a Hopsickle, I would want one. I'd want it to put it in my freezer, and I'd take it out to suckle on the sickle, and then to dip it into my pint glass and stir it around, adding hoptastic Hopsickle-ness to lesser beers. I would point it at people when I wanted to make some emphatic point. Seriously, a Hopsickle would improve my life in many ways. Will this Moylan's live up to my expectations? I also appreciate the red banner on the beer's label proclaiming, "LIVE ALE! KEEP REFRIGERATED." Pours a really inviting golden amber, with a burnished bronze color. A really rich inviting looking color in the glass. The beer produces a small finger of white head that rapidly reduces to some small and medium-sized bubbles that form small continents in the frothy beer globe at the top of the glass. Beer has a little haze to it that prevents me from seeing through it, certainly not the hyper-clarity of the Enjoy By or the Hopslam, but can still see some nice carbonation activity. Smells nice and rich with orange-juicy sweetness. Really a lot of nice sweet hoppy goodness coming off the nose. First sip…and you can feel the hop-juices as soon as the beer hits the tongue, with a flair of carbonated sweet and then a nice lengthy bitter finish. The beer has a nice flavor profile, with a good initial landing on the tongue, a nice hop-filled sweetness on the swallow with some honey malt notes, then a lengthy grapefruit rind bitter finish that goes on and on. The alcohol notes are kept in check, and you would never guess this was a near 10% ABV. My only real quibble with the beer is that the tail end of the swallow borders a bit on malty-metallic note. Though I have to say, as the beer is opening up in the glass, the flavors are meshing better, getting bolder, and the edge on the sweetness is waning. Pretty excited for second glass. (Second pour...) Beer produces a richer head on the second pour, again reducing to a rich creamy, milky-white cappuccino froth at the top of the glass. Nice smooth, frothy rich sip, and a nice, clean finish. The finish while still lengthy and bitter has lost the odd malty-metallic flavor. The Moylan's is big, it's hoppy, it's packed with flavor, and it has a nice, lengthy bitter finish on the swallow that hangs around in a good way. I'm not sure it is a top 10 beer, but it is certainly a great drink and if you stumble across a bottle, definitely snag it and give it a try.
Highland Brewing Co – Kashmir Imperial IPA
Hop Varieties: Magnum, Fuggle, German Select, Styrian Golding and Willamete
10.2% ABV, 60 IBU
$8.99 22-ounce bomber
Drank June 1, 2013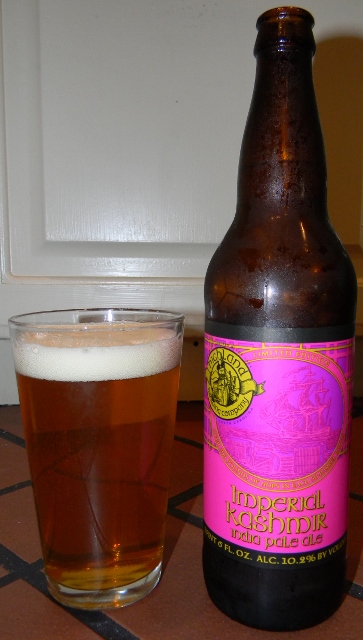 Description: "An aggressively hopped and higher gravity version of our Kashmir IPA. Six hop varieties added at seven different times in the brew kettle, hopback, whirpool, and fermenter contribute to its complexity. This Imperial IPA also differs from our traditional Kashmir with the addition of over 60 pounds of dry hops per 50 barrels. In all, over 200 pounds of hops are used in each 50-barrels batch of this limited release. The robust, malty, and delightfully intense hop flavors and aromas are best enjoyed with an extremely stiff upper lip."
Oh let the sun beat down upon my face, stars to fill my dream
I am a traveler of both time and space, to be where I have been
To sit with elders of the gentle race, this world has seldom seen
They talk of days for which they sit and wait and all will be revealed
Led Zeppelin - Kashmir
I'm not saying you HAVE to have Led Zep pounding in the background while you drink this beer, but I AM saying that you would be seriously disappointing me in your lack of music/beer synergy. Pours that wonderful golden amber, super clear of so many of my favorite DIPAs. Produces a finger of snowy white head that quickly eviscerates to just a froth on top of the glass. Leaves a delicate coating of lacing on the sides of the glass, enough to show that the beer was there, kind of like a light dusting of snow. There's not much of a nose on this beer, even with my nose deep in the glass, practically snorting the remnants of the froth, I just gets some slight whiffs of sweet. First sip and it really tingles on the tip of the tongue, a flash of mid-hop sweet-spice and then a decent bitter on the finish. I like the initial zip on the tongue as it lands and the beer has a nice middle swell of hoppy flavor with nice citrus notes and a little bit of sweetness, and then a good finish. It really has something going throughout the whole swallow which I like. The finish could be lengthier, but it is handling its double-digit ABV nicely. I'm almost wondering if this beer might have a little age on it. Like the notes seem like they might just be a bit dated, and would have been more potent a few months ago. As I finish pour #1, I'm getting a little malt on the finish, and while this isn't a standout DIPA, I'm definitely enjoying it. I've got that nice mellow vibe going, where all is right with the world, and a whole second pour of the Kashmir to go, so I know the 10.2 is doing its thing.
Talk and song from tongues of lilting grace, whose sounds caress my ear
But not a word I heard could I relate, the story was quite clear
Oh, oh.
(Second pour...) Head is hanging around a little longer this time, the top of the glass a beautiful winter white wonder land. As is almost always the case, the flavors in the second pour are even better; basically everything from the first glass but just a little more resolved. While the Kashmir doesn't reach epic status, it is definitely an enjoyable drink. Ultimately, it's just a little bit to laid back and subdued. Hard to believe for a beer that rocks a 10.2 ABV…
Categories: July 2013, Beer/Liquor/Wine, Reviews
/