Shopping Cart
Your Cart is Empty
There was an error with PayPal
Click here to try again
Thank you for your business!
You should be receiving an order confirmation from Paypal shortly.
Exit Shopping Cart
Features, Reviews and a Blog by John Sciacca
| | |
| --- | --- |
| Posted on March 14, 2010 at 4:14 PM | |
If there's two things I love, it's southern food and good, ole-fashioned home cookin'…
I kid. In fact, there's few things I dislike more than either of those things. In fact, if you know me at all, you know that I'm kind of weird about eating other people's cooking at all. With few exceptions (Colleen, Malia, Lori) I really don't want to eat things cooked by other people. (It's not you; it's me. Let's still be friends.) Now deep down, I know that your kitchen isn't a bacteriological warzone, that the chicken hasn't been sitting out all night and that you haven't just come in from sloshing around in the septic tank, but we all have our hang-ups, and food weirdness is my cross to bear.) In fact, when we go to a gathering where food is being served, my wife will walk me through the line pointing out things made by people that I'll eat. One of the many reasons why I love her. Oddly though, I don't mind eating at restaurants. Even though watching Gordon Ramsey and Kitchen Nightmares has taught me that it's probably a 50/50 shot whether I'd be better off scrapping that piece of gum off the subway post.
(Totally awkward segue in 3…2…1….but stick with it, it will all make sense in a minute.)
Anyhow, one thing I do like is the band REM. Ever since I discovered them (spoiler alert: a future post will trace the roots of how I found my favorite music...) I've loved nearly every album they put out. And one of their best is Automatic For the People. (I could just listen to "Nightswimming" over and over.) Anyone familiar with that album knows that they borrowed the title from a restaurant in Athens, Georgia. I've always wanted to visit there but never had the opportunity. Until now…
For our 15 year wedding anniversary, we packed up the Rav4 (Toyota, we are cool to drive this thing, right? No gas pedal or brake mis-haps in our future? Hello? Toyota?) and set off on a two-week family trip. First stop was Atlanta which, with just a slight (OK, it was supposed to be slight, but our GPS has a cruel sense of humor that involves translating "shortest route" into long detours through very small towns) detour we could pass right through Athens and have lunch dinner (thanks, Garmin!) at Weaver D's Delicious Fine Foods.
Weaver D's is located in a part of Athens that I would describe as the critical fulcrum between "Holy crap! Are we even safe driving here?" and "Wow! What a neat town. I'd love to really spend some time checking it out." As we pulled up, Dana's comment was, "You're really going to eat here?" That doesn't imply that Weaver D's looks run down or sketchy, but that it has the appearance of being the soul of all soul food places. But, yes, dammit, I've been wanting to try some Automatic for years, and stomach, you are gonna be on board with this! (Even though I know you'll punish me with a wicked case of SDA later...)
So we entered and just kind of lingered for a second checking it out. Posters of Automatic and REM are all over the walls, assuring us that we were indeed in the right place. Mr. D believes in communal eating, and there are two long benches in the middle where people grab a spot and eat. D sensed our hesitancy and called out, "Hey, y'all! Come on up and get you some food. We got catfish today." So we headed up to the counter. Dana ordered the catfish, I got the barbecue. Lauryn was not in a good mood, with lots of crying and a totally unAutomatic attitude.
Mr. D said, "What's wrong, little lady? Come get you some tea." So, big glass of sweet tea it was. While waiting for the food, I asked him where he got the slogan "Automatic for the people." He answered "Oh, lord. I always try to be automatic, but I'm getting older, and I'm not always automatic anymore." If that explains it to you, then please shed some light on it for me.
You could tell that he loved his customers. When someone would walk in, he'd holler a big, warm hello, and when a new dish was ready, he'd shout it out in case anyone was interested. His patois was littered with cool expressions like, "Macaroni's not ready yet, it's still travelin' and it'll be here in a minute." You just wanted to hang out and listen to what he'd say next.
Was it a great meal? No. Did my stomach punish me later? Yes. Am I glad we went? Automatic!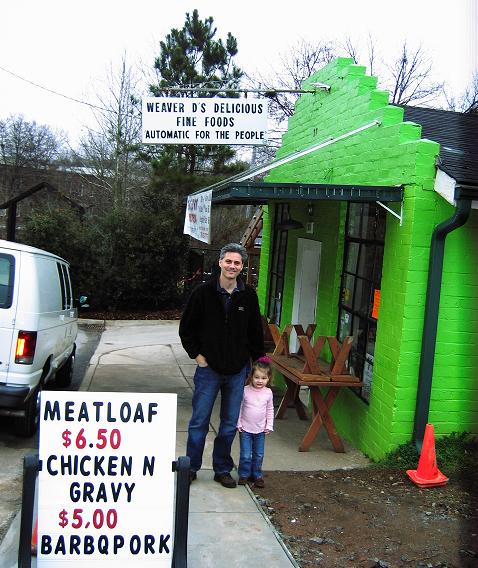 Categories: Mar 2010, Music, Family
/