Shopping Cart
Your Cart is Empty
There was an error with PayPal
Click here to try again
Thank you for your business!
You should be receiving an order confirmation from Paypal shortly.
Exit Shopping Cart
Features, Reviews and a Blog by John Sciacca
| | |
| --- | --- |
| Posted on August 1, 2013 at 11:25 AM | |
Today – August 1 – is IPA Day; a day where people around the globe are encouraged to celebrate by drinking large tulip glasses filled with hop-juicy deliciousness. In my house, last night was IPA night as I began celebration by downing three New Belgium Rampants. To be fair, nearly every day is IPA Day in my home, as I constantly have a fridge filled with a variety of IPAs.
To date I've reviewed about 200 beers and have often been accused of having a laser-beam narrow focus, concentrating primarily on IPAs, and more specifically Imperial and Double IPAs. To my critics I say, shuts the hells up! I drinks what I likes, and I likes IPAs. Also, it turns out that on a day like IPA Day I am uniquely positioned to recommend to you what is exceptional. I have tasted and reviewed nearly virtually every IPA that I've run across. And now I have catalogued them here into a list of the Ten Best IPAs that I've enjoyed to date.
I admit this is an incomplete list as I have yet to enjoy the oral magic which is Pliny the Younger or the rumored also-awesome, The Alchemist's Heady Topper (Bear Flavored Heady review here). I've also not tried Drake's Hopocalypse Black Label, or the Kern River Citra Double IPA (Bear Flavored Kern River review here).
But, alas, of the many IPAs that I HAVE enjoyed, these are the very best of them. Feel free to select one from this list to get your IPA Day – or any other day – off to an excellent start!
10 Napa Smith Brewery, Hopageddon Imperial IPA

Hop Varieties: Chinook, Cascade, Warrior, Columbus, Mt. Hood, and Centennial
9.2% ABV, 144 IBU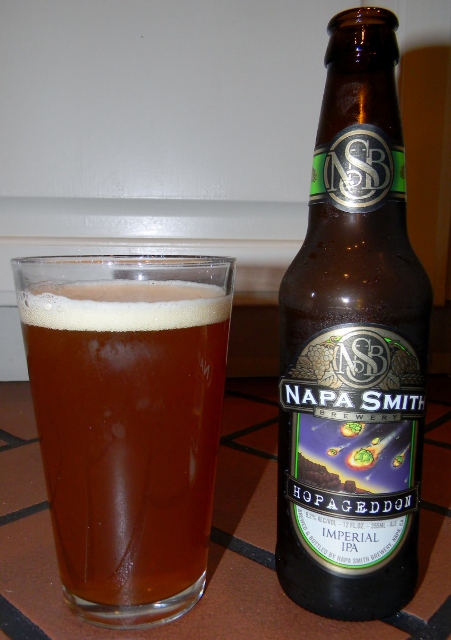 Description: "Hopagedddon is an end-of-the-world Imperial IPA with an intensely aromatic hop profile that defies expectations and will leave you wondering, 'What just happened?' At 144 IBUs, Hopageddon glows with a gorgeous fiery orange color and showcases a distinct, full white head. The unique flavors from our obscenely extended dry-hopping and shockwave of bitterness lingers on the palate and leaves hopheads with a Post-ahopalyptic yearning for more. Can you survive the Hopageddon?"
"You can pray to the Hop Gods all you want…you'll never find another IPA like this one."
You want to know the difference between a weak beer and a beer with strength? A beer with strength has an IBU rating pushing 90. Now, I thought the 100+ IBUs of Stone Ruination was a lot. I thought 120 IBU of DFH 120 was a lot. But this! This, is an IBU atomic bomb and I had to try it! Pours with very little head and a rich golden orange-brown color. Body is mostly clear, but tough to see through because of the medium-darkish color. Leaves a crazy coating of foam lacing on the sides of the glass. Aroma is pungent with rich, sweet, juicy hops. I get tons of citrus and orange spice and pine-juice deliciousness. Just the glass sitting there is like an amazing Yankee Company scented candle called "Hop Bomb" or something. First sip and the beer bursts onto your tongue; there's a ton of big juicy hop flavors and a nice splash of sweetness that really fills the mid-notes followed by a really lengthy bitter finish. The alcohol is kept well in check, providing just the right amount of sweet but without being over-powering. If you can call a 9.2% ABV/144 IBU brew "incredibly well balanced," this is it for sure. Every sip just lights up your mouth with fully engaged flavor, and I'm really enjoying the taste notes. Just tons of hoppy citrus and a really great flavor arc-profile from first sip all the way through to final swallow. Also, the 9.2% leaves you with a nice, warm glow when finished. This beer is a contender and is definitely worth picking up if you spot it!
9 Avery Brewing – Twenty
Hop Variety: Bravo, Amarillo, Simcoe, Cascade
ABV: 9.7%  IBU Unlisted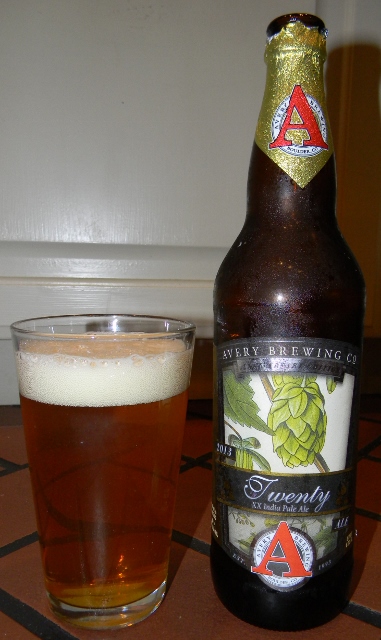 Description: "What else? What else would you expect from us, a bunch of severely hop obsessed brewers, to celebrate such a glorious occasion? Anything other than a massively hopped IPA would be an affront to our rich history of loving excessive use of that beautiful flower, Humulus Lupulus. 1993-2013. 20 years of brewing excellence. To all who have played a part in creating such a vibrant and quality conscious culture, we thank you from the bottom of our hearts and pint glasses!!"
Pours a beautiful golden yellow, with a nice two fingers of fluffy, pillow-white, puffy cloud head. The head pretty quickly reduces to a soft, solid covering resting on the top of the glass, leaving a thick, coating on the sides of the glass in its wake. Body is read-through-me clear, with nice visible carbonation going on within the beautiful golden liquid. The nose is just wonderful; full of resinous, drippy pine and sweet, honey hops. At this point, I could pour this beer down the drain and already say with confidence that it was delicious. But I'm not going to. Because I love beer, especially Double IPAs. And also I'm not a damn fool First sip, and…oh yeah. That's the stuff. Even just sitting in the mouth you can feel those luscious sweet hop juices just making sweet-sweet love to your tastebuds. The beer feels rich and creamy and luxuriant in the mouth, but you can tell there is a hop-filled sweetness that really presents itself on the swallow. The finish has a nice bitterness to it, and it lingers for a nice period. Right before the bitter kicks in, there is a nice flash of sweetness that really brings a nice complement to the swallow. Nearing th end of the first glass, this is really a nice DIPA. Nice, piney, grapefruit rind, hop notes, a bit of honey sweetness, and then a nice bitter finish. The boys at Avery know how to make a solid brew, and this might be one of my favorites from them so far. The Maharaja while excellent was a bit malty on the finish for my loving this year, but the Twenty has a clean, crisp finish that is all hop and all business. Nice. I'm not sure what it would taste like to actual *suck* the juice out of a hop, but I can't imagine the experience would be any more pleasant than drinking this beer. Time for the second pour…this produces the quintessential beer to head ratio that would make Don Draper punch a baby to capture for an ad. The beer just slides into the glass like a boss. It knows why it's here and it's ready to get down to business. Second glass is smoother and a little more refined. Like a woman that has a few years on her; she's educated and refined, she's travelled, loved and lost and is now worldly wise. Twenty is a solid effort and the biggest disappointment about it is that as an anniversary beer it isn't here to last.  
8 Green Flash Brewing – Palate Wrecker Hamilton's Ale
Hop Variety: Unlisted
9.5% ABV, 100+ IBU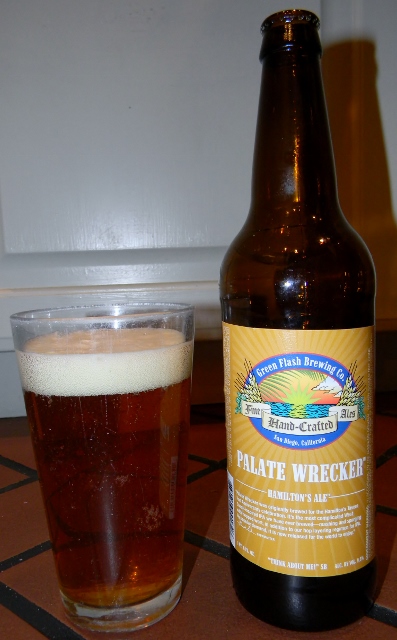 Description: "Palate Wrecker was originally brewed for the Hamilton's Tavern 2nd Anniversary celebration. It's the most complicated West Coast–inspired IPA we have ever brewed—mashing and sparging with hopped wort, in addition to our hop layering regimen for IPA. By popular demand, it is now released for the world to enjoy. Taste the punch of sparged hopped wort! With 6 pounds of hops per barrel, Palate Wrecker is officially the hoppiest beer in the ring. Our Double IPA is the result of a complex and innovative double-brewing process that is exclusively ours. After the first mash, we sparge the second round with hopped wort, adding a hit of kettle caramelization. This champion will challenge the tongues of even the most serious hop heads with its one-of-a-kind, aggressively hop forward taste, yet refreshingly balanced flavor. Your palate will recover – but it will remember that last round forever!"
Palate wrecking Stone Ruination comment. Pours a beautiful golden color that is incredibly clear, and reminiscent of the Bell's Hopslam and Stone Brewing Co Enjoy By IPA. It is totally, perfectly, gorgeously clear like peering through an wonderful glob of clarified Jurassic amber. There is also a ton of visible carbonation going on inside, with thousands of bubbles dancing and floating their way to the top of the glass. The pour produced a finger-and-a-half of really nice, snowy white head. The head retains its nice, cloudy, puffy density well into the drink, cushioning the delicate liquid gold beneath, and leaves a thick coating of lacing all along the sides of the glass. Smell is really rich with sweet, hoppy goodness with prominent rich pine notes. I'm thinking this is gonna be an *outstanding* brew. First sip…yeah. You immediately feel the hops just blast your mid-tongue and then get a full mouth involvement as the beer moves to the back of the mouth and then a flash of sweetness and then a really hop-filled lengthy bitter finish that just rides and rides. The beer has a really great flavor arc, with a nice initial hop-juice on the tongue, some wonderful hoppy sweet in the middle, and then a great bitter finish. This is really a great flavored beer, and a terrific representation of the DIPA style. Nearing the end of glass one, the words that are sticking out in my mind are "fresh," "hoppy" and "juicy" which are the quintessential words you want to use in your IPAs. (Second pour) A little less care on the pour and I get a big three-fingers of creamy, thick head creating an almost perfect "beer ad" pour in the glass. There's something about a great DIPA where I just *love* them when they are fresh and crisp and cold right from the fridge, so I'm excited about this first sip. And….oh yeah. That's the stuff. Just *so* good. I'm not sure what more to tell you about Palate Wrecker; it's just a really great beer. If you like IPAs and stumble across it, I can't recommend it highly enough. Especially considering that I bought a 4-pack for $9.99, this is a brew that has an amazing taste-per-dollar ratio.
7 Knee Deep Brewing, Simtra Triple IPA

Hop Varities: Simcoe and Citra
11.25% ABV, 131 IBU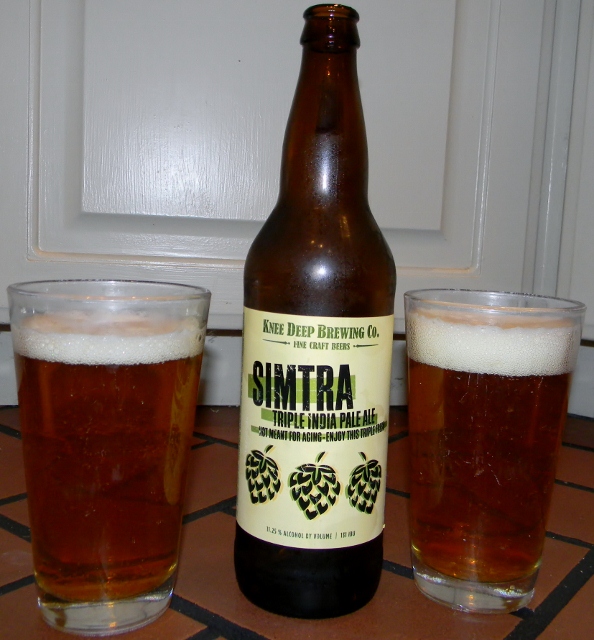 Description: "Simtra Triple IPA delivers a punch in the face with its very danky hop aroma derived from Simcoe and Citra hops. You wanted more hops you got them."
After my first encounter with Knee Deep, I'm willing to go fully mouth deep into Knee Deep! And, sweet Jebus…a Triple! This is a rare bird indeed! This is Pliny the Younger territory here! The label really says everything you need to know...three, giant hop cones. Pours a beautiful deep golden with a finger and a half a thick creamy white head. Head holds a nice pillowy shape for a bit and settles down to a nice steady cloud cover resting atop the glass. Very clear body with a dazzling array of micro bubble activity. The sides of the glass are just coated with a thick wall of hanging, clinging foam, marking every step of your progress like a geological survey. The smell is nothing short of giant. It's huge and fresh and piney and has that rich sweetness that is just indicative of a monster fresh IPA. First sip...oh...my...DAY-UM! Huge tingling involvement on the entire length of your tongue that is like liquid, hop filled electricity. There is a gobsmacking of pine and hops and then...umm, an odd, off-putting metallic/skunky/BO filled bitterness. Hmm. I'm trying to find a good way to spin this, but, um, no. I'm most definitely not loving the first finishing swallow.  Second swallow and the finish is way better, and if I disliked the first swallow a 10, this is now a 4. But that hint of mouthful of BO once tasted is difficult to untaste. The finish gets subsequently better on each swallow, improving the overall flavor of the beer from start to finish, meaning that you should maybe give it a second in the glass to chill out. You'd also never know this was an 11+% ABV beer and the flavor is just so smooth and even and balanced with no trace of alcohol. There is a beautiful, wonderful moment from when the beer enters your mouth and wakes it up like a firework show and then you swallow and there is a bright flash of wonderful delicious hop filled sweetness.  Each swallow gets better, making the last drink a real pleasure. I can only imagine how good the second pour would be if we hadn't split this bomber… Beyond that you get to enjoy the fantastic aroma throughout the entire glass.  I think this may very well be a top 10 beer and is highly recommended. (Note: Follow up tastings have proved that the odd metallic/BO flavor were an anamoly in that first bottle, possibly due to air travel in getting it from California to South Carolina.)

Adam: If love and passion had a smell, it would be perfumed sweat. (John note: I'm not sure if he meant sweet and just misspelled it or if he is into sweaty girls with a splash of perfume. Hey, he's my brother, and I'm not judging either way...) In the world of beer, it is pine and grapefruit. This beer is a winner in the olfactory category. It permeates pine and grapefruit like a dancer does shame!  The alcohol content was a stunning 11.25, and it couldn't be smelt or tasted. The color, like all great IPAs is amazing golden amber. The head is ever so slight, but it could be because this was a shared experience beer. The taste starts off amazing. It has that desired pine sweetness with a light lingering of hops on the tongue.  There is a major flaw though. The aftertaste is metallic. It is distinct as the smell of burning pot. It seems to disappear as it heats up but it leaves a distinct taste that turns an amazing beer into a good beer. If the metal taste could disappear, this could rival The Younger.

6 Stone Brewing Co – Enjoy By IPA 4-1-13
Hop Variety: Unlisted
9.4% ABV, 88 IBU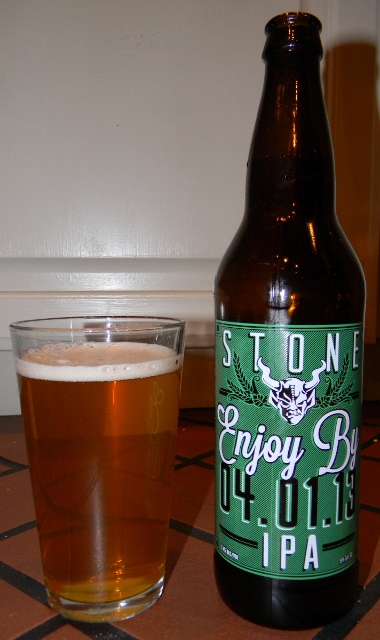 Description: "You have in your hands a devastatingly fresh double IPA. Freshness is a key component of many beers – especially big, hoppy IPAs – but we've taken it further, a lot further, with this one. We brewed this IPA specifically NOT to last. We've gone to extensive lengths to ensure you get your hands on this beer within an extraordinarily short window, and we've sent a very clear message in the name of the beer itself that there is no better time than right NOW to enjoy this IPA!"
Russian River puts the importance of freshness and enjoying fresh right on the label of its famous Pliny the Elder with things like, "Do not save for a rainy day! Pliny is for savoring, not for saving! Consume Pliny fresh or not at all!" on the label. But Stone's Enjoy By takes it to an entirely new level by printing the drink by date right on the bottle in the name of the beer. And with a date barely 30 days after bottling. Ballsy. But would you expect anything less from Stone? So, apparently Stone has taken a devilish way of determining who earns the right to enjoy Enjoy By, with a social media (Twitter, Facebook, e-mail) "voting" campaign to determine which parts of the country *really* want to get some freshy-fresh beer. This is the third or fourth batch and when I found out that it was coming to South Caroilna, I was on the hunt! (I had previously e-mailed Stone's marketing and PR department and requested a bottle only to be told it was delicious and sorry, but no. Ouchey.) So I called around and when I found out that my Piggly Wiggly had some, I asked them to save me some.
"How much do you want?"
"How much do you have?"
"We have a case."
"I want it."
"The whole case?"
"Yeah. All of it."
"Umm…"
"Will you sell me the whole thing?"
"Yeah, I guess. I'm here til 10. Come on up before then and it's yours."
Done and done! Pours a beautiful ultra-clear, sweet-sweet golden color with just a bit of head that rapidly reduces to a creamy froth atop the glass and a ring of bubbles at the edge. The beer is beautifully, wonderfully, perfectly clear. Like I can look through the beer and TV, though the beer has the reverse effect of my Panamorph anamorphic lens; instead of stretching images horizontally, the beer goggles stretch things vertically. So maybe there is a thing to the whole beer goggles concept, making people look taller and thinner… There is just a steady dance of tiny bubbles rising up to the top of the glass, like they are going up to frothy, beer heaven. They look happy, like they have lived wonderfully fulfilled lives and are excited to go to a creamy, happier place. There is something about the perfect clarity of an IPA that is so appealing and inviting. This beer isn't trying to hide or conceal anything. If I had a jeweler's loop, I would stare into this glass and rate the beer's color, cut, clarity and Citra. Smell is rich with fresh, sweet, spicy hops. This is the kind of smell that gets you excited about a beer. Like, I can feel my mouth watering getting ready for that first, most excellent sip. It's like, honeymoon night and you've been waiting and now. Well, you know… First sip and the beer carbonation just lights up my tongue and the flavor explodes with hop-filled freshness. A nice rise of sweetness and then a smooth swallow with lingering hop-filled bitter. You can really taste the freshness, as the hop flavor just explodes in the mouth. There's also a wonderful balance with a great touch of sweetness and not a hint of alcohol in this 9.4% ABV big boy. Fresh is an overused word to describe this, but, dammit, that is the only word to really express just how fresh and filled with flavors of pine and grapefruit and citrus. It really boils the quintessence of a double IPA down to its ideal form and flavors. It doesn't have the same level of sweet as the Stone Ruination 10th Anniversary or the Bell's Hopslam or the Drake's Hopocalypse, but it has a freshness to the taste that is undeniable and intoxicating in its flavor. The final sip of glass one is gone, holding the same wonderful flash of carbonation and flavor as the first, leaving a glass that is streaked with random slashes and lines of foam like a beer-crazed Jack the Ripper. (Second pour.) A little stronger pour produced a thin finger of snowy white head that again quickly reduced to just a hoarfrost of topping. Again, the glass is rich with a wonderful, redolent nose of hops and pine. First taste and again…wow. Yum. Just…yum. This is a beer you want to curl up in like Linus' blanket. It's just fresh and hoppy and everything an IPA lover could want. I know a huge part of the allure of Pliny the Younger is the crazy freshness, and it's hard to imagine that beer tasting any fresher and more hop filled than this one. Each taste is a treat and flavor-filled freshness hop-bomb. At the end, it's crisp, clean and delicious. Stone has again reestablished what the bar can be. And then raised it. Outstanding and highly recommended. Find this beer. Find it now. And then drink it. Immediately.
5 Sierra Nevada, Hoptimum Whole Cone Imperial IPA
Hop Varieties: German Magnum, Simcoe, Citra, Chinook and new proprietary variety
ABV: 10.4%, IBU 100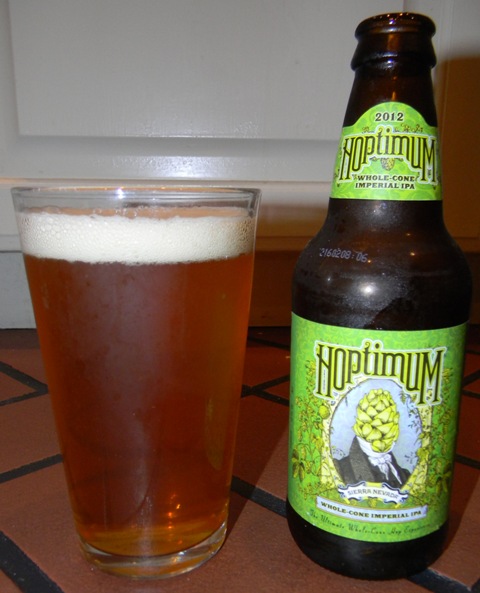 "Description: "A group of hop-heads and publicans challenged our Beer Camp brewers to push the extremes of whole-cone hop brewing. The result is this: a 100 IBU, whole-cone hurricane of flavor. Simply put —Hoptimum: the biggest whole-cone IPA we have ever produced. Aggressively hopped, dry-hopped, AND torpedoed with our exclusive new hop varieties for ultra-intense flavors and aromas. Resinous 'new-school' and exclusive hop varieties carry the bold and aromatic nose. The flavor follows the aroma with layers of aggressive hoppiness, featuring notes of grapefruit rind, rose, lilac, cedar, and tropical fruit—all culminating in a dry and lasting finish."
This label pretty much says what you're going to get; a giant, full-cone hop dressed up like a Barrister; classy and down-to-business. Color is a clear golden that kind of reminds me of The Elder a bit; high praise indeed! (Of course, we don't drink color...) Produces a finger of head that soon resolves down to just froth on top. Leaves a thick trail of lacing on the sides of the glass though. Body is very clear allowing you to see the cascade of micro bubbles at work. Nose is a little subdued, but rich with pine and citrus hop aromas when you really breathe it in. This smell is *incredibly* promising and I'm not gonna lie...my mouth is totally watering. First sip...wow! This beer is GREAT. Rich initial blast of pine and well-balanced sweetness followed by a nice wash of lingering bitter finish. This is hitting all the right Double IPA elements for me; it's rich with pine flavors, has a really nice bit of sweetness, but not the cloying sweetness of caramel-malt or alcohol, and then a wonderful grapefruit citrus bitter at the end. The flavors are just so big and spot on and results in a great, fully engaging mouth experience from start to finish. You can taste that this is packed with hops, but they're well delivered and balanced. I'm gonna say this is a Top 10 beer. Maybe even top 5.  It's a real treat just crammed full of fresh, hop flavors. I also love that pine is that standout flavor profile and that the citrus bitter is reserved for the finish. How could it be improved? Maybe slightly more pine, richer aroma, little smoother finish...? But for the price of this beer, it's outstanding, and a standout of the Double style. I'm kinda starting to get emotional from it. I want to call up people I haven't talked to for a while and tell them I love them. Maybe write out some beautiful Hallmark "thinking of you" cards or something. Highly recommended. (I went and bought another 4 pack, this time for $7.99. At this price this beer represents one of the ultimate beer buys and is an unbeatable value, and the second encounter confirmed it as a Top 5 beer.)
4 Bell's Brewery, Hopslam

Hop Variety: "Six different" including Simcoe
10.0% ABV, IBU Unlisted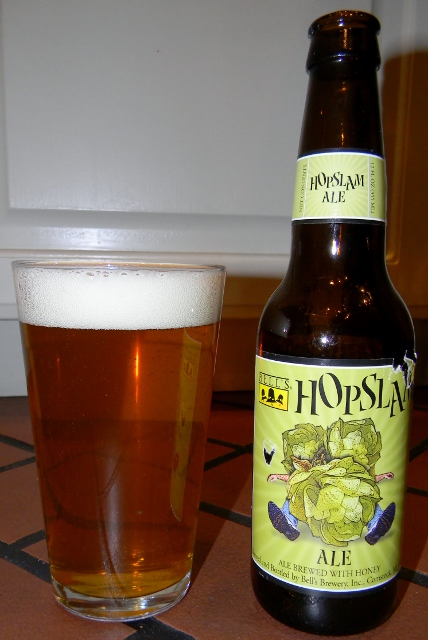 Description: "A biting, bitter, tongue bruiser of an ale. With a name like Hopslam, what did you expect? Starting with six different hop varietals added to the brew kettle & culminating with a massive dry-hop addition of Simcoe hops, Bell's Hopslam Ale possesses the most complex hopping schedule in the Bell's repertoire. Selected specifically because of their aromatic qualities, these Pacific Northwest varieties contribute a pungent blend of grapefruit, stone fruit, and floral notes. A generous malt bill and a solid dollop of honey provide just enough body to keep the balance in check, resulting in a remarkably drinkable rendition of the Double India Pale Ale style."
I had never heard of Bell's Hopslam, and this beer was actually not one that I purchased for tasting, but rather a gift from a friend named Corey. Apparently Hopslam is in CRAZY limited release, like each distribution partner gets but a single case, 4 measly 6-packs. Corey loves this beer and he hunted it down mercilessly; going to every reseller in town and scoring EIGHT 6-packs, and then sharing one bottle of the priceless golden elixir with me. Turns out that Hopslam is one of those rare beers that has achieved the Double Century; a perfect 100 from both Rate Beer and Beer Advocate. What better way to kick-off the Super Beer tasting? Pours a beautiful golden yellow with the read-through-the-glass hyper-clarity characteristic of many of the best IPAs. Produces a beautiful two fingers of creamy, off-white head that slowly reduced down to a nice frosty topping that coated the top of the glass. Leaves thick, rings of lacing all around the sides of my glass, marking each and every sip of progress. Oh, man. The smell is wonderful. Giant and rich like you crammed an entire freshly cut forest up your nose. You can almost feel the sticky, hoppy pine sap. It has a wonderful undernote of spicy sweetness that really promises fresh, ultra-rich, bold hop flavors. First sip, and it lands on the tip of the tongue like a charging running back. It just lights up the tongue and wakes up your whole mouth, and then the beer runs, jumps, and spins its way to the back of the mouth for a taste touchdown. There is a wonderful fresh, piney hop-filled sweetness and then a terrific, lingering bitter finish. After one single sip I can pretty safely say that this is a top 10 beer. This beer has the wonderful, subtle sweetness that I crave in an IPA. The best of them – Stone Ruination 10th, Drakes Hopacalypse, Knee Deep Simtra, Sierra Nevada Hoptimum – have it, and it is that balance that makes them so great. The flavor arc on this is really perfect as well, with wonderful, engaging flavors happening from every step of this beer, from the nose, to the spark on the tongue, to the big, rich sweet hops that swell in the mid, to the nice lingering bitter at the end. As far as flavor notes, I'm picking up hints of pineapple and mango/papaya flavors, and some grapefruit citrus along with the big, sweet pine. Also, speaking of balance, you would have no idea this beer is packing double digit ABV. It is so smooth and lacking in any alcohol flavors. I honestly can't think of one negative thing to say about this beer. It lives up to its name; it's a true Hopslam of delicious flavors, and is worth seeking out by any true hophead.  In the football spirit, I'm gonna say that on any given Sunday, Hopslam could be one of the best IPAs you drink. Ultimately, I'd say it's probably not a top 10 beer. It's a top 5 one. Highly recommended.
3 Drakes, Hopocalypse Double IPA

Hop Variety: Citra, Simcoe, Chinook; Dry-hopped with: Cascade, Simcoe and Chinook
ABV: 9.3% IBU: 100+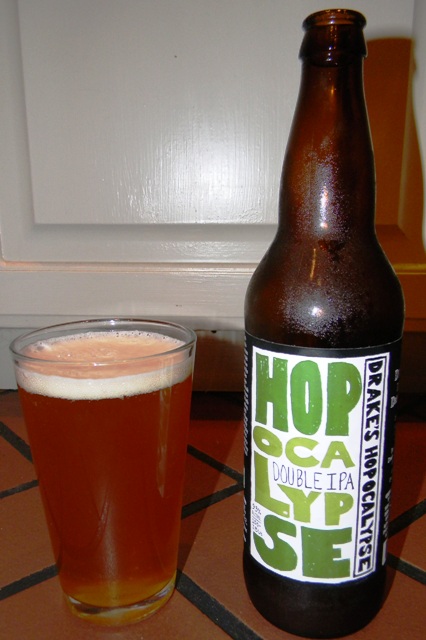 Description: "This deep orange monster is loosely filtered to keep the integrity of the malt & hops intact. Equal amounts of American 2-row malt and English pale malt are combined with Vienna and Rye malts, then balanced with Citra, Simcoe and Chinook hops for flavor. We then dry hop it with Cascade, Simcoe and Chinook hops for an intense hoppy aroma. Enjoy the massive aromatic Revelation and prophetic flavor of this beer now and forever after. — Available in February"
The name makes me think of Hopocalypse Now, and I love the smell of hops in the morning! Pours a cloudy golden-orange in the glass with thin head that disappears to a froth and smattering of bubbles. Leaves a thick lacing trail down sides of glass. Wonderful fresh pine aroma! I just chopped down the biggest, freshest, pine-est pine tree in the forest and then jammed it into my pint glass! The smell is just...wow! It's like you looked up "quintessential IPA aroma" in the Sciacca-tionary you would find a high-res picture of Drakes. I want to turn it into a perfume and spray it all over Dana. And then lick it off. And then… (Yeah, OK, we kind of went off to a weird place there...) Time to taste... Carbonation engages your entire tongue in dazzling tingles, and then it is an onslaught of pine and hops and milder citrus notes followed by a slow, steady powerful rush of bitter. Bitterness has just a hint of coppery-metal flavor, but is a really nice balance to the piney hop sweetness. The sparkling carbonation keeps up with each sip, offering a wonderful pine experience with every drink. (Round 2 - second pour) Second pour right down the middle of the glass produced a more generous, finger of head that stuck around for a bit and more wonderful piney aromatics. You might expect this beer with 100 IBU rating to be like chomping into a lemon but it definitely isn't. Strong, big, bitter taste? Yes. Nuclear bitter bomb? No, sir! This is a big, huge IPA that is not for the faint of pallet. But for the true fan of this flavor genre, this is a beer that will challenge and reward your tastes! This *might* be the BEST beer that I have EVER had. I can't think of one element or characteristic of this beer that I would change or improve. A+
2 Russian River Brewing, Pliny the Elder

Hop Variety: Amarillo, Centennial, CTZ, and Simcoe.
ABV: 8.0% IBU: Unlisted Bottled on 2/13/12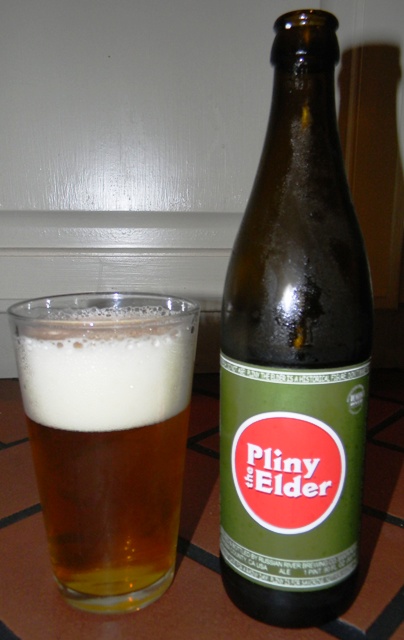 Description: "Pliny the Elder is brewed with Amarillo, Centennial, CTZ, and Simcoe hops. It is well-balanced with malt, hops, and alcohol, slightly bitter with a fresh hop aroma of floral, citrus, and pine. Best enjoyed FRESH! That is why we make it in such limited supply. Actual bottling date is printed on each bottle! Where did we come up with this name? Back in the year 2000, our friend, Vic Kralj, who owns the Bistro in Hayward, California, decided to have his first ever Double IPA festival. Vic invited 10 breweries, 6 of whom (including us) had to brew something special for him since we had nothing that would fall under this style category. Vinnie had made a Double IPA at Blind Pig in 1994, but was not brewing one at Russian River Brewing at the time. He had an idea for the recipe, but not a name. After much research in beer books, brainstorming, and deliberation, we came up with "Pliny the Elder". Pliny, the man, lived in the first century- 23 to 79 A.D. According to our brewing references, he and his contemporaries either created the botanical name or at least wrote about Lupus Salictarius, or hops, currently known as Humulus Lupulus. That was a very early reference to an important part of any Double IPA! Pliny the beer has now become one of our flagship brews! Pliny the Elder was immortalized by his nephew, Pliny the Younger, who wrote about his uncle succumbing to ash and smoke during the eruption of Mt. Vesuvius in 79 A.D. while rescuing people. Cheers to the scholar, historian, officer, writer, and Roman Naturalist- Pliny the Elder!"
Written on the bottle: "If you must, sit on eggs, not on Pliny! Do not save for a rainy day! Pliny is for savoring, not for saving! Consume Pliny fresh or not at all! Not a barley wine, do not age! Age your cheese, not your Pliny! Respect hops, consume fresh! Respect your Elder: Keep cold, drink fresh, do not age! Pliny the Elder is a historical figure, don't make the beer inside this bottle one! Does not improve with age! Hoppy beers are not mean to be aged! Keep away from heat!"
So, I have this thing that when something is really popular or when everyone is saying how great something is, that I kind of already don't like it. Like the movie Home Alone. I hated hearing how great it was, so I never saw it. And if you read anything about Pliny, it is usually with phrases like, "best beer in the world," "perfect 100," "quintessential IPA," "if I had to kill you to get another bottle, I hope your affairs are in order…" and the like. So, I was already kind of like, "OK. There's no way this thing can live up to the hype. So, whatever. Let's just drink you and get it over with…" Poured down the middle of the glass, explodes in a giant head of foam producing easily 3 fingers plus. Foam is thick and creamy, and slowly dissolves to a white whipped topping, leaving a thick coating of lacing on the sides of the glass. Color is a nice golden with just a bit of cloud and a steady string of micro bubbles rising up in the middle of the glass. And the smell... The smell is just...it's just...O…M…G! It's like you were dreaming of perfection, and there was just *something* missing that you just couldn't quite put your finger on and then you smelled Pliny, and there it was… Oh man, this is the sweet pine forest aroma I've been chasing ever since I started drinking IPAs! There's pine, and it's huge and fresh and like all of the national pine forest, but also a pleasing sweet richness that is missing in most IPAs. First sip... Oh, man! Imagine the happiest day of your life. You graduated college -- with honors -- you got married to your longtime love, you had a beautiful set of twins -- a boy and a girl -- you went to Disneyland, you stumbled into your best friend AND got a giant promotion. Now pour all that into a glass. And that sweet flavor of deliciousness is Pliny! Wonderful zing of carbonation on the tip of the tongue and the roof of the mouth, full, rich texture and mouth fee, big pine flavors with perfect balance of sweetness, rush oh hops and smooth, lingering bitter finish. Every swallow is joy, every flavor both big but in balance, notes of bitterness but in complete harmony like a symphony. (2nd glass) Poured down the side still produced a good two fingers of head. This is a beer you hold and smell and savor. The smell of Pliny is actually how pine trees wish they smelled. The final sip every bit as good if not actually better than the first. This beer is truly epic and unlike so many things in life actually lives up to every bit of the hype. A++ (Also, this beer held its sweet, delicious, "I love you, let's get married!" aroma in the bottle the next day. I might be holding it and smelling it right now...)
1 Stone Brewery, Ruination 10th Anniversary IPA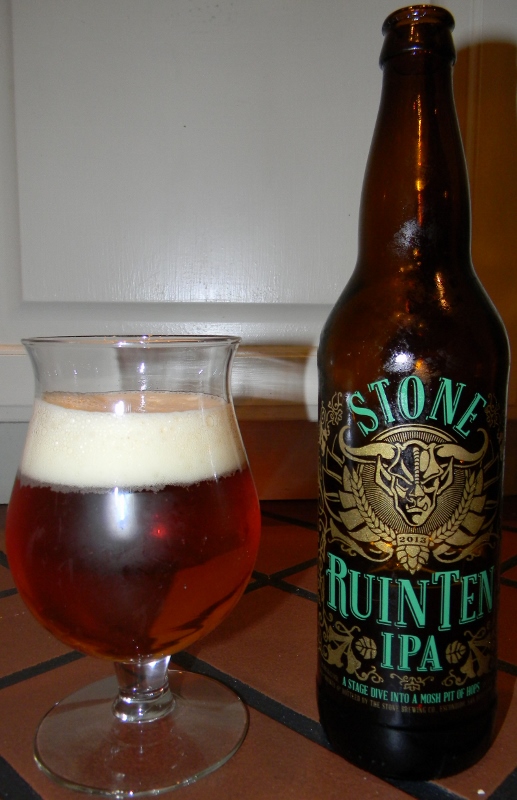 By this point, I've drank and reviewed close to 200 beers. Very few have been awful, many have been middle of the road, several have been good, a few have been great, and a couple have been truly epic.

 

But of all the beers I've had so far, only one can stand alone at the top of the awesomeness taste pyramid; it alone worthy of bearing the crown, "Best Beer I've Ever Had." The beer that holds that honor is Stone Brewing Co's Ruination 10th Anniversary.




The beer was a perfect, magical harmony of sublime hops, malt and alcohol that all worked together like a symphony conducted by the very hands of God himself. From look, to nose, to first dash on the tongue, to the lingering finish that was like Mozart creating a masterpiece in your mouth with his fruffy white wig dripping in sticky-icky sweet-juicy hops. The beer only had one problem. And sadly, it was a pretty giant problem. As an anniversary release, it was meant to be a one-and-done. I bought every bottle that I could find – including having a case shipped in – but once it was gone, that was it. Poof. Like Keyser Soze.

 

Fortunately Stone is not without soul and compassion. When they heard the pouring outcry of love and passion for the 10th Anniversary, they decided to brew it once again, now the beer rechristened RuinTen IPA.

 

Today (June 19) a bottle arrived at my door from Stone Brewing. This beer was released on June 17, and it could be no fresher. I let it rest all afternoon, and then cooled it down to enjoy it at the height of hop freshness and flavor awesome.

 

Before opening this before, I am like giddy with anticipation. It is sitting on the counter about twelve feet from me in an ice bucket, and it is all that I can think of. It is haunting me like the beating of the damned heart.  "Brewers!" I shrieked, "dissemble no more! I admit the deed! –uncap the bottle! here, here! --It is the brewing of this delicious ale!"

 

Imagine if you had spent years searching for the perfect lover. You had found many loves that were good, but you finally stumble across the one that left you breathless. And just when you fully committed to her mind, body and soul, she left. Vanished. A train in the night, never to be heard from again. No calls, no letters. You searched for her endlessly in the bodies of others, but it was never the same, it was never as good. There were glimpses of her in others, but never the full package. Then, after much time had passed and you'd finally convinced yourself that she was truly gone and would never be replaced by another, a postcard shows up out of the blue. She is coming back. She is coming to you. And tonight she has arrived in my bed. And I am trembling in anticipation to embrace her…

 

Let's drink!

 

Stone Brewing Co – RuinTen IPA

Hop Varieties: Columbis and Centennial, dry-hopped with Citra and Centennial

10.8% ABV, 110 IBU




Stone Press Release: "Today, Stone Brewing Co. released Stone RuinTen IPA, a re-brew of the infamous Stone Ruination Tenth Anniversary IPA. Last year's release was embraced by fans and Team Stone alike, which prompted Stone co-founders Greg Koch and Steve Wagner to add the unabashedly bitter brew to the special release calendar this year. This highly sought-after hop monster will be available in bottles and/or don draft at select retailers, restaurants and bars across the U.S.  Last June, Stone Ruination Tenth Anniversary IPA was brewed to celebrate the tenth anniversary of Stone Ruination IPA. Stone achieved its staggering 110 International Bittering Units (IBUs) by using twice as many hops – five pounds per barrel to be exact – and cranked up the alcohol-by-volume (ABV) from 7.7% to 10.8%. "We brewed this beer using the same ingredients as in our classic Stone Ruination IPA, but we jacked up the hops – not just in the boil, but we doubled the dry-hop amount, using a 50/50 blend of Centennial and Citra," explained Stone Brewmaster Mitch Steele. "We also pumped up the malt to achieve its elevated ABV. The combination is, dare I say, magic." If Stone Ruination IPA is "A Liquid Poem to the Glory of the Hop," then Stone RuinTen IPA is "A Stage Dive into a Mosh Pit of Hops." Those that dare to enjoy this hop bomb will notice myriad fruity, tropical and citrus characteristics, plus a lingering bitterness on the palate. The elevated ABV brings about a full-bodied maltiness, which helps to balance out the aggressive hop flavors. For an optimal hop experience, this beer should be enjoyed before the "Drink By" date on the bottle – in fact, the sooner the better to maximize the hop flavor.

 

Overall: This was one of the team's favorite Double IPAs, so we were thrilled to have the opportunity to brew it again. The combination of Citra and Centennial in the dry-hop is magical. Please drink this beer FRESH to get the full impact of the hopping."

 

Enough talk. It's time to pour. My baby is back and daddy is home… Beer pours thick and wonderfully from the bottle into the glass producing a nice two fingers of slightly off-white head. It pours a beautiful deep golden, dark copper color that just screams of richness. The head kind of settles down over a few minutes, but with every shift of the golden liquid, the glass is just coated with this thick, oily sticky froth that clings to the sides for long minutes. The beer's body is clear but, oh, dammit! The smell! The smell is like…I smell sex and candy, yeah. I mean, I want to just state for the record that I have never done heroin. But, this smells to me like how I think heroin addicts feel about heroin. Like, I want to put this smell on a spoon, cook it down and then shoot it into my nose. I want to then lie down and just dream hazy, gauzy RuinTen dreams. The smell is just sweet and packed with sticky piney resin and gobs of gooey hops. Beneath are rich notes of tropical sweetness, like delicious fresh-squeezed oranges from a tree in the center of Eden. Honestly, smelling this beer is more satisfying than actually drinking many of the other beers I've swilled. If Dana wore RuinTen as a perfume, we would have like 17 children and she would be pregnant right now. First sip…oh, man. I'm starting to get emotional from it. I missed you, girl. Don't ever leave me again. We're perfect together. RuinTen, you complete me. The flavors are just so frickin'…perfect. Spot-frickin'-on *perfect*. If this beer were a golfer, Tiger Woods would caddy for it and say, "Please, teach me how I can be more like you." It's this wonderfully flash of sweetness and carbonation as it lands on your tongue, and you can just feel your mouth and every single taste bud rushing in to welcome all the flavors. Your mouth literally wants to give this beer a long, passionate lingering hug. The swallow is just a crush of hop bitterness that just goes on and on. You are chewing on the aftertaste for minutes after. The 10.8% ABV is like non-existent. The flavors are so well balanced that it's really like drinking a chalice filled with magic. To quote my brother, this beer is wedding night good. Admittedly, I've never tried Russian River's Pliny the Younger, but from what I've heard, this could be its closest sibling. And you don't have to travel 3,000 miles and wait in a 6 hour line to maybe get some. I can't think of one element that would make RuinTen even 1% better. This beer is a perfect 100 in every regard. From the second the beer hits the glass, it is engaging your senses. The amazing aroma, the mouthfeel, the incredibly intense, fully spherical flavors, to a finish that is like a Peter Jackson extended Blu-ray cut.  Seriously, if you told me that I could have a keg of this beer, but that it would mean a good chance of me becoming a gutter dwelling, raging alcoholic, I would say, "The fridge is all set; when will you get here?" It's that good. I want Kurosawa to make a documentary on this beer; a lengthy 3.5 hour doc with dramatic lighting and frame composition. Stone recommends some food pairings with this beer like salt and pepper shrimp, aged cheddar, or apple pie with caramel sauce. But, honestly, I can't imagine eating anything with RuinTen as it would take away from the savoring of it. I want to drink this beer WITH this beer. Like I want two glasses lined up to, I don't know, something. (Second pour...) Another nice, fluffy cloud of whitish head and nuclear blast of aroma. I do love the flavor of this beer as it is nice and cold. I mean, I would probably love this beer after it has been sitting in a 130-degree car all afternoon long, but it is just (insert sound of angels singing) when it is cold. The name of this beer is also amazingly spot on. It's not that the IBUs are so high they ruin your palate. It's that they flavor of the beer is so good, that once you've had this, you are ruined from ever wanting anything else. No joke, this beer is gone, and the thought of drinking anything else tonight just fills me with an empty sadness and regret. RuinTen is the girl from your past you have been hunting for on Facebook. Seriously. If Becky Frodsham is out there, she is drinking a RuinTen. And enjoying the living hell out of it. Well done, Stone. Now, promise to never leave me again. Highest rating, epic of epic status standing with the kings in the Halls of Beerhalla.

Categories: Beer/Liquor/Wine, Top 10 List, August 2013

0

/