Shopping Cart
Your Cart is Empty
There was an error with PayPal
Click here to try again
Thank you for your business!
You should be receiving an order confirmation from Paypal shortly.
Exit Shopping Cart
Features, Reviews and a Blog by John Sciacca
| | |
| --- | --- |
| Posted on March 26, 2010 at 3:54 PM | |
Often times, when writing for a new publication, they request a bio from the author. Some quick, catchy little snippet that sums up who you are and your expertise in like 75 words or less. And I have to tell you, that is often one of the hardest things for me to write. It is surprisingly difficult to describe yourself (generally in the third person) simultaneously saying how great you are without coming across as a totally conceited ass-hat.
Sound + Vision recently started running a little blurb next to my monthly "Custom Installer" column, and this is always the last thing I work up ,waiting until the very last second trying to work in something timely and funny while not sounding, uh, gay. (Apparently I tend to do that.)  Here are some of my more recent ones:
"John's first home theater purchase was a giant, incredibly wife-unfriendly subwoofer back in 1995. He began his career as a custom installer in 1998 at Custom Theater and Audio in Murrells Inlet, South Carolina, where he still works. He welcomes any suggestions for solving the problem of his Trinity Signature Reference subwoofer trying to vibrate windows out of their frames."
"John's an avid reality-show junkie, and fresh off a terrific season of Survivor – Russell, you got screwed! You're the sole survivor! – he's already amped for the upcoming 20th season, Survivor: Heroes Vs. Villains. Welcome back, Stephenie LaGrossa!"
"While John's 60-inch Pioneer Elite plasma HDTV is regrettable un-green, he tries to atone for it by taking out the recycling and enduring life with hateful, non-dimmable CFL bulbs in several rooms of his house."
Today, I finally got a *much* needed haircut. It had been like 3 months, and Malia – who happens to work at the shop – had the enviable task of sweeping up all of the hair post cutting.  And let me just say, it was one frickin' impressive pile of hair that could have been used for a lot of...something. Regardless, the hair is Malia's to keep and do with what she will, whether that's stuffing a Queen-sized pillow or enjoying several minutes of warmth from a good old-fashioned hair fire.
Anyhow, what is tying this whole mess of a blog post together is that I got the haircut for free because I wrote a bio for the woman that cut my hair. They started a new stylist bio section on the salon's website (shout out to birch broom salon!) and Malia said that this girl was having trouble writing hers. (See, I told you it was tough! You can't just come right out and say "I'm the best GD hair cutter up in this mutha! So ya'll bitches better ask for me or one of these other ho's is gonna cut you bald!" even though that's really what you're thinking) So she asked if I would "punch up" this girl's bio. So, I did.
My challenge to you is to see if you can pick the one that I did. Leave your answer in a comment and I'll post the real answer if there seems to be any interest. Here are the bios; you have a 1 in 4 chance of picking the one I did. (By the way, she did a great job. And if I'd wanted my giant morning glass of wine, she was totally cool with that.)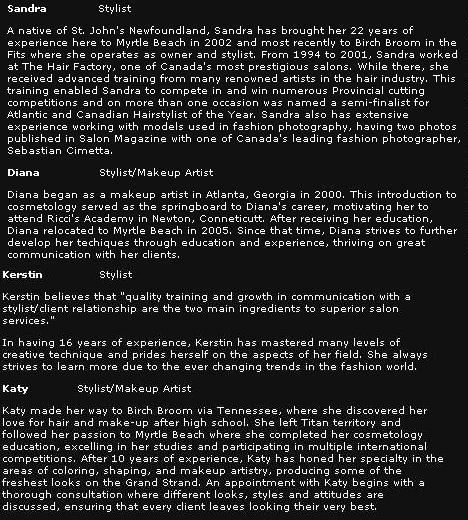 Categories: Mar 2010
/