Shopping Cart
Your Cart is Empty
There was an error with PayPal
Click here to try again
Thank you for your business!
You should be receiving an order confirmation from Paypal shortly.
Exit Shopping Cart
Features, Reviews and a Blog by John Sciacca
| | |
| --- | --- |
| Posted on September 4, 2013 at 5:00 PM | |
Summer may be quickly drawing to a close, but that doesn't mean that you should stop drinking summer inspired ales. As we ease into the warm, lazy days of fall, the humidity just starting to break and lessen its crushing grip on our dampened spirits, it's the perfect time to pop open a brew meant for a nice relaxing sip by swimming pool while gently rocking with your best girl on a porch swing.
When I stumbled on this Summer Sampler pack at Wal-Mart, I knew that I had to take it for a spin. Also included were two regular, Blue Label, Sam Adams which I heartily drank but didn't bother reviewing as they have been covered previously.
Enough with the small talk! To the drinking!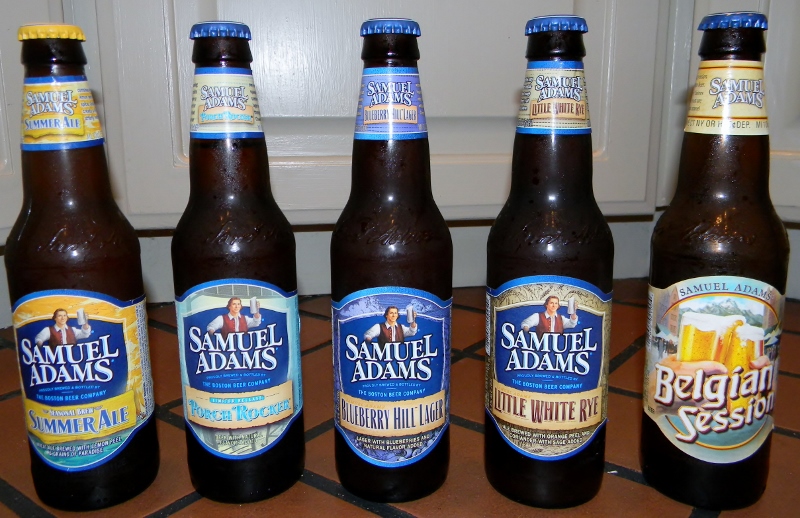 $13.49/12-pack
Samuel Adams – Belgian Session
Hop Varieties: Hallertau Mittelfrueh, Ahtanum, Strisselspalt
4.3% ABV, 16 IBU
Drank April 12, 2013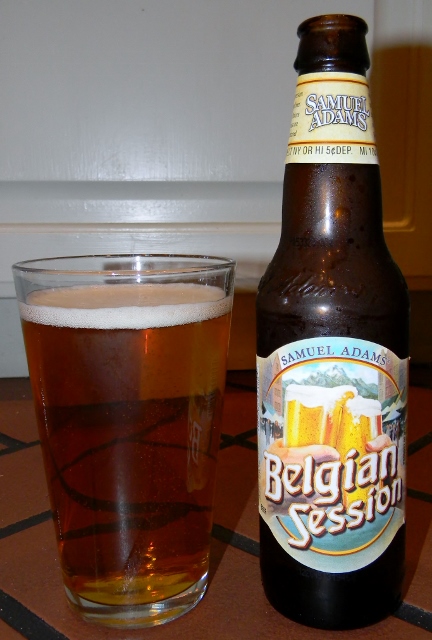 Description: "A crisp, refreshing version of a traditional Belgian beer.  Fruity, slightly spicy flavors from the Belgian yeast are balanced by toffee and caramel notes from our blend of malts while the hops provide a citrus character that rounds out this enjoyable brew."
Pours a light golden color with just a half-finger of snowy white foam that quickly reduces to just a creamy froth on the top of the glass. Beer looks clear, but has an opaque cloudiness that just keeps you from seeing through it. Lots of visible micro-bubble activity in the glass. Smell is definitely the gummy, banana-juicy of Belgian ales, but more dialed back. It's there, but like you are looking into Belgian from the Swiss border. There is also an almost equal part wheat note. First sip…and it really tastes just like it smells. There is a nice carbonation on the tongue, and I am more aware of the flavor as I exhale through my noise, getting a sense of the spicy-sweetness, and then wheat flavors. The finish is nice with a decent linger. I'm like more aware of the flavors as the beer is just sitting in my mouth, rolling around on my tongue and just sensing the different notes than from actually swallowing it. Hanging out by my pool, enjoying some music, and sipping on a fine Belgian ale. There should be a yodeler somewhere or something. I don't know. Like many of Sam Adams stylized brews, this gives you a glimpse and a taste of the style, without being an intense version of it. It is like Belgian-ale light. There are enough clove and gummy and sweet notes that you can clearly see it is an homage to Belgian ales, but doesn't have the intensity to where it is a really good representation of the style. Having said that, it's a nice, definitely drinkable beer, and fits well into the summer sampler collection. I can totally see this being refreshing as you sip it poolside on a hot summer day, with enough flavor to make it hold your interest for an afternoon. I'm sorry that there were only two and now I've drank both of them.
Samuel Adams – Blueberry Hill Lager
Hop Varieties: Tettnang, Tettnanger
5.5% ABV, 18 IBU
Drank April 13, 2013
Description: "A fresh take on a fruit beer. This crisp, unfiltered lager is aged on blueberries for a pleasant blueberry aroma and taste. To take this fruity character in a new direction, we brewed with Tettnang Tettnanger Noble hops for an added subtle citrus note - a delicious blend of flavors with a smooth lager finish. Cheers!"
I used to like fruit beers, then as my palate developed, I kind of left them for dead. I mean, beer. With fruit. It should come with an umbrella and a waiter that calls you Miss and asks if you're old enough to be out drinking. But done right, a fruit beer can be delish. And blueberry is some of me favorite kind of fruit all. Yes, me favorite. Pours a cloudy, golden yellow with a half-finger of head that kind of mellows to a thick layer of creamy froth. Leaves a nice coating of foam lacing on the sides of the glass. Nose is ripe with nice fresh blueberries and a hint of wheat. The berry smell is fresh and forward and sweet and really puts you in the right mindset for a blueberry ale. First sip…nice carbonation on the mid-tongue, with immediate sensation of sweet fruit, and then a crisp finish, with ripe berry flavors and a hint of wheat. A really good first sip and almost exactly what you would want from a fruit infused lager. The following swallows don't have quite as much blueberry flavor, but it's still there, offering just the right amount of sweetness to the ale balanced by a smooth wheat finish. I'm not sure what else to say about this beer; it has an overall nice balance of blueberry throughout; from the sweet notes exhibited on the nose, to the taste when it hits the tongue, to the sweet splash of flavor on the swallow and finish. It has a refreshing flavor that would be great for enjoying on a long, summer afternoon.
Samuel Adams – Little White Rye
Hop Varieties: Tettnang, Tettnanger and Saaz Noble Hops
5.3% ABV, 18 IBU
Drank April 13, 2013
Description: "Innocent yet beguiling, this hazy golden brew appears to be a classic witbier with its bright notes of orange citrus & coriander, but there's a bit more mischief up its sleeve. Behind its sweet exterior lies an intriguing blend of white sage and rye for an earthy, spicy, and thoroughly refreshing brew. Cheers!"
Rye ales seem all the rage lately, one of the latest brewery sub-strains that people are pushing, but I've not been really blown away by the ones I've tried. But there are two in this sampler pack and by God, I'm gonna drink 'em! Pours a light yellow color worthy of its "white" name. Very light coming out of the bottle, but darkens up a bit when fully poured into the glass. Produced a half finger of head that reduces to a bed of froth atop the glass. Beer is cloudy with some bubble activity visible. Nose has a bit of citrus but almost smells medicine-like. It has an almost camphor aroma to it. I'm trying to get some more out of the aroma, but it's really not working for me. First sip…the beer is very light, like *very light* in flavor. There is like a *hint* of orange and maybe a distant glimpse of spice, but it is mainly like drinking a club soda with maybe an bit of orange peel and some wheat notes. I get that a summer beer should be lighter fare with refreshment as a goal, but where the Blueberry Hill Lager totally nailed it, this seems nearly flavorless in comparison. Also, that weird camphor aroma – is it rye, is it sage, is it Vick's Vapo-rub? – is hard for me to get past. Maybe I would enjoy this beer more if I were lying on a beach, laying out on a towel amidst an infinite white-powder sand beach looking out at amazingly clear blue waters, sipping it as the hot sun beats down on me and a parade of bikini-clad Keira Knightleys played volleyball nearby. But, since none of that is happening, I find this beer pretty boring and uninspired.
Samuel Adams - Summer Ale
Hop Varieties: Hallertau, Mittelfrueh
5.3% ABV, 7 IBU
Drank June 1, 2013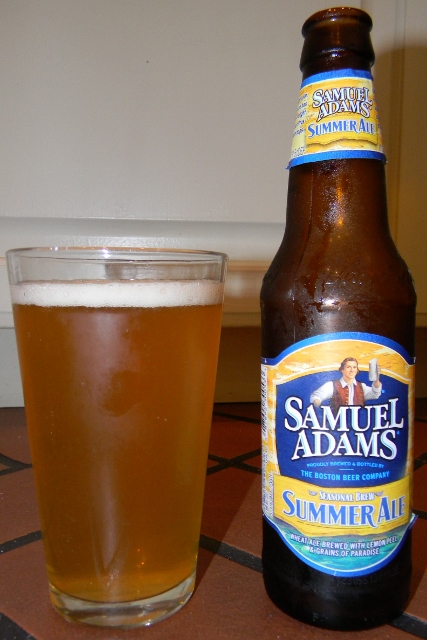 Description: "Crisp and tangy with refreshing lemon peel and a hint of pepper from rare Grains of Paradise.  Golden, hazy, & thirst quenching, this American wheat ale balances bright citrus, Noble hops & spice for a lively brew that's perfect on any summer day. Cheers!"
I'm guessing this should be the quintessential summer beer as it chose to give itself the very name of summer. Pours a lemony yellow wheat color with a bit of cloud and a finger of white head that quickly bubbles away to just a froth. Lots of nice visible carbonation in the glass. Smell is wheaty with tangs of lemon citrus. First sip and flavor very closely follows the smell. A nice bounce of carbonation as it hits the mouth a wave of wheat flavors a flash of lemon and then a nice lengthy mellow finish with wheat and grain. It's in the upper 80s as I drink this out by my pool giving it the full summer treatment. Beads of sweat rolling down my face. And the beer is light and fairly refreshing though after a few swallows my mouth is seeming drier and I'm thirstier. At the finish of the swallow there is a bit of a citrus twang but not really enough to hold my attention.  I guess as a beer for sipping on a hot day it's ok, but I think I would like it to be a little more crisp and clean on the finish and maybe a little more mid note flavor to keep my interest. It's just an uninteresting middling effort in my opinion. Though how bad can drinking a beer by a pool really ever be? #FirstWorldProblem for sure.
Samuel Adams – Porch Rocker
Hop Varieties: Tettnang, Tettnanger
4.5% ABV, 8 IBU
Drank July 7, 2013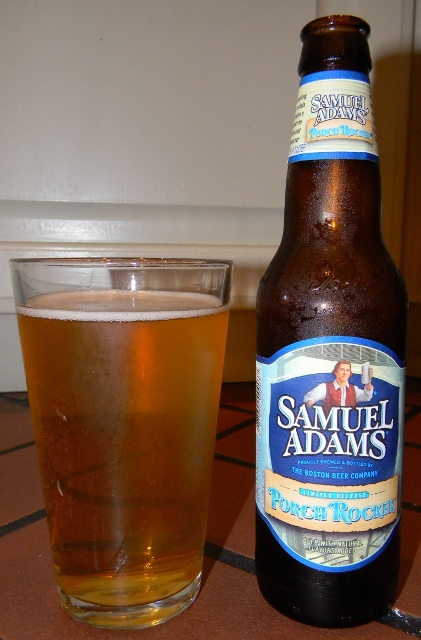 Description: "Perfect for any summer day, Samuel Adams Porch Rocker is bright and citrusy with a fresh-squeezed lemon effervescence and a refreshing finish.  Crisp & tangy, with its combination of lager & tart lemonade this unique summer quencher is our take on the Bavarian Radler, named for cyclists that originated this drink. Cheers!"
Beer and lemonade just seems sacrilegious to me, and I definitely held off on drinking this one until the end. It sat in my refrigerator, side-by-side with its casemate, watching as other beers came and went. Finally, there were no other beers to come, and so this one went. Into my glass. Beer is a very clear golden yellow, a bright sunshine happy yellow in the glass. The beer is see-through clear. With a cyclonic explosion of constant bubbles that rise endlessly from bottom to top of glass. Produced just the littlest bit of had that very quickly reduced down to a foamy top on top of the glass. Smell is sweet and heavy with lemon. Like a carbonated lemonade more than a beer. Like a carbonated beeronade. I can't think of a more ideal time to be drinking this particular beer. It's mid 80s and I'm sitting outside by my pool listening to Dave Matthews Band on Pandora. First sip and you definitely feel the carbonation in the mouth and then the heavy sweetness of the lemon which continues throughout swallow until the very end of the finish where you have a kind of a Hefeweizen/wheat beer flavor. I'm not exactly sure what a Shandy is, but the word kind of reminds me of something that you would get in a sketchy truck stop bathroom. Like I shady handy or something. And that's kind of my thoughts on this beer so far. It's certainly light and I guess it could even be considered refreshing, but that heavy sweet lemonade taste is just so unnerving that I can't wrap my mouth around it. I spilled a little bit of the beer on the ground, and I have to confess, I am not bemoaning its loss one bit. Was I subconsciously doing it to get rid of some of this odd tasting beer so I didn't have to drink the whole thing? I can't honestly say. This really reminds me more of say Country Time Lemonade deciding to make an alcoholic libation that heavily featured  their recipe. It's like a beer with training wheels. Big, sweet, lemony training wheels. The only thing that might be redeeming about this beer, would be if you drink enough of it and then throw it up again, and then that lemony taste might be a bit refreshing as the beer left your system once and for all. Other than that I can't think of any good use for this beer. Except maybe if you were lost at sea and you were about to get a case of scurvy and the choice was drinking this beer or have a limb cut off. Then I guess it would depend which limb….
Categories: September 2013, Beer/Liquor/Wine, Reviews
/