Shopping Cart
Your Cart is Empty
There was an error with PayPal
Click here to try again
Thank you for your business!
You should be receiving an order confirmation from Paypal shortly.
Exit Shopping Cart
Features, Reviews and a Blog by John Sciacca
| | |
| --- | --- |
| Posted on September 10, 2013 at 1:25 PM | |
Our custom installation company is fortunate enough to have a showroom for meeting with clients and demonstrating systems. We feel it's a huge advantage for us, and a differentiator between smaller, pop-up-over-night, one-man-in-a-van outfits as the showfront lends an air of stability and credibility. But what to display is always a concern, as that is money out of pocket that often results in gear that is never sold or sold at greatly reduced pricing.
 In our showroom, my business partner and I often debate about what we want to bring in to demo versus what we think we can sell without needing to show. He has this saying that he likes to pull out whenever I think we need to bring in something new. "I don't need to show it to be able to sell it!" And it's often true, as he has this Scheherazade manner of weaving a spell over people; selling them things based solely on the story of a lifestyle and how this new unseen product will be the perfect fit into the 1,001 Nights he is enchanting them with.
And for some things he's right. I can't tell you the last time I actually showed or played a Niles outdoor speaker for someone, but yet we sell many pairs a year. Our best-selling TV is a Samsung model that we rarely even need to turn on to demo because customers typically purchase it based primarily on Samsung's reputations and the aesthetic of the micro-bezel and how the set looks when its off. And I recently sold a near five-digit Sonance SLS outdoor audio system based solely on my enthusiasm from the product and my personal experience during my review.
But there are other products that just need to be experienced by the customer for them to truly understand why they are so special. You'll rarely sell a pair of high-end speakers just by using a bunch of fancy adjectives like "imaging," "soundstage," "realism" or "depth." Even if you are waving around reviews – and even if you happen to have written those reviews – proclaiming how great the speaker is, that's usually the kind of thing that people are going to want to experience. I have been incredibly successful selling Definitive Technology's Mythos Solo Cinema XTR – a near $2000 sound bar – because I demo it to everyone that comes in looking for a soundbar solution. I've no doubt that I wouldn't have sold half as many if I was trying to sell it on word of mouth alone. I think Kaleidescape is another of those must-experience products. You can tell someone that it is kind of like a giant iPod but for movies, but until you show them the interface and how easy and elegant and fast it is, they won't ever truly get it. There is this "aha!" moment when the stars align in a customer's mind and all of the things you've been describing to them gel with what they are actually experiencing. (That's the moment Blake would want you to go for the close, by the way. Then drink your coffee.)  
We have been a VisionArt dealer for several years but had only ever sold one system. And that was to someone who had specifically requested it for a remodel he was doing.
Now, on the surface, VisionArt seems to be one of those products that you wouldn't have to show to be able to sell. I mean, you can easily and quickly describe exactly what the product does. "It is artwork in a frame that covers the TV so when the TV is not in use, you see art. But when you want to watch TV, the artwork rolls up inside the frame and then, Shazam! There's the screen."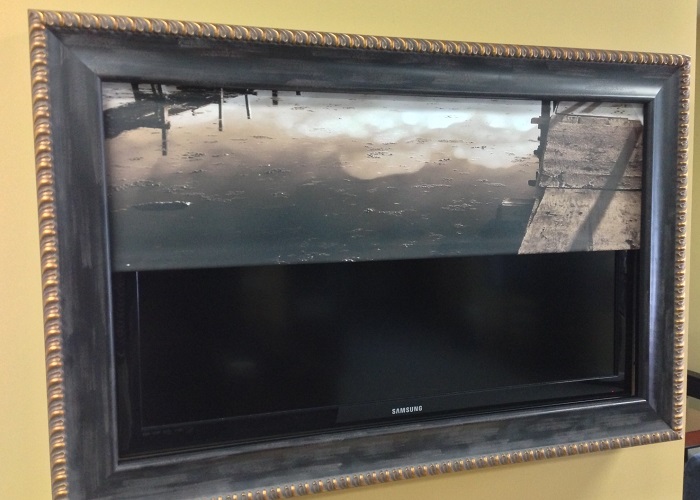 I mean, people know what art is. They have picture frames in their house. They know what rolling up and down means. And they can visualize the artwork one second and then the TV screen the next. But, I'll be damned if we sold any of these things even though we pitched them all the time.
Please keep reading the rest of this at Residential Systems, and why demo'ing a product can make all the difference in closing the sale...

Categories: September 2013, CTA, Electronics
/