Shopping Cart
Your Cart is Empty
There was an error with PayPal
Click here to try again
Thank you for your business!
You should be receiving an order confirmation from Paypal shortly.
Exit Shopping Cart
Features, Reviews and a Blog by John Sciacca
| | |
| --- | --- |
| Posted on March 30, 2010 at 5:03 PM | |
The one thing that *might* be hotter than 3D right now is. . .wait. That's just not true. Nothing is hotter than 3D right now. (A Google search of 3D TV returns 71,000,000 hits in .36 seconds, and to listen to the hype, you people are reading every single one of them!) So, to put it a different, more accurate way, another thing that is very popular in CE right now is anything that can be even remotely tied to green.
The long and the short of green is that manufacturers are trying to make themselves and us feel like buying their products will somehow contribute to saving the world, or at least help to kill it a little more slowly and gently. (Like Lenny in Of Mice and Men.) Now I'm all for tech being more environmentally friendly, but the problem is, there is very little policing of exactly what makes something green. Is it green if it uses a pico-watt less energy when turned off? Or if it's manufactured with chemicals that haven't (yet) been shown to be worse than throwing battery acid in Mother Nature's face?

Also, green is a great marketing tool that creates a compelling brand message – "Buy Greenway, because we love pandas and our products won't kill you" -- manufacturers are quick to tout. But I'm not sure that people want to be green if that means sacrificing performance. A perfect case in point is those *hateful* compact fluorescent light bulbs. Yes, they might last longer and use less energy – green – but they put off a horrible, sickly yellow light that makes jaundiced people seem glowing with vitality by comparison. Oh, and they're filled with deadly, toxic mercury, so disposing of them is, well, like a bio-hazard.
One area where manufacturers tout their greenicity is packaging, and this is something that I actually can get behind. If you've ever ordered anything and had it shipped to you, you'll know how much waste there is in the CE industry. Sometimes you'll get a Russian doll series of boxes that ends up containing products little larger than a pack of batteries.
Well, we just unloaded a new Samsung LED backlit LCD TV that is the first TV where I actually feel like, "Damn! This box actually does make a difference." Remember that Mac Air commercial where they pull the computer out of a manila envelope (while that catchy Yael Naim "I'm a new soul,I came to this strange world..." song is playing)? That would be the ultimate green packagiing. This 40-inch TV is packed in a box not much bigger than that.
So, how is that green? First *way* less materials were used in packaging the set; less cardboard used means less trees killed, less Styrofoam means less of whatever that stuff is made out of (and you just know that you need to wear a respirator when making it which is never a good sign). This box is smaller than my entire TV. And it's a box. That came all the way from Korea. Protecting the TV inside of it. The TV box was *smaller* than the box for the wall mount that arrived at the same time to go with it. (Not from Samsung, by the way.) In the picture you can see how the box compares to a typical flat panel TV and the latest issue of S+V for perspective.
Second, because it is so small and light, it uses way less energy to transport it around. Generally, TVs arrive on big-ass trucks that seem to be carrying almost nothing besides like a randing giant coil of copper wire, a load of tires and maybe some mysterious cube-shaped box. My regular FedEx guy brought this TV on his normal route. Also, multiply this one set by thousands of sets, and that translates to way less fuel on ships and trucks all over the world.  Today, score one for the ozone!

Well played, Samsung. Well played.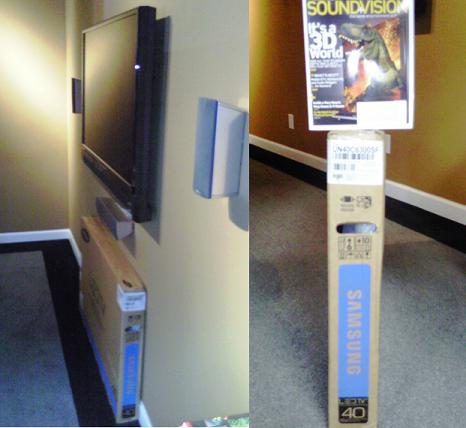 /