Shopping Cart
Your Cart is Empty
There was an error with PayPal
Click here to try again
Thank you for your business!
You should be receiving an order confirmation from Paypal shortly.
Exit Shopping Cart
Features, Reviews and a Blog by John Sciacca
| | |
| --- | --- |
| Posted on September 30, 2013 at 11:50 AM | |
For the past week, I was in Denver, Colorado covering the annual CEDIA Expo. The Expo is my favorite tradeshow of the year, showing all the newest gear that wil be theupcoming rage for the custom install world for the upcoming year.
This year I covered the show for both Residential Systems and Sound & Vision on-line sites, blogging my little totally normal-sized behind off during the three day show. I pumped out a total of 17 posts for Resi and 16 for S&V. In case you missed and of the coverage, you can find links to all the Resi coverage here. All of the work that I did for Resi include video from the showfloor, so you can get a real taste of Expo by watching. Links to the Sound & Vision posts can be found here.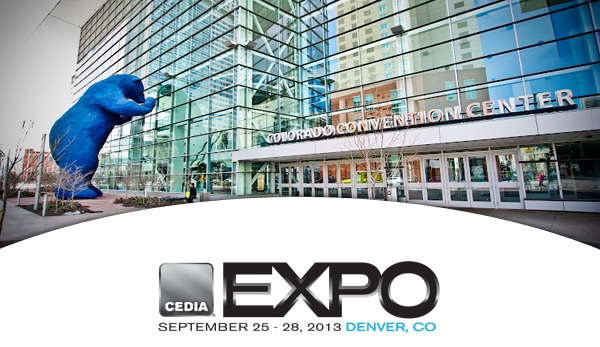 zBoost Cell Phone Booster - Have terrible cell reception inside your house? Check out this solution to improve coverage from a single room to a 20,000-plus square foot mansion.
Winegard Flat Wave Air Outdoor HDTV Antenna - Thinking about cutting the cord and going to on-line streaming but still want to watch Survivor in HD. I totally understand.
Steinway Lyndorf High Performance Audio - Love a smooth, glorious, well-balanced volume knob? Then look no further...
Sony BPL-VW600ES 4K Home Theater Projector - Last year, Sony introduced a $25,000 4K video projector. This year they introduce a new 4K projector that breaks the $15,000 price barrier.
Soundwall Wi-Fi Artwork Speaker - Want great sound but the idea of a traditional speaker both revolts and horrifies you? Soundwall looks as good as it sounds!

Hunter Douglas Battery Operated Shading System - Shading control is a huge growing market, but retrofitting power and control wire in an existing home can be tough and expensive. With Hunter Douglas, a pack of D-cells and a screwdriver are the only tools you'll need!
iRoom iDock Touchcode - If you were James Bond and you wanted to dock your Q-Branch issued iPad, the iRoom iDock is what you'd use. Except you'd probably have a bio-scanner instead of a numeric keypad, but we can always hope for version 2.0...
MechoShade Home Systems Motorized Shade Control - Have a giant window, say 40-feet wide, that you want to drop a shade in front of. No problem.
Clare Controls CLIQ Modules - Clare Controls cloud-based automation introduces new modules that click - CLIQ, get it?!? - together.
Yamaha Displays 11.2 Channel Pre-Amp/Amp Separates - Separates are the king of the high-end world, and Yamaha returns to the market after years of making receivers only with a new flagship animal of a duo.
Kaleidescape Adds Cover Art Browsing to iPad App - If you own a Kaleidescape system - you do, right? - then you know how awesome the cover art browsing is. Well, now you can do it on your iPad too. Shake to shuffle. Watch my friend, Eric Larsen, tell you all about it!
Linn Limited Edition Sondek LP12 Turntable - High-end audio. Turntable. Scotch. 40-year old scotch. If you have a single refined bone in your body, you have already clicked on this link...
Crestron App for Samsung Smart TV - Crestron adds some very cool automation to Samsung Smart TV owners with a new app that provides on-screen, two-way control over your home using your original Samsung remote control.
Digital Projection Titan 1080P LED 3D - World's firsts are the *best* and Digital Projection unveiled the first 3-chip LED 1080p projector that produces a bright, beautiful image on even large screens.
Definitive Technology Mythos STL Loudspeakers - Take a look at my next pair of speakers! Seriously, I have the Mythos ST now, and after hearing these, I know there is an upgrade in my near future! Unrelated: If anyone wants to buy a pair of gently used Mythos ST loudspeakers, kindly send me a comment...
Pakedge BakPak Network Configuration Tool - The reliability of a home's network is more important today than ever, and Pakedge's new BakPak tool makes it easier than ever to configure their enterprise grade networking hardware.
DarbeeVision Reveal CCTV Camera Improving Tech - I've been enjoying DarbeeVision's Darblet video improving tech for some time, and now you can use their latest technology to clean up the video on CCTV recordings, allowing you to perform your own in-home CSI work. 

Categories: September 2013, CES/CEDIA
/