Shopping Cart
Your Cart is Empty
There was an error with PayPal
Click here to try again
Thank you for your business!
You should be receiving an order confirmation from Paypal shortly.
Exit Shopping Cart
Features, Reviews and a Blog by John Sciacca
| | |
| --- | --- |
| Posted on April 19, 2010 at 11:55 AM | |
Previously, I have questioned the need/existence ofAmazon's eBook reader, Kindle. (My Kindle rant is here.) Admittedly, my Kindle apathy is without a lot/any actual first hand knowledge,just a general sense of "Whuh?" I don't own a Kindle, haven't played with a Kindle, and my longest contact with a Kindle has been a 3 hour plane ride next to someone who owned one. (However, my cousin Chris DOES own one, and these are his thoughts on it: "Good points about the Kindle, and you didn't bother talking about the issue of batteries. I've got to charge this thing mid-route if I'm flying to Africa, yet alone dropping it, or spilling something on it. In the tent, I can't read pages1 and 2, rip them out and pass to my tent mates, so we can all read the same book at almost the same time." Why is Chris flying to Africa and living in a tent you ask? To that, all I can say is, "Hooyah, 229!")
However,when it comes to technology, when one company releases a successful product, others are quick to follow-up with their own, eager to grab their share of the financial pie. Now, I guess if I were the CEO of the nation's largest brick-and-mortar book retailer I would be intimidated by the Kindle which basically says, "Don't you have better things to do than go book shopping? In fact, why ever go into a Barnes & Noble again? Just download any book you want. In fact, I'll pick up the 3G costs for ya. Kindle, out!"
Yesterday we were in Barnes & Noble and I got some personal time with their version of the eBook reader, Nook, which is clearly B&N's snapshot return fire back at Amazon. (Seriously, what is it with these names? When I hear "Kindle" I think of kindling. Do you really want me to associate your product with burning? And how does Nook tell me anything about this thing? How about something manly like "Vault" or cool/Latin like "eLibris"?)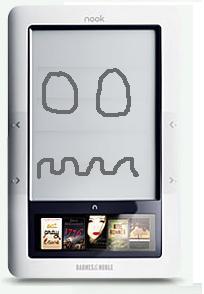 So, we're in B&N and they are really giving customers the full court Nook press. Just like this week celebrates Earth Day, I think yesterday B&N was celebrating Nook Day. So, as we walk in the door there is a table front and center manned by two employees. "Have you seen the Nook?" Many people looked confused by this offer/solicitation, again, due to the "Oh, aren't we clever?" name. In many parts of the world, if you  someone approached you unbidden and asked if you've seen "The Nook" you would be well within your rights to deliver a serious throat punch or pepper spraying. Then there were regular (like every 15 minute) propaganda announcements over the PA. "Have you seen the Nook? Come up front for a personal demonstration!" Then there were employees circulating handing out Dixie cups of some Starbucks frappe-blendo telling people about the Nook presentations. Then there were fliers on counters everywhere. Ultimately, I succumbed to the brainwashing and made my way like a lemming to the front.
There were two employees giving demos, a girl and a guy.The girl was busy, so deep in a Nook presentation that time had ceased to have any meaning, so I went to the guy. First, he had all of the enthusiasm of someone trying to sell me a crate of questionable beets. "Uh, this is the Nook. See, you can use it to read books. Press here and you can make the, uh, text bigger or, uh, smaller." Next to me, the woman was demoing her Nook with the passion normally only seen by new mothers in the pediatric wing. She lovingly placedthe Nook in her people's hands – "careful; you want to support its back" – standing back beaming like a proud parent as she guided them through each feature. I had to pry the Nook away from my guy. ("Can I hold it?" "Uh, yeah. I guess.")
So, here's what I learned about Nook.
"Is there a rental model?"
"Uh, no. You have to buy the Nook. You can't rent it."
"Actually, (sarcastic/condescending/it's understanding that makes it possible for people like us to tolerate a person like yourself chuckle) I meant is there a rental model for the BOOKS. Can I rent any instead of buying them.  Like at the library?"
"Oh. No."
Now apparently there are "like half-a-million titles" available for free. Turns out when the copyright expires, you can really stick it to the writer and give his stuff away for free. As a writer, I always love a story that ends with the writer getting boned out of anything. It really warms my cockles. Now, "like half-a-million" sounded a TAD overly optimistic  to me, so I checked B&N's Website. They claim over 1 million books available with "thousands of free titles."
Most books range between $8 and $14, so you do get a break over the retail price of a hardcover by purchasing the eTitle. They happened to have Stephen King's "Under the Dome" sitting on the table which was actually a bit of advertising that really hit home with me. I had JUST toted this paper filled Goliath to and from Florida, and it was so gigantic that it wouldn't fit into my backpack. (Plus, when you use the anti-bacterial lotion in the bathroom, it is IMPOSSIBLE to hold onto the slick, plastic jacket the library installs. The book came frightfully close to being retitled "Under the Bowl" as it nearly tumbled into a urinal.) And I would be lying if I didn't say that I would have greatly preferred toting around a 12 ounce Nook versus the left-arm-I-hope-you're-up-to-this challenge which is the hardcover version. So, the guy tells me that buying "Dome" in hardcover would cost me $35, but the eVersion is a lot less (turns out it's $17.) Of course, I could also buy the hardback version over at Amazon for $20. Or I could do what I actually did, which was jus trent it from the library for $0.00.
Other Nook-worthy items: battery life is rated at 10 days, but my beet salesman said I'd be lucky to get 6. "Maybe if you turn the WiFi off and don't turn too many pages or use it that much." (Seriously, the only thing that this guy could have done to further stamp out any enthusiasm for this product would have been to declare that only terrorists and child molesters like to read.) My prediction is that on day 7, I go to read something and I find a dead, blank screen. Or I will travel and forget the charger at home and on the plane ride back I will be stuck reading Sky Mall. At which point, I will be so angry that the only safe option will be to retreat inwards like Norman Bates, with a look of anger so intense that the Nook will actually *think* about coming back to life for a few moments. On day 8, I return the Nook and go to the library.
As far as turning pages goes, the screen is 6-inches and looks like it holds about 40% of a normal book page. One of the big benefits of E Ink technology is that it only uses battery power when redrawing a page. But, if you read at anything approaching a 4th grade level, you'll be turning pages like a fiend like every 30 seconds, meaning that you'lll be constantly suckling from the battery's teat. From a psychological standpoint, I'm not sure if books will seem longer or shorter when you see that a book like "Dome" has 2500 pages, but you're almost constantly flipping pages. Take that, Evelyn Woods speed reading! Now, I imagine you *could* get a full page on the screen at once using the extra-small text sizing. However, you'd probably go blind before you finished the book, like one of those Indian carpet weavers. (Speaking of crazy small screens, both Nook and Kindle offer Blackberry apps. This is about the craziest thing I have EVER heard. I barely want to look up a phone number or read a text on a Blackberry. Are people seriously going to try and read a book on that micro-sized screen? Really?! America, has your hatred for books really come this far?)
Beets said that Nook works better in the sun – "You know, it doesn't have problems with glare like other products." This may or may not have been a jab at the iPad, I couldn't be sure. Somehow this guy just didn't seem cool enough to be slamming on the Pad. Honestly, if iPad ever ran across this guy, it would stub out a Gauloises on his chest, take a long pull from a bottle of Burgundy, then pull out a twenty and say, "Here. Buy yourself a new shirt. C'est bon." (I like to picture my iPad like a pricky yet cool French guy who is so achingly stylish that you are wondering if he is gay even while he is stealing your lady.) Anyhow, the issue with Nook (and Kindle) is that the E Ink screen really isn't super readable to me in less than ideal lighting conditions. You get near infinite contrast from a book; black text on a stark white page. Conversely, these readers use dark grey text on a silvery background. And there is no provision for any backlighting. (Beets did point out that "there is a special Nook booklight." "How does that differ from a regular booklight?" Iasked. "Uh. It doesn't. You could use any booklight." "Or a flashlight?" "Yes.Any kind of light.") 
One Nook feature that intrigued me was the ability to"lend" a purchased book to another Nook owner. This initially sounded really cool, addressing one of my big Kindle complaints (and Chris's comments about loaning to tent mates.) However Beetman quickly doused my enthusiasm with an ice cold bucket of reality delivered in an emotionless robotone. Turns out this feature is handcuffed with all the restrictions that have so endeared us to DRM; you can loan the book but only on Nook's highly policed terms, like Googling in China. As in you can loan it once, to one person, for one 14 day period. Ever. Once lent, it can never be lent again. Think about lending it again, and Nook will send you an electronic ball punch.
So after this, Beets tells me they are only $259 and that there were – shocker! – plenty in stock.  "So. You want to get one?" Not today, Beetsy. Not today. But I will take about 5 more free frappos...
Categories: April 2010, Electronics, Books
/