Shopping Cart
Your Cart is Empty
There was an error with PayPal
Click here to try again
Thank you for your business!
You should be receiving an order confirmation from Paypal shortly.
Exit Shopping Cart
Features, Reviews and a Blog by John Sciacca
| | |
| --- | --- |
| Posted on April 29, 2010 at 10:04 AM | |
Leaving Reagan airport, I'm immediately struck by the fact that I *should* have checked the weather before leaving Myrtle. Just because it is sunny and awesome and 75 in Myrtle Beach does not mean diddly for anywhere else. So, it is in the low 50s and very windy. Fortunately I have a short wait before the driver picks me up and whisks me off to my hotel, the Mayflower,
I check into the hotel and, while it is impressive from the outside and the location is pretty choice, it's clear that "luxury" means less in DC than it does in Ft. Lauderdale; the Trump International this ain't. I'm not quite sure what size the bed is; it's not a Queen, not a Twin, perhaps a Tween? If I feel like being cramped in a bed, I'll just stay at home and wait until Lauryn decides to come in and scratch me on the back with her claw toe. I'm not sure if the fact that the room has two Tween beds is a plus or minus. Wait. I AM sure. It's a minus. I'd gladly trade them both for one of something bigger.
Keeping with the historic theme, I believe that Washington actually watched current events on my room's tube TV. This thing is Old School. Plus there's no wireless Internet and (surprise!) a $12.95 fee to use the wired connection. Uncool, Mayflower. This is NOT what the Founding Fathers would have wanted. One thing I did appreciate is that the toilet paper is monogrammed. Clearly the Mayflower recognizes that my ass requires the kind of pampering that only monogrammed TP can provide, so well done.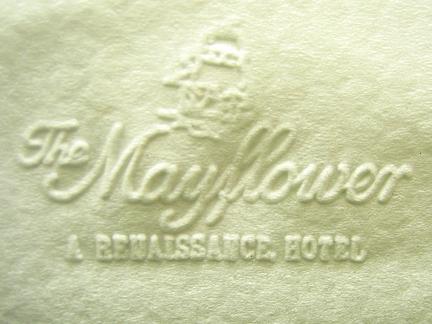 After ditching my bags, I decided to immediately hit the ground running. It was just after noon and my day was wide open until 7 PM. So I headed to the concierge and asked for directions to the Air and Space museum.
"Oh, let me call you a cab."
Now, if I've learned anything from my travels with Dan, it's that if you can see it, you can walk to it. And if you can't see it, walk for a while until you DO see it and then see Rule 1. So, I headed out with these directions "Go past the White House until you get to the Washington Monument then go left." Pretty awesome directions. So I make my way to Air and Space, and take a bit of a shortcut through this sculpture garden. While there, I took a photo of this sculpture. Now, I'm no art critic, but COME ON! This is just a giant bronze Vajay gallivanting as…something? And the title wasn't "Giant Bronze Lady Parts" but rather something about a bird. Sure...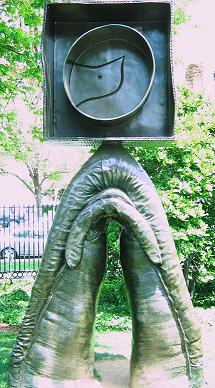 Also, I saw these two guys that were monkeying around with some lights. Apparently some of the security lights weren't coming on.
I make it to Air and Space and stride right up to the info desk. This place is huge, so I want to waste no time. "Hi. I've heard you have a Concorde and SR-71 Blackbird."
"Yes we do." Insert dramatic pause. "At our Dulles property."
"You mean they're not here?"
"No, sir. They're out at our Dulles property."
"Can I walk there?"
"Well, it's about 30 miles away."
Ass! So a GIANT Ninja sneak attack ball-punch to my heart. I'm not saying that I still don't want to tour around, but my balloon is seriously deflated. So, pressing on I am pleased that there is still a ton of cool stuff. Tomahawk cruise missile, Predator drone, Pershing II missile, Apollo 11 modules, the X-1 and X-15, and the Wright brothers' plane, like the *actual* Wright flyer. Now some of the stuff seems a bit dated. Like the aircraft carrier exhibit which is based on pre-nuclear models and the fighter jets are all like WWII era. Still, a real treat for aviation enthusiasts. Really liked being able to walk through the cabin of one of the first passenger planes. You know the ones where you see everyone sitting around in suits, sipping martinis and smoking cigarettes, and eating off real china and laughing and generally having the time of their lives.
After a couple of hours I decide to head over to the Natural History Museum. If you've never been to DC, it's super cool that all of the museums are free. And not "free" like you have to pass by the we're-going-to-guilt-you-into-donating box, but just straight up, "Come on in!" free. As I'm walking, I pass back through the Vajay park and again see those two guys. I hear one of them say, "We're not leaving until I see some lights!" so, rest assured that your tax dollars are hard at work!
Across the street is a VERY discreet building marked IRS. They have a saying engraved over the doors which I thought was worth sharing: "Taxes are what we pay for a civilized society. -- Oliver Wendell Holmes" Guess when you're one of the most hated organizations since the dawn of man (even the Bible has no good words for tax collectors) you can use a snappy jingle.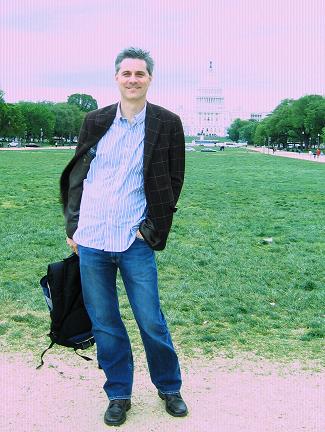 Natural History has the dinosaur bones from Night at the Museum so I take several pictures on my cell and send them to Lauryn. Plus there's a cool gems exhibit with the Hope Diamond, all 45.52 carats of it. They were advertising a temporary showing of the Wittesbach-Graff diamond, or what I like to call "the Hope's bitch diamond." You could barely get near the Hope, but there was no waiting for the 31.06 loser stone. "Yo, Wittesbach, get outta my kitchen!"
Natural History is BIG on evolution. Like, nearly every exhibit seems to declare that you came from a monkey (or some kind of hairy, not person thing). Now, this smacks in the face of what I believe, and I really hate being told at every turn that this is science fact. I mean, there is a giant area that basically walks you through "tracing your ancestry" from apes to man.
I leave the museum but out of a different (back? front? I don't' know, but wrong) door meaning that I'm lost. This requires a big block of a U-turn where I stopped for a hard candy that I found at the bottom of my backpack. At this point, I'm pretty starving, having so far eating a single cranberry snack pack aboard my first flight. But those that know me know that food on the road is a rare luxury. Basically, eat when you can, as much as you can, 'cause we ain't stoppin'! My philosophy is that food will always be here, come tomorrow, I won't be in DC. Also, if you go long enough without eating, you forget you're hungry. Though, in the back of my mind, I am planning on ordering a steak dinner SO big tonight that even the vegetarians will feel like taking a bite.
At 3:40 I get in a line for the National Archives to see (I think) the Declaration of Independence, the Constitution, and the Bill of Rights. Now the sign says I have a 45 minute wait, and I figure I've got my iPod, my headphones, my notepad and my pen so I can knock out a 45 minute wait with my eyes closed. Then I realize that the line will probably move on without me, so it's best to do it with my eyes open. Also, and I'll be honest, despite my initial bravado about walking, my feet are absolutely killing me. Like, have you ever had the bottom of your feet beaten with a hammer's wooden handle? Today, I have walked like a slave. That is if the slave owner ran a shoe or pedometer testing company. Otherwise, I walked a slave into the ground and then kept on going. So, a 45 minute wait/rest sounded just fine. At one point, I seriously considered sitting on a bench in front of a plant fossil exhibit at Natural, but I passed. (Plus, the bench was already full.) Besides, I've never seen these documents and I hear there might be a treasure map on the back of one of them. While waiting, I strike up a conversation with Todd, who asks what I'm writing ("notes for my super awesome blog!" ), has never heard of Sound + Vision, and who describes himself as a "cine-filly" (I'm assuming he meant "cinephile." ) His dad works at the USDA checking other country's food exports to the US and he is here visiting. I give him a business card and invite him to check out my site. (Todd, feel free to leave a comment...)
After waiting through the outside line, the Archives pulls a Disney on me with another twisty line INSIDE the building. I have to say, the wait was worth it. It is pretty amazing seeing these documents, though the Declaration and Bill of Rights are *seriously* faded. (The Constitution looks great, and you can clearly read every beautiful calligraphy stroke, showing that penmanship peaked as an art form around 1776.) There is something moving about knowing that all of the country's founders actually handled this piece of paper.
Limped back to the hotel and laid down for about 45 minutes before dinner. When I got up I was hoping that my feet would have forgotten about our little day together. They hadn't. We went to Morton's steak house that was, thank you, sweet, merciful Jesus, right across the street, and by God!, I did get that giant porterhouse steak. Plus a salad, a crab cake appetizer and a molten chocolate soufflé for dessert. Actually received a text from Todd asking if I wanted to join him for a drink. Guess I made an impression. Didn't get back to the hotel until about 10:30, so had to pass.
When I made it back to my room, I pulled back the sheets and found not 1, not 2, but FOUR surprises in my bed. I'm talking about three mini spiders and some kind of bizarre inch worm thing that was slowly working its way toward my pillow. WTF?!? Just too tired to do anything about it beyond scrunching them up in some monogrammed TP. Did I find any spiders at Trump? Hells to the no!
Categories: April 2010
/