Shopping Cart
Your Cart is Empty
There was an error with PayPal
Click here to try again
Thank you for your business!
You should be receiving an order confirmation from Paypal shortly.
Exit Shopping Cart
Features, Reviews and a Blog by John Sciacca
| | |
| --- | --- |
| Posted on April 30, 2010 at 6:25 PM | |
Perhaps eating virtually nothing ALL day and then gorging down a 28-ounce porterhouse night cap is not the BEST way to finish a day. At least, that's what I was thinking as I awoke to "fire down below, Jim!" distress calls from my stomach following my giant meal at Morton's.
Now, say what you will about the Mayflower hotel – lame TV, no WiFi, spider colonies in the bed – but I really like their minty-fresh shampoo and conditioner. It gives my scalp that tingling sensation that assures me my hair's breath will smell fresh all day.
Unwilling to pay for hotel Internet, I cross the street and slip into Caribou coffee for a double billing of large latte and free Wi-Fi to post yesterday's blog, making it back to the hotel just in time to meet the group for the shuttle over to the Smithsonian.
OK, so now we get to the whole reason for this trip. Lutron Electronics is donating items (now forever to be known as "artifacts" ) to the electricity collection of the National Museum of American History. I'll be totally honest; at first I thought that this whole trip was a big waste of time. (Of course, if you want to fly me somewhere, put me up in a hotel and take me to a great dinner, you are entitled to a full day of wasting my time. Just saying...) Really, the whole event kind of seemed like the PR teams wanting to get some press together to pat themselves on the back and make sure the room was filled with friendly faces. But now -- and this could be all the spider and inch worm venom talking -- I'm actually pretty excited about it. After spending all yesterday walking through the museums, it's clear that they don't just take things willy-nilly, and that getting inducted is a pretty big, throbbing deal.  
So we get to the museum and are led into a private room with about 50 people including Howell Wallace, curator of the electricity collection, Dr. Brent Glass, Director of the Museum of American History, Pennsylvania Congressman, Charles Dent, and of course, Lutron Chairman and founder, Joel Spira. (Also present is an odd tasting iced tea. Spending the past 12 years in South Carolina, I've become somewhat of a tea aficionado, and while I can't exactly put my finger on it, this tea is just slightly off, like one of Suge Knight's eyes. Even still, tea is tea, and I manage a respectable 4 glasses.)
When you think of some of the items housed in this museum – the actual flag that inspired the Star Spangled Banner, the top hat Lincoln wore the night of his assassination, Julia Child's kitchen, a C3PO – having your items accepted means keeping pretty good company. Dr. Glass talked about the museum being in the "forever business" and that "history is not only about products but people" and that the museum's job is to "tell the important story and history of America of invention, innovation and creativity."
Wallace added that when it comes to collecting, you have to be somewhat selective, and that pieces are added based on "what people 50, 100, 150 years from now need to know when they want to study us."
Congressman Dent threw out some pretty amazing facts—that the Lutron products installed already reduce energy usage by an estimated 10 BILLION kilowatt hours, resulting in $1 billion utility savings…annually! He also said that if every American household replaced just two regular light switches with dimmers, it would save an addition $1 billion in electricity costs and reduce 25 BILLION pounds of CO2 from going into the environment (the same as removing 1 million cars from the roads) and stop construction of 3 power plants per year. (I have 5 dimmers in my home, so you're all welcome!)
Following that Mr. Spira gave a speech and talked a bit about how he came up with the idea for the dimmer, how lighting has helped improve romance ("I'll say!" his wife said, which, when said by an 80+ year old woman is equal parts, funny, off-putting and well, inspiring I guess) and then he signed the Deed of Gift turning over these 12 items to the museum.
("Who's that lady?" "Sexy purple lighting lady!")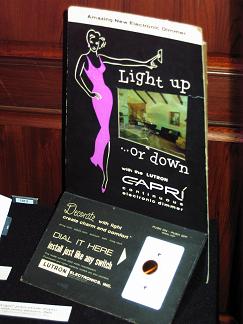 1.      The oldest Capri dimmer in Lutron's archives (circa 1964)
2.      A Capri display (from the 1960s)
3.      A Capri advertisement (1965)
4.      Mr. Spira's "Notebook A" (dated 1959-1975)
5.      Nova dimmer (1971)
6.      RanaX dimmer and remote control (1990)
7.      NeTwork system components
8.      GRAFIK Eye (1993)
9.      RadioRA system components (1997)
10.     Vierti dimmer (2010)
11.     Skylark eco-dim dimmer
12.     Serena motorized window shading system
All told, the donations represent nearly 50 years of lighting control technology. I'll have a more "official" post up at Sound + Vision's Website, so you can check there for more on the event.
Following we had a small lunch and then a couple of hours of time for me to look around the museum.

The flights home were PACKED so there was no bumping to first class. In fact, there was no moving anywhere. I had the option to take a bump that would have garnered me a DC hotel room and $350, and I thought about it for a moment and then declined. Ready to get back to my house and my family, plus I told Lauryn that she'd see me tonight, and those are promises that shouldn't be easily broken. I finally get the opportunity to check my e-mail in Charlotte and find I have 110 messages waiting. After pressing "Delete!" 98 times while eating a Salsarita burrito, I make it to my Myrtle flight and then finally to home.
As an added bonus to finish off another full day, Dana jumps into bed and accidentally head butts me RIGHT in the nose (which had been bleeding on and off during the car ride home, a pretty normal post-air travel phenomena for me). I don't think I've ever heard so many crunches and cracks. I lay there with tears leaking from my eyes saying, "Seriously. I think it might be broken. Seriously." Even now – about 16 hours later – I'm still not convinced it isn't. Can you sprain a nose?
Categories: April 2010
/