Shopping Cart
Your Cart is Empty
There was an error with PayPal
Click here to try again
Thank you for your business!
You should be receiving an order confirmation from Paypal shortly.
Exit Shopping Cart
Features, Reviews and a Blog by John Sciacca
| | |
| --- | --- |
| Posted on May 3, 2010 at 11:42 AM | |
After my lame customer service experience with AOL on Friday – the guy just abruptly disconnected from our chat session after I'd been waiting for 90 minutes (OK, I *might* have frightened him away by saying "my urge to kill is rising!" but still...) I thought I would relate a good customer service experience.
A few years ago, back in the media heyday, I was doing a good bit of regular traveling for Sound + Vision. Between CES, EHX, CEDIA and then a few manufacturer visits and vacations tossed in for good measure, it seemed like I was always jetting off somewhere. So, I applied for an American Express Platinum card. The card carries a pretty steep (at the time $395) annual fee, but it had some really great perks. Primarily, you could get into airport club lounges when traveling. Granted, I probably never came close to drinking $400 worth of booze, but there is just something oh so sweet about leaving the "common folk" behind and stepping through those big, private doors. (And those club bartenders would never think about judging you for having that second morning "wake up" beer.) Also, Platty had a deal where you could buy one airline ticket and get a FREE companion ticket up to 3 times a year. This was a terrific deal, and Dana and I did use it several times. Also, while 99.9% of people could totally care less, I did feel a bit of Big Wheel-ness when pulling out the Platinum. (Roots don't grow deep in my soil, I know.)
Of course, once you own Platinum, what you really aspire to is owning Black. The Black (or Centurion) is the ultimate expression of credit card ownership. (I've never even seen one, but my wife and brother have, so I know this is no mere urban legend.) So righteous is this card that it's not even made of plastic, but titanium. Needless to say, I wanted to go Black and never come back.
But you can't apply for this, you have to be *invited*. Invitation is based on years of card membership and (most importantly) a penchant for a truly sick level of spending, like $250,000 a year. (Also, the annual dues are around $3,000, so let's be real; there was NO way I would ever actually do it, but I wanted to be asked.) So I started thinking that if I spent every cent on my Platinum card, maybe I could show a level of commitment that the Black invitation committee might acknowledge. "Hey, you're not there yet, kid, but we like your chutzpah! Just wanted to let you know we've got our eye on you! Warmest regards, Black Card Selection Committee."
My biggest expense was my mortgage, and at that time I was paying around $3500 a month. So I called Platinum and asked if I could pay my mortgage with the checks that are included with my statement. They said of course, I could do whatever I jolly-well liked with these checks, and would I like them to send me more for all of my spending needs? I realized that there was a fee for using these checks (I think like 1%, meaning a $35 charge), but if I got membership rewards points, I would accrue enough over the course of a year to earn two airline tickets, which would greatly offset the cost. I confirmed that these checks would indeed accrue points for me. "Of course."
So, for months I wrote checks to my mortgage company, and then dutifully paid AmEx. And each month I examined my statement for the missing points, but nothing. So I waited about three months and then I called. "Don't worry, sir, these points just take a bit to post." Again, I confirmed, "these checks DO earn membership rewards points, right? I mean, that's pretty much the whole reason why I'm using them." "Of course." So I keep check writing, keep bill paying, and keep waiting. (A vicious cycle.)
Finally after 7 months of no points, I call and my agitation keeps getting me bumped up the service chain until I finally get a woman who tells me that despite what I might have been told, those checks do NOT count towards membership rewards points. This does not sit well. "I have been paying your fees and now I expect my points!" I'm sure she is using every page from the "How to handle: DIFFICULT CLIENTS" manual, but I'm having none of it. She gives me the name of someone I can write a letter to. Then, and this is a HUGE pet peeve of mine, she says, "Is there anything else I can help you with today?" OK, "else" is the real pisser here. "Else" kind of implies that we solved this first little dilly of a pickle and now, is there anything else we can move on to? When you have NOT helped me to solve my initial problem, you damn well know exactly what you CAN do to help me today. I hate this line. Customer service operators should know when NOT to say this. "Hmmm, this guy seems really pissed and I totally didn't resolve his problem. Maybe I should just apologize and then be really quiet and pretend we got disconnected."
Have you ever been so made you've actually been shaking? So, I hang up and call back, just to get a regular Platty operator on the phone. I am wearing a path in our hardwood floor as I pace around, listening for the part where it says that "my call might be recorded for training purposes." I listen and get her name. I ask her about the checks that come in my statement. "If I use those to pay, well let's say my mortgage for instance, will I earn membership rewards points?" "Of course." I felt like an attorney in a John Grisham novel. The witness had just blurted out the key bit of testimony under oath! "OK! I want you to log this call and make sure that it IS recorded. Because what you told me is not what the supervisor just told me!"
So, I dutifully write my letter to the big boss lady, laying out the dates of the checks, the calls, the missing points, etc. And a few days later, I get an overnight package on my doorstep with a card apologizing for the misunderstanding, a reinstatement of my 25,000 missing points AND this plant.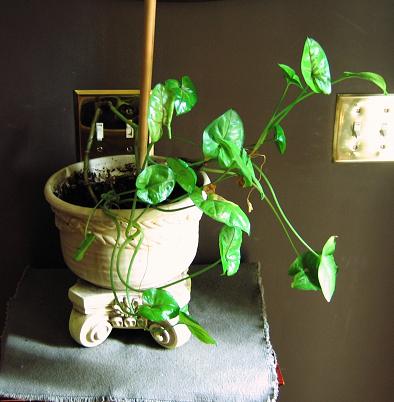 This is my Platinum plant. It's the only non-Dana/Lauryn living thing that I diligently care for. It sits by our front door, serving as a vigilant symbol of "We're sorry, sir. You were right!" This is the way you take care of an upset customer or resolve a poor service issue. With a minor, $15 investment, this woman turned bitter/borderline hostile anger into years of good will. (I'm talking to you all about it right now...) Think about that the next time you deal with a John-type personality; we can be quick to anger, but treat us right and we're loyal and long on praise.
Categories: May 2010
/