Shopping Cart
Your Cart is Empty
There was an error with PayPal
Click here to try again
Thank you for your business!
You should be receiving an order confirmation from Paypal shortly.
Exit Shopping Cart
Features, Reviews and a Blog by John Sciacca
| | |
| --- | --- |
| Posted on May 6, 2010 at 8:36 PM | |
The road. The long, horrible, lonely, hateful road. The road that stretches on before you to time indefinite. The road, where every single mile driven, is another mile that will need to be driven BACK.
After a night of getting psyched up about the 600+ mile drive, it turned to be equally more horrible and not quite as bad as I was expecting. The Sciacca family really pulled through as great travelers, and we managed the trip with only 2 stops; 1 bathroom and 1 combined Chick-Fil-A break and gas up. Instead of telling you how brilliant and smart and clever Lauryn is (which, of course, she is), I'll brag on what a great traveler she is. For 3.5, she handles 10 hour car rides like a seasoned trucker. There was only one small bit of rage when she wanted to watch a showy-show on her iPod, something called "Sporticus" (who actually sounds pretty cool, very Athenian but probably not in a "let's grease up and wrestle around nude and call it a sport" way) that I hadn't loaded. She quickly got over it when we offered her Bolt in exchange.
As I've mentioned before, we have a Magellan GPS. But if the actual Magellan had used this, he would have just sailed around the ocean in circles and died at sea, bitter, frustrated and totally unknown, his last act being smashing the GPS to pieces with his sextant. Our GPS WILL ultimately get you to your destination, but with a lot of hemming and hawing. First, when you stop and turn it back on, it doesn't resume your route. You have to reenter your destination. And the thing calculates a new route every time. In trying to reach a MAJOR interstate, it wound us through the small town, changing its mind on road selection on the fly; I'm actually watching the screen as it is changing routes and street turns. So, unless the NSA were retasking the Keyhole satellites over Columbia, SC this morning, my Magellan has all of the conviction of Woody Allen. "Ummm, well, you *could* take this road here, but, well, this one is also a good choice. And, I'd fell remiss to not mention this road too…"
Actually, my GPS kind of reminds me of traveling with my dad. "Dad! We just want to GET THERE!"
"Now, son. Let's take our time and enjoy the road. Why look! There's a little road. Let's find out where it goes."
"Oh, sweet Jesus, PLEASE! Just take the interstate! We don't want to see ANYTHING! And, COME ON! At least drive the speed limit!!!" (My dad has actually had a police officer pull behind him, get on the PA and say "Sir, speed up!"
As a back-up to GPS, I phoned my friend Jon Yelle who has a Thomas Guide sense of driving to, from and through small towns, with an uncanny ability to cut travel times down by hours. (Of course, Jon takes posted speed limits with a grain of salt and treats them more as suggestions. And I won't say he turns a blind eye to the speed limit, but more like he draws an eye on each middle finger and fully presents them to the signs.)
I have this kind of OCD when driving on long trips where I am *constantly* keeping track of my average speed. (Checking the odometer, checking the clock, doing the math, setting goals for upcoming 30 minute marks, etc. The equivalent amount of brain power put to good use could probably deliver cold fusion.) My goal is to average at least 60 miles an hour, a mile a minute, which is actually quite a bit more difficult than you might think. For every minute stopped at a light or in traffic or at the bathroom or whatever, you need to spend an off-setting minute doing 120. So, after about 5 hours on the road we were pulling an utterly pathetic 47 mile average. However, over the next 5 hours, I managed to rally the troops to arrive at destination at a 59 MPH average.
Thought I'd share some highlights from the drive...
I've driven all over the world. Milan. Berlin. Zurich. Manhattan. LA. San Francisco. To me some of the most stressful driving conditions are in Atlanta. You have not only 6 lanes of traffic going both directions, but you have cars going bumper to bumper at 80+ miles an hour. And roads. Many, MANY roads. Going everywhere. Here is a picture of my GPS entering Atlanta: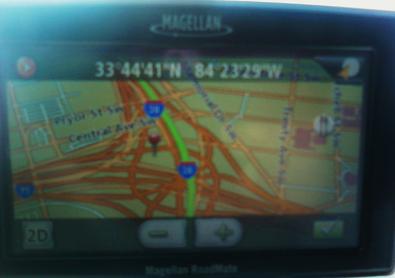 Coolest town name: Warrior (Alabama).
"Where you from?"
"Warrior."
"Come again?"
"What the hell you say?!"
"I said 'come again,' I didn't catch..."
"I'm not sure I like your tone."
"Uhhh, excuse me?"
"Nope. Now I'm sure. You want me to kill you? Seriously. Like kill you right now. I'm from frickin' Warrior. You hear it that time? I'll make your ears into a necklace and take your woman you take a tone with me."
Lamest town name: Hyman (South Carolina)
OK, I know that the *idea* of naming something after yourself sounds like a good one, but not if your name is Hyman. (There seriously used to be an ice cream store in Santa Monica, California called "Cutlips Ice Cream."
We also passed "Hyman Furniture" (sit down *very* carefully, ladies) and "Hyman Vineyards." I can only hope that somehow, somewhere, someone has at some point uttered the phrase, "Honey, we're celebratin' tonight! Bust out the Hyman!"
Most bizarre business name: Gator Head Kennel. Cause, you know, nothing says we're gonna take "real gud care'a yur pups" like a gator head!
Most "What the?" billboard: A law firm advertising quick divorces for $189 and bankruptcy services for $599.
"I understand that you want to declare bankruptcy."
"That's right."
"Well, that will be $599."
"I don't have any money. That's why I want to declare bankruptcy."
"OK. Here's what we do. You go get a job and when you've got yourself established and have enough saved up, then we'll file."
"Well, can you take it on credit?"
Most in need of a rename: Sammy's Gentleman's Club. Though I guess "Truckers, stop here for a pee and a beer while you watch frighteningly tattooed, middle-aged, single moms of questionable appearance try to conceal their shame and choke back their disgust while walking around topless and calling you 'honey' and 'sugar' in exchange for singles" is a tad long for a billboard.
Most obvious observation: This country is HUGE! There is plenty of land for me to one day fulfill my dream of owning a piece of property large enough where I can step out my front door and blast golf balls until my hands blister.
Most dis-heartening moment: Crossing the border into Alabama and seeing the speed limit change from the "Welcome to THUNDER DOME!" 70 (but we really mean 80) of Georgia to 55. Come on! It's the same 3-line road I've been doing near 80 (trying desperately to recoup some time) on for the past 150 miles! And when I hear "Roll Tide" I'm not thinking "Roll along at 55." I like my Tide to roll like an eats thunder/craps lighting speed-hopped up maniac. Not some kind of fancy, Nancy-boy prancing through the mall looking for biking shorts.
Most interesting cell call of the day: Kaleidescape PR saying they read my post from yesterday and that that I *kinda* broke part of the NDA and would I mind removing the offending little bit. Whoops! Sorry!
Categories: None
/