Shopping Cart
Your Cart is Empty
There was an error with PayPal
Click here to try again
Thank you for your business!
You should be receiving an order confirmation from Paypal shortly.
Exit Shopping Cart
Features, Reviews and a Blog by John Sciacca
| | |
| --- | --- |
| Posted on May 11, 2010 at 3:29 PM | |
My parents are about as middle-of-the-road-America as you can get when it comes to technology. Actually, the middle-of-the-road is probably more high-tech than my parents. Growing up, I might as well have lived in an Amish village for all of the technology that they supplied. We never owned a record player or a stereo. The only commentary I ever received about music as a child was a stern, "Turn it down!" and the equally popular "Don't raise it above 4!"  In fact, my parents JUST upgraded to a 37-inch flat panel about 6 months ago. Before that they were using a 27-inch tube that they inherited from my uncle Max. (The 27-incher was a welcome upgrade over the 20-inch they HAD been using for so many years I like to think of it as a slightly younger brother. Seriously, just TRY and watch the Super Bowl on a 20-inch TV. And I double-dare you to watch ANYTHING letterboxed on a set that size. The actual film image ends up being about 5-inches tall, or just slightly bigger than if you were to watch something at the neighbor's house across the street...through the windows using binoculars!) My mom rented VHS tapes right up until Blockbuster said "Enough!" and purchased a special option stereo on her Mercedes that allowed her to play cassettes. As in tapes. Surround sound? Phooey! And Blu-ray, schmoo-ray.
In a way, though, my parents are probably a lot like YOUR parents and millions of other people out there who don't care about tech but just want to watch a movie. We take all of this technology for granted and keep up with the changes. But one thing that is confounding everyone is 3D. Nearly every day people find my site by Googling things like "How do I make 3D work?" "Will my current TV show 3D?" or "Please, dear God, help me figure out 3D before I kill someone!" (I'm waiting for that Google search that says "I've gone blind watching 3D. What now?")

So, when I talked to my dad last night, he asked me if I had seen Avatar and if the version I saw was in 3D. I said that yes, I had seen it in the theater and that it was in 3D. He then said that the version he rented didn't work in 3D and did he get the wrong one or was he missing something?

This to me just exemplifies the MASSIVE consumer confusion about 3D TV. First, the industry has hyped the technology as if it is the very second coming itself. Actually, strike that. I doubt that the Messiah would have the PR support behind him of every Japanese and Korean TV manufacturer. Then, you release these new 3D sets right on the heels of the largest movie EVER -- which happens to be in 3D. Then you release that movie on DVD and Blu-ray....NOT in 3D! Perfect storm of confusion complete!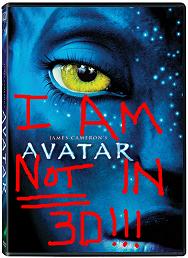 I think that a good many people out there are under the impression that when they rent/buy Avatar they are getting the theatrical 3D experience. ("I don't see what all the fuss is about. Them 3Ds don't like much different than my regular shows.") I'm really kind of surprised that there isn't a sticker/disclaimer on the Avatar disc box that proclaims that it is NOT in 3D. But, of course, that would mean not selling as many discs, so I guess I'm not really *that* surprised after all. (And, oh, please, will someone start a Website that has a transcript of a Wal-Mart employee trying to explain 3D to a customer returning a movie? Seriously. I will PAY you for the info.)

For the record, if you watch Avatar at home NOW, it will NOT be in 3D. When the movie is released NEXT YEAR on 3D you will need to have a 3D capable Blu-ray disc player, a 3D capable TV and 3D glasses to get the full Avatar in 3D experience. So, dad, you should plan on watching Avatar in 3D around the time you buy your next TV; probablysometime around 2035.

If you or any of your friends or parents want to know more about 3D, this post is a good place to start. If, on the other hand, you'd like to know how the senior Sciaccas live in technological obscurity, I'll be happy to direct queries their way.

/