Shopping Cart
Your Cart is Empty
There was an error with PayPal
Click here to try again
Thank you for your business!
You should be receiving an order confirmation from Paypal shortly.
Exit Shopping Cart
Features, Reviews and a Blog by John Sciacca
| | |
| --- | --- |
| Posted on May 17, 2010 at 8:31 PM | |
At the end of the day, we went to a local place called The Market Commons. I have a special place in my heart for the MC for a couple of reasons. 1) We (Custom Theater) installed the entire outdoor audio system there. It includes like 156 speakers and *miles* of cabling and stacks of amplifiers. It was a great job, and it turned out terrifically. So every time I go out there, it is nice to hear the music playing and see the system working. (I'll give kudos to our salesman, Andrew, who totally handled this job and pulled it off beautifully. I didn't spend a single minute on the job site, but it turned out to be a real show piece for our company.) 2) It has a Gordon Biersch brewery. I have a real soft spot in my heart for GB. I used to give golf lessons to Dean Biersch, have house sat for "the money" behind GB, Dana and I had our "first date" at the GB in San Fran, and the GB in San Fran was part of our whole engagement evening. So, I'm a softy for GB and I love their Marzen.
After dinner and beers at GB, we headed down to Barnes & Noble, where Lauryn likes to hang out in the kid's section. While we're there, I pass by some girl that is talking to her boyfriend about the Nook. (I've previously "talked about" the Nook. Here's my take on it....) She says, "Will you buy me a Nook?" He answers with, "What's a Nook?" Then she replied, "It puts the words on the electronic thing." I swear. That's what she said. And, sadly, her sales pitch was only *slightly* less lame than the one I received from an actual B&N employee. (Though if you read the comments on my Nook post -- see above -- then a B&N employee from So Cal assures me that my guy was indeed lame and that he would have done a much better job.) Though, it was pretty apparent from looking at her that "words on the electronic thing" and book learnin' in general really aren't her thing. (I'd say her thing was more a box of Ho-Ho's, a pack of smokes and an afternoon shouting "You tell 'em, Jerry!" at the Springer crowd on TV.) Don't forget that South Carolina often boasts the distinction of 49th in the Union for edumacation. And to that we say, "Thank you, Mississippi!"

So, while I'm hovering around Lauryn as she is playing with Thomas the Train, I notice a section of books whose covers catch my eye. I see "The Giving Tree" and "The Missing Piece" and "The Missing Piece Meets the Big O" and "Where the Sidewalk Ends." I remember these books. I love these books! They are *real* stories that resonate light years beyond the simple words and images on the page. I recall "The Giving Tree" being heart wrenchingly depressing as the Tree just does everything possible for this horribly selfish, unthankful little boy. (We actually have a CD of the author reading this and he sounds a bit like Clint Eastwood. That is if Clint Eastwood chewed on broken glass and smoked liquid Drano. When he says anything about the boy wanting something from the tree, it sounds like a veiled threat. Maybe the tree wasn't so much "giving" as just totally scared out of its wits. I mean, the boy *did* kinda chop off all his branches...)

So I go over and open the books and start flipping through them and then Holy Crap!!! There is  picture of the author, Shel Silverstein!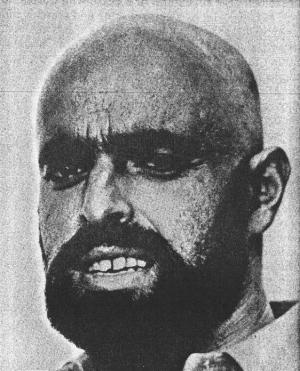 Jesus! Did I always know you were this scary, but just blocked it out of my mind? Seriously, do you not have an agent? Did he not tell you that you are frickin' scary as hell? For God's sake, these are kid's books! I'm a grown man, and now I'm scared that I'm going to dream about you, and that in my dreams you are going to corner me and shiv me over and over and then humiliate my corpse in ways that not even my nightmares can understand.
I'm sorry, Shel. Love your books, but dude! Not....a.....good....picture! For future reference, try and, uh, look a little less like you want to eat the children. You know, just a friendly suggestion.,

Categories: May 2010, Books, CTA
/