Shopping Cart
Your Cart is Empty
There was an error with PayPal
Click here to try again
Thank you for your business!
You should be receiving an order confirmation from Paypal shortly.
Exit Shopping Cart
Features, Reviews and a Blog by John Sciacca
| | |
| --- | --- |
| Posted on May 22, 2010 at 3:24 PM | |
Being in the A/V business, when I'm watching TV or movies, I totally notice product placement, and A/V gear pops up ALL the time. And if you think this is just random happenstance, then take a look at the buzz created by Sex and the City's Carrie Bradshaw switching her beloved Mac to – the horror! the shame! – a PC!
Tech companies work hard (or pay big) to get their products used in a manner that is going to make them seem cool and hip. The other night on The Apprentice, B&W got several money shots of their 800 series Nautilus speakers. When the scene is in a luxury home, look for a Lutron Grafik Eye lighting controller. When you see a computer – especially if it is a laptop – chances are it will be a Mac (unless you're watching SitC2!) because, well, let's face it, Mac's just look way cooler.
But when it comes to product placement chops, no one seems to have it down like Bang & Olufsen. For a while, every time you saw a telephone in a film, it was a BeoCom. Let's face it, B&O products just look frickin' cool. When Dana and I took our 10 year anniversary trip to Europe, I totally felt like this shizzit when I saw that our B&B in Venice sported B&O TVs throughout. (I felt a good bit less shizzy when I discovered that my room was actually priced in Pounds Sterling instead of Euros – hey, the symbols look awfully similar when you are just glancing at a Web page – making the room over $300 a night, which *still* isn't too bad in Venice, and I'll always have the memories, right?)
B&O has also treated me very well. They flew me to Chicago for a launch of a new remote control and put me up in the *nicest* hotel I have EVER stayed at. At check-in, the receptionist pulled out a velvet lined binder filled with 6 different fountain pens, offering me a selection for signing the paperwork. (I asked…the room was $600 a night.) And let's not forget the weekend with the Aston Martin. While -- and let's be honest -- the $300,000 car was the real reason I flew to New York, the ostensible reason for the story was covering the new B&O sound system in the DBS. (The story is here if you've never read it. Spoiler: It was awesome!)
So, while I think their products are unreservedly cool, sometimes those Bangs are just out of their ever Olufsen-loving minds when launching new products! These are my comments from a B&O press conference at CES back in 2008:
6:45 PM: I arrive at Bang & Olufsen's press event. They reveal a $3,950, 32-inch LCD TV with 1366 x 768 resolution and a $600 portable MP3 player with 4 gigs of storage. B&O is excited about these new low price points which they hope will attract many new customers. I keep my comments to myself thinking about the kind of displays $4k will get you and about my 80 gig iPod, and enjoy the decent wine they are serving.
Well, yesterday those crazy Danes were up to it again, launching their latest TV, the BeoVision8. The new 40-inch LCD set does seem a bit cooler when it's described only in centimeters and kilograms, and their PR department did dazzle my brutish American sensibilities with alternate spellings like "analogue," "recognise" and "centre bass." The BV8 delivers 1920x1080p resolution and either features 240Hz refresh rate (according to the press release) or 120Hz (according to the Website's spec page), but something tells me that B&O customers don't really care either way. Instead, they are buying this TV to be cooler than you or I…and also a whole lot poorer.
Remember when I groused about NuVision's brutally priced 40-inch TV for $3500? That turns out to be a bargain basement price of only $87.50 per inch. Fine if you're forced to subsist on food stamps and government cheese. (I'll not even talk about the typical 40-inch set which carries a PPI of little more than $30, because I know that you aren't a bunch of spear carrying savages running about shouting "Kill the pig! Bash him in!" while looting your neighbor's rubbish pile.) The BV8's $5400 pricetag establishes a whole new "you done went and gone crazy!" benchmark of $135 per inch!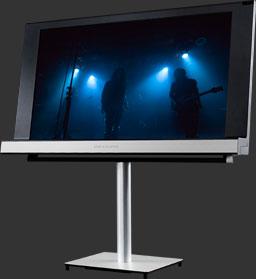 Simple Americans! Du ved du elsker mig! (You know you love me!)
I also especially *love* this quote from the press reslease, saying that this $5400 40-inch TV is "Made for those who are looking for an advanced yet" – wait for it…here it comes…"entry-level TV." Entry level! At $5400! This set is only considered "entry level" to people planning on purchasing their 8 year olds a Vacheron Constantin starter watch.
In all of their haute couture B&O-ness, they describe the set as representing "the perfect balance between tested technology and advanced features, between superior image and pure sound, and between inspired looks and easy operation." That's a lot of ands! But to me, it seems to strike more of a balance between just regular expensive and *insanely* expensive.
Also, I'm not sure what country that Zean Nielsen, President of B&O America, is living in, but they think this new set "allows us to offer B&O options to a much wider customer group than ever before." From the customers I see, Vizio seems to be the only company really reaching a much wider customer group, and they are doing it by selling SIX 40-inch sets for the price of one BV8.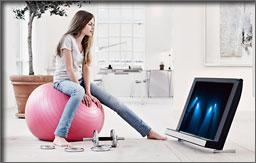 Look! I am a pretty girl having fun watching my TV on a bouncing ball! Looks fun, ja?
As the final, farewell parting ass punch, the set offers less 3D than my deodorant.
B&O has mercifully delayed the launch until summertime, giving you, your 401k, the economy and the brow-beaten dollar a little more time to recover. Now, I don't doubt for a second that this set looks gorgeous -- both on AND off. And B&O sets have delivered some of the best audio I've ever heard. But  at $5400 will I be buying one? Det er sgu da loegn!
Categories: May 2010, Electronics
/