Shopping Cart
Your Cart is Empty
There was an error with PayPal
Click here to try again
Thank you for your business!
You should be receiving an order confirmation from Paypal shortly.
Exit Shopping Cart
Features, Reviews and a Blog by John Sciacca
| | |
| --- | --- |
| Posted on May 26, 2010 at 3:25 PM | |
Last night we had a visit from our Definitive Technology rep, Woody. He drops by every few months to check in on us, show us new product, shoot the breeze and then take us out to dinner. It's a pretty decent deal all the way around.
The product du jour was Def Tech's new XTR-50. Now that practically any TV worth buying is sub 1.5-inches thick, all those old on-wall, 4-inch thick speakers that had the industry so aflutter a few years ago suddenly look bizarrely bloated and out of place when wall or table mounted next to them. So, until we get  to the point that we can just tape a speaker onto the wall, the XTR-50 is a pretty sweet solution.
I'd first seen the XTR-50s at CEDIA but didn't get to really hear them – tradeshows are notoriously horrible for demo-ing anything – so Woody set them up with a LINN Classik and a small sub and let me take a listen, and they actually sounded really good. I was most impressed with the imaging, with a really locked and focused center image. For most applications where two speakers would be placed immediately next to a TV, a center channel could likely be done away with. Definitely amazing sound quality when you consider the 1.5-inches of depth, though plan on having a sub if you like any measure of bass. (Hey, what do you expect from a speaker barely thicker than your thumb?)
So after packing up the system we head up the road to a sushi place. (Somehow, sushi has become the de facto meal when eating with Woody. I think this marks like the fifth time.) So we get there and are seated. You know, ust two dudes out on the town for a casual sushi date.
The server comes around and Woody orders us some sake. But not regular sake like a loyal, totally hetero Japanese salary man would enjoy, dear God, no. He orders us the Zima of the sake world: Sparkling Sake. (Did you even know such an animal existed? I didn't.) And, to further cement our unmanly beverage choice in the minds of all those around us, the waitress foregoes the usual semi-cool sake thimble and instead brings us champagne flutes. And the gayest looking bottle I've seen in a while. (To complete the gay-fecta, I whipped out pink lady-phone and snapped this picture. I just decided, "Look. This is happening. Come to peace with it...")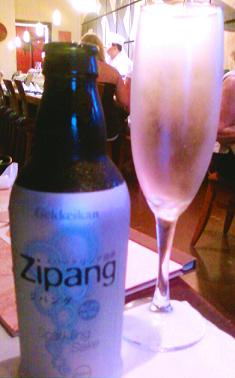 Then -- probably wanting to bail on the fey vibe surroung this drink -- Woody excuses himself and goes off to the bathroom. No problem. I'll just hang out with my "my boyfriend just proposed to me!" glass of cham-sake and wait. And wait. And wait... Minutes and minutes pass. I read the menu. I tick off my sushi order. I drink two glasses of iced tea. I surf the Net on lady phone. I plow through the order of edamame. I check my watch...
Finally Woody comes back and he just stands there next to the table looking at me. Uncomfortableness setting in.
"Something's wrong..." he says.
I'm thinking, "No duh, something's wrong. You had an unexpected case of scorching diarrhea. It happens. Now let me pour me lady some sparkling sake and we'll toast to the evening!"  But no. This was not a case of the scorching rhee.
Apparently he was experiencing some kind of airborne allergic reaction to something and felt like he was simultaneously being stabbed in his hands and feet and leaving his body. But you know, not in a good way. Fortunately after hanging outside for a bit – with the restaurant *literally* across the street from the emergency room – the feelings of imminent death passed and we were able to return to finish our meal. And our sake. Kampai!
Categories: May 2010, CTA, Beer/Liquor/Wine
/