Shopping Cart
Your Cart is Empty
There was an error with PayPal
Click here to try again
Thank you for your business!
You should be receiving an order confirmation from Paypal shortly.
Exit Shopping Cart
Features, Reviews and a Blog by John Sciacca
| | |
| --- | --- |
| Posted on May 31, 2010 at 6:30 PM | |
So, when you live not even 2 miles from the ocean, in a place where other people drive hundreds/thousands of miles to come and visit, where's the perfect place for you to drive 12+ hours and nearly 700 miles to go on vacation? Why a different, way further away beach of course!
This week finds me -- once again -- on the road, this time in Destin, Florida with Dana and Lauryn and much of Dana's family. We're in a beach house that is literally on the beach, as in you walk down the back steps into sand the consistency of confectioner's sugar and clear blue-green water. We're hoping to enjoy Destin one last time before BP turns it into an oil preserve. (As I'm typing this, the news is saying that over 40 MM gallons have spread into the Gulf and options for solving this problem are disappearing...)
We arrived last night just in time for dinner and since Lauryn is going through some kind of self-imposed hunger strike (we think her molars might be coming in, so for the past 2 days she's eaten a grand total of a banana-and-a-half and serving of apple sauce) we decided that we weren't up to going out to dinner and fighting the fine fight in a restaurant crowded with other people who are actually trying to enjoy and eat their dinner. 
So we headed off to a local grocery store to food up. On the way out of the store we noticed the liquor store next door and it was clear that after 6 hours in the car, alcohol was going to make the evening better however it progressed. So in we went, and then I saw it -- the most impressive liquor store point-of-sale display ever. Seriously, how many liquor store displays have you seen that have a full set of studio monitor, over ear headphones and an LCD video display?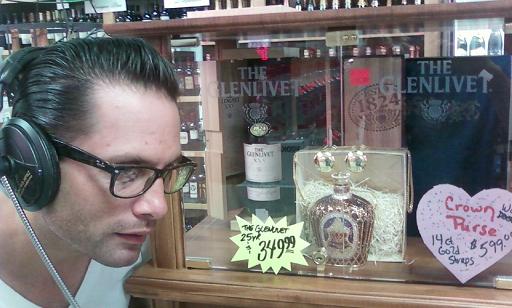 Here is picture of my brother in law, Jeremiah, listening to the audio presentation on why 25-year The Glenlivet is worth $350 a bottle. Not shown is the LCD video screen which displayed the peat moss covered hills, dales, valleys and highlands of Scotland, all narrated in a rich brogue that both explained and mystified the blending mastery required to fully realize a $350 bottle of The hooch. (Miah is the father of Kinsley, who nearly lost her life savings to me over a phone megapixel bet.)
Then, even more bizarrely, next to the bottle of Glenlivet, front and center of the display case, was this shiny, shiny aberration of nature: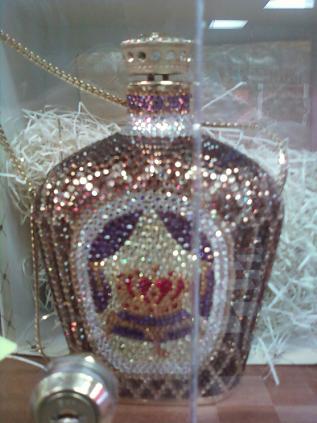 Now if you're thinking that this is just a fancy man's bottle of Crown, perhaps for a Mister Burn's type who can't let anything short of blood diamonds touch his ryes and grains, or for the guy that actually buys the bottle of Louis Trey just so he can have the Bacarrat crystal when he's done, you would be as wrong as I was. There is no liquor in this bottle. And this bottle isn't really a bottle at all. Rather, this is a purse. A purse for a very fancy lady. Yes! An awesomely jewel encrusted monstrosity with a Crown Royal logo made into purse! That is meant for a lady! (Though I imagine it would likely be equally at home being with a dude who like dressing up like a lady, perhaps like a classy Cher or Madonna impersonator.) And, seriously, what classes up an elegant evening gown more than a jewel bedazzeled hand bag that resembles a bottle of mid-grade Canadian whiskey? In case you were on the fence about buying this for your special, special lady, you must know that it features 14k gold straps, meaning that it will fancy up any event where it is present. It's also worth noting that it has been marked down from $1000 to an absolute bargain price of $599. Seriously, couldn't you totally see G W buying this for Laura?  "Don't misunderestimate how beautfiul this looks!"  
I'm here for several more days if anyone needs me to pick up one up for them. Please. Someone ask me to bring this back home for them...
Categories: May 2010, Bizarre, Beer/Liquor/Wine
/