Shopping Cart
Your Cart is Empty
There was an error with PayPal
Click here to try again
Thank you for your business!
You should be receiving an order confirmation from Paypal shortly.
Exit Shopping Cart
Features, Reviews and a Blog by John Sciacca
| | |
| --- | --- |
| Posted on June 1, 2010 at 6:05 PM | |
Part of the thrill of reviewing a movie server is getting to check out all of the content they have pre-loaded onto it. Seriously, it's like a mini-Blockbuster arrives at your house without all of the lame workers or threats looming of late fees.
I just finished reviewing the new Kaleidescape Blu-ray player, and they sent me a server filled with 4 Terabytes of sweet lovin', including movies that I've not seen in years (The Sting, Forrest Gump), movies I've seen recently but want to check out again (the BD of Avatar and Inside Man) and movies I've been wanting to see but haven't (BDs Michael Jackson's This Is It. Absolute best moment of the film is when Michael is having a problem with his in-ear monitor. He stops in the middle of a song and points to his ear and says, "I'm saying this with love. L-O-V-E, love. But, it's like someone's shoving their fist in my ear! With love!")
So, one of the movies on the server was the Blu-ray of Wizard of Oz. And it's G-rated and I thought that maybe Lauryn would enjoy following the yellow brick road and seeing Toto and Tin Man and all, but when I suggested it to Dana she suggested that I might be crazy and that witches and flying monkeys might be too much for a 3 year old.
And that got me to thinking about some of the movie choices that my family – OK, I'll not drag my mom into this – choices that my dad let me watch when I was growing up. And two came immediately to mind; movies that have actually scared -- and scarred -- me to this day. Now I'll not totally throw my dad under the bus here. I'm sure at the time – you know, when I was FIVE! – I made a real convincing argument for him letting me watch these things. And I doubt that they had all of the studies available like we do today that, say, letting a super young and impressionable child watch something that is borderline traumatizing might actually cause them nightmares well past their 30s, but, I digress.
The first movie is Jaws. It came out in 1975. I was five. I don't remember much from my way-early youth, but I clearly remember seeing Jaws at a drive-through with my parents in Whittier, California. I remember that my dad covered my eyes for the opening scene, whether it was because he thought it was too intense or that I might catch a shot of shadowy, underwater side boob, I don't know. But pretty much after that scene, his eye covering chores were completed. Sure there were several super scary scenes; Quint getting bitten in half and spewing up blood, the guy getting his leg bitten off, the threat and menace of a similarly aged young boy narrowly missing an attack, just the overall terror that giant, man killing machines are ever patrolling the waters waiting for any opportunity to eat you bit by bit, etc. However, the scene that stays with me is old Ben Gardner. He of the boat. He of the *head* that pops out of the boat. I remember returning to my grandmother's house who had a black-bottomed pool and asking if the head was going to come popping out. Of going to the bathroom and asking if the head was going to come popping out. To this day, I don't like to go swimming at night. Even in my own pool.

The second movie is Salem's Lot. When it came out, I had matured considerably, all the way to a nearly adult 9. This TV mini-series was based on a novel by Stephen King about a Maine town that is overrun by vampires. I remember my cousin was staying with us while this was on and him being too afraid/sensible to watch it. But not me. I sat right alongside my dad through all the vampire mayhem. Neck bitings, corpses rising, stake in heart driving, and a terrifying, Nosferatu-styled vampire who basically eschewed all of Lugosi's camp and "I vant to suck your blooood!" with evil and hissing. I remember literally screaming out loud at the end of one part when a body in a casket suddenly opened its eyes and bolted upright. But, in the stream of memories, that one is a forgotten laugher. The one that still haunts me is Danny Glick. Again, a boy roughly my age at the time who floats back from the dead and scratches against his friend's window, trying to get him to open up so he can...play. Scratch...scratch... "Open the window. Open the window, Mark. Open the window, Mark. Please! Let me in! It's OK, Mark, I'm your friend." Dude, I'm a 40 year old, sitting in a fully lit, Florida beach house, and that is still some scary sh--! No joke, to THIS DAY I do not like to sleep near an window that is not drawn because of Danny Glick. If I can see the glass, Danny Glick will come floating up, he will scratch on the window, smiling with his blood-soaked smile, and he will get me to open up.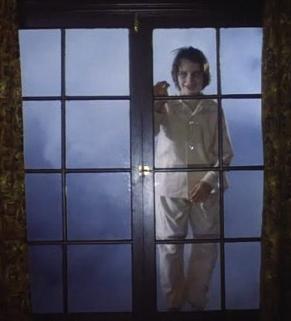 So, when Dana says that she thinks something might be too old or too scary for Lauryn, I listen. And, Dad, I love you. L-O-V-E, love. But these movies were like someone shoving a shiv into my memory brain. With love!
Categories: June 2010, Movies, Family
/