Shopping Cart
Your Cart is Empty
There was an error with PayPal
Click here to try again
Thank you for your business!
You should be receiving an order confirmation from Paypal shortly.
Exit Shopping Cart
Features, Reviews and a Blog by John Sciacca
| | |
| --- | --- |
| Posted on June 2, 2010 at 4:17 PM | |
Just got back from lunch at Chick-Fil-A, where I was inspired with a topic for today's post. So I plopped down in front of my laptop, fired it up and then logged in to check my e-mail where I saw a mysterious message in my in-box that totally derailed what I had in mind. (Don't worry; it'll keep.)
The message was from Best Buy and was poignantly, cruelly and oh-so-spot-on entitled, "Living with an embarrassing phone?"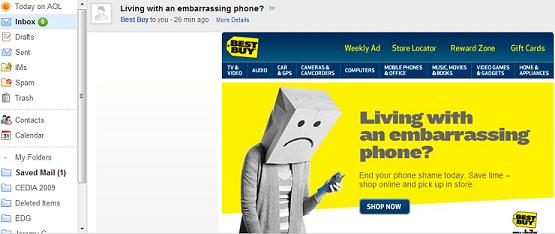 Seriously, this picture pretty much encapsulates my feelings of secret shame and male inadequacy and pent up sadness when I pull out Lady Phone. I try and play the role of brave little soldier and say things like, "My phone does not define me" or "Look, it's just a phone!" and "I hate you! Why can't you just leave me alone?!" but clearly Best Buy has seen through my false bravado.
So, yes, Best Buy, I AM living with an embarrassing phone, OK? Does that make you happy? Feel like a tough guy now?  I would LOVE an iPhone, all right? L-O-V-E, love. I want to be an iGuy. iWant to pull out my iPhone and talk about downloading and installing apps, and grouse about how much better my life would be if only iCould run Flash or talk about jailbreaking and hold up a finger and say "just a sec...." as iWhip through page after more important page of Internet brilliance.
But I don't. Because, seriously , for me, my phone IS just a phone and I don't need another $100 month anything bill. And -- have I said this already? -- iPhone just doesn't work that well in Myrtle Beach. And, while it is a brilliant pocket computer, it seems to kind of lick balls as an actual, uh, phone.
Now, I realize that I've spoken about Lady Phone quite a bit. I've taken and posted pix with the ol'e gal, furiously tried looking up Tron facts to a doubting deli worker, etc. but I don't believe that I've ever fully explained the mysterious hows, whats and whys of ma Lady. First, an introduction. THIS is Lady Phone: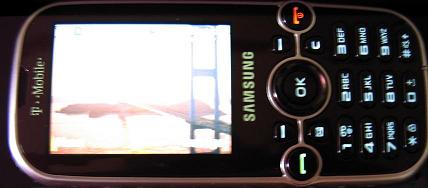 Note the delicate pink banding highlighting the mangenta inner color. Note that it features real, raised keys so that it is easier to use if you had, say, really long and (matching, oh PLEASE let them be matching) pink painted finger nails. Of course, this is really only HALF of the Lady. When you get to know her, she'll open up and reveal her even more delicate and pinker inside: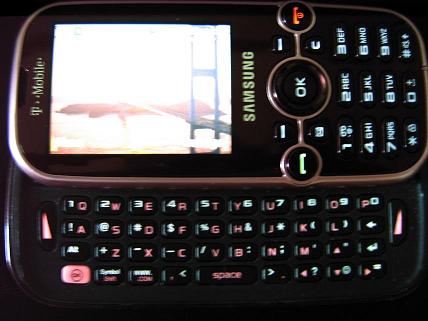 That's right! A fully pink, backlit QWERTY keyboard! For those times when you just have to tell your girls something that is too long and important for T9 predictive texting or for those serious bouts of mobile Internetting.
So, the big question: WHY do I have a pink phone? Excellent question. My far more manly Nokia broke died last year. Turns out that it did not take well to being in my short's pocket as I jumped into our swimming pool, did one quick underwater lap, and then burst out with an, "OH, NO!!! MY PHONE!!!"  No magical bags of rice or hairdryers could bring Nokia back. This was just a few days before CEDIA when I needed a phone.
So, off to T-Mobile for a new model. I'd like to say it was love at first sight, but it wasn't. After an hour of looking, I grabbed Lady Phone's slightly more masculine twin; a model with orange sherbet highlights. (Apparently the Samsung designers of the somewhat manly sounding "Gravity 2" feel that ALL American males prefer to be FAB-U-LOUS!) Except they were out of (kinda more manly) orange.  Wouldn't be getting any more of orange in for 10 days. In the meantime, I could be a Pink Lady. In fact, they had LOTS of them. Except when I got back from CEDIA, I missed the 14 day trade-in window, meaning I was outside of my contracted opportunity of using 21st century techno-alchemy to turn Pink into Orange.
Thus, I live with Lady Phone. I text and check e-mails with Lady Phone. I take pictures and Bluetooth with Lady Phone. And, most importantly, I make calls with Lady Phone. And I count down the days until my contract is up, when I'll take Lady Phone to a very public place, explain that it's not her, it's me, and we'll have a quiet break-up over a salad. I'm sure she'll be fine. So, iPhone, I hear from the boys over at Gizmo that you've got a new model coming out..... How you doin'?
Categories: June 2010, Electronics
/