Shopping Cart
Your Cart is Empty
There was an error with PayPal
Click here to try again
Thank you for your business!
You should be receiving an order confirmation from Paypal shortly.
Exit Shopping Cart
Features, Reviews and a Blog by John Sciacca
| | |
| --- | --- |
| Posted on June 7, 2010 at 1:12 PM | |
There are few events in life that are as exciting and capable of delivering the pure, primal, giddy scream-like-a-school-girl joys of stumbling across found money. I once ran pell-mell through a parking lot before a concert gathering up $1 bills that were blowing in the wind. My total take was a mere $9, but the joy in grabbing those wandering Washingtons was priceless. (I sometimes wonder if someone was filiming it; the footage they would have captured for a mere $9 would have been priceless!)
When it comes to finding money, I have one bit of advice: You never find money looking up. (Incidentally, it turns out this bit of advice also works when trying to find white beach crabs at night.)

While we were in Florida last week, I found this lone dime sitting on the beach. It was from 1980, though it looked like it had lived a very hard 30 years. But there's no telling what this dime has seen or where this dime tumbled and traveled through time to wash up on a Florida beach 30 years after its mint date for me to find it. Did it get tossed out of a boat? Dropped by a para-sailer?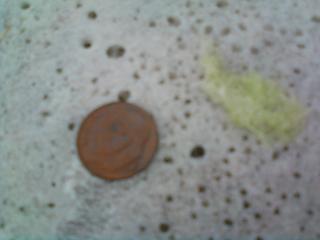 Looking at the dime and the date made me think of a scene from No Country for Old Men. If you haven't seen this film, I invite you to watch one of the most intense exchanges of dialog in modern cinematic history. This clip runs about 4:35 and every frame is filled with hand-wringing tension.

(Well, turns out I can't imbed the video. LAME!  But, you can watch a higher-res version of this clip here...friendo!)
Anton Chigurh: What's the most you ever lost on a coin toss.
Gas Station Proprietor: Sir?
Anton Chigurh: The most. You ever lost. On a coin toss.
Gas Station Proprietor: I don't know. I couldn't say.
Anton Chigurh:  [This coin has] been traveling twenty-two years to get here. And now it's here. And it's either heads or tails. And you have to say. Call it.
/