Shopping Cart
Your Cart is Empty
There was an error with PayPal
Click here to try again
Thank you for your business!
You should be receiving an order confirmation from Paypal shortly.
Exit Shopping Cart
Features, Reviews and a Blog by John Sciacca
| | |
| --- | --- |
| Posted on June 29, 2010 at 4:53 PM | |
The other day we saw Toy Story in 3D. This seemed like the perfect storm to be Lauryn's first commercial theater experience – a movie we all wanted to see, a move she loved, Toy Story 1 was the *first* movie she ever watched – but we ended up going without her because she was too panicked to try on the glasses.  Yes, we could have gone to the non-3D show, but I really (at the time) wanted to see it in 3D (which I did so I can now say you don't need to!) so we left her with some friends. If this was selfish, well then it surely wasn't the first time...nor will it be the last.
So, while we were getting our tickets for TS3, we noticed a sign at the theater that said they were running summer kid days where admission was totally free and popcorn and Cokes were only a $1. This is *such* a great idea that I wanted to recognize the Grand 14 at Market Commons for doing a really terrific thing.
Now, I kind of bitched about this theater before (I had a less than perfect Avatar experience which you can read about here. To their credit, they comp'd us tickets to see it again in a different auditorium which was way better.) So, when something's bad, I'll call it out. But, I also want to call out stuff when it is right, and here, they did it totally right. The staff was great, they welcomed in a TON of kids, a manager came out before the show to welcome everyone; it was really a great first experience for Lauryn. So Grand 14—thanks!
The show started at 10 and it was Kung Fu Panda. (This is now like the third time I've seen this, and this might be one of the best non-Pixar animated titles. Jack Black is just great as Panda. Ske-dooosh!) Lauryn and I talked about it last night (and many times this morning) about what the theater would be like (is the screen t-h-i-s big, spreading her arms as wide as they'd go) and how much popcorn she would eat and about the movie itself. Then when we got there she said the theater was "as big as a skyscraper!" But, there was some panic when we got into the auditorium. She didn't like all the seats, suddenly the screen was too big and it was too dark and scary. (This despite the fact that all the lights were still on at this point and we were surrounded by kids both younger and smaller.) I managed to settle her down, and once the movie started she was fine and went into Trance-Bot mode. Here's a picture of us: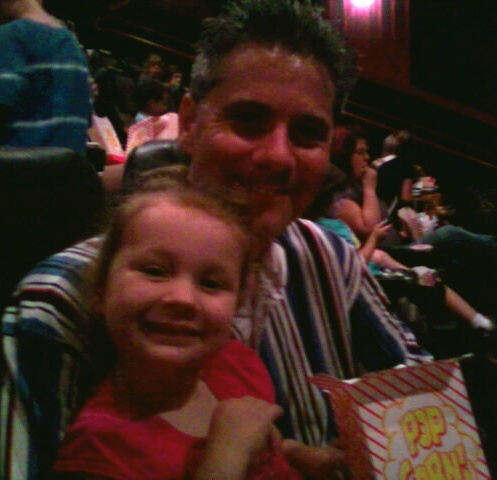 When it was over, I asked Lauryn what she thought and she loved it and said that it was even better than our screen. (Possibly, but my sound system still kicked its ass, especially the Trinity sub.) Also nice was that this auditorium, #8, did anamorphic the RIGHT way; making the screen wider for the 2.35 films instead of masking it down smaller.  (I can only guess that they didn't use this auditorium for Avatar because it isn't/wasn't equipped for 3D. But why wouldn't you? Why?!) So, thanks again, Grand 14!  We'll definitely be back!
/