Shopping Cart
Your Cart is Empty
There was an error with PayPal
Click here to try again
Thank you for your business!
You should be receiving an order confirmation from Paypal shortly.
Exit Shopping Cart
Features, Reviews and a Blog by John Sciacca
| | |
| --- | --- |
| Posted on June 30, 2010 at 8:58 PM | |
Well, Sony, you've sure impressed the hell out of me so far! I was met at the airport coming off my flight by a be-suited woman holding a placard that said "Sony - Sciacca." Seriously, haven't you always wanted to have one of those people there waiting for you? Well, today was my turn, and, yes, it IS every bit as sweet as you thought it would be. She escorted me outside to my waiting Lincoln Towncar where, after a 40 minute drive we left somewhat scuzzy LA behind and pulled into Beverly Hills.
It was obvious from the moment that we pulled up that this is one artsy, swanky place. There is like an outdoor sitting/living room before you even make it into the lobby. Again, another Sony employee met me in the lobby and handed me an itinerary for the event (pretty much what I already posted earlier) and then kindly informed me that they booked my room for an extra day just so I'd have the room available for use after my studio tour. Thoughtful! Now, if this adds a small bit to the price of your next Sony purchase, just appreciate that it went to a good cause.
So I made it to my room and thought I'd share some pix with you. Here's the bed (that big grey lump thing on the bed is a sweet robe that I -- sadly -- probably won't be wearing):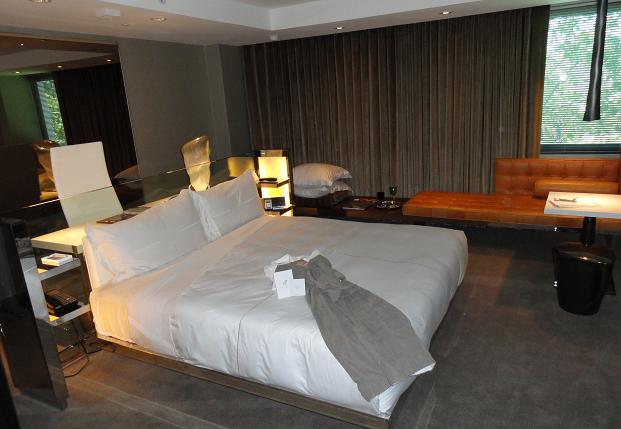 Here's a cool mirror on the wall. I always like my mirror to try and motivate me with sayings like "Be Bad," "Feel Better," "Be Good," "Sneak a Peek," "Keep Cool," and "Shake." Actually, I really prefer it when my mirror says things like, "No, your hair looks OK, really."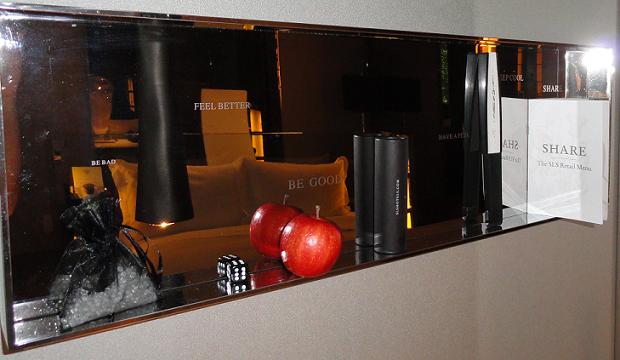 Another shot of the room from another angle showing back into the bathroom. I'm sitting in that white chair right now typing this at the little desk, work area. And there's that robe again; I just didn't have the heart to move it.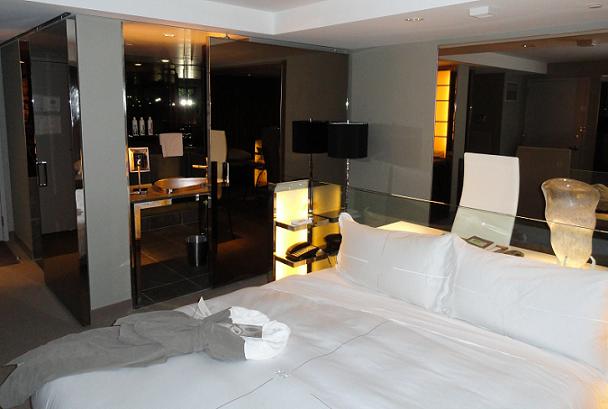 At the foot of the bed is a giant mirror and behind said giant mirror is a -- surprise, surprise! -- Sony LCD TV. Pretty slick touch. Behind that locked door is a monster. But the door is locked and they promise he can't get out.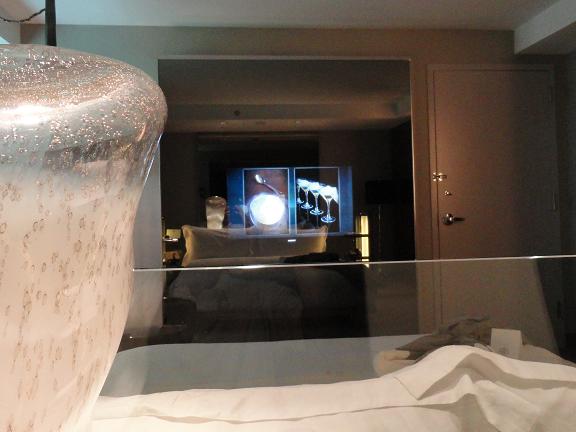 Here's the bathroom which has really cool lighting and a giant stainless steel sink that looks like it would be at home in Hell's Kitchen. The shower also looks promising, all natural stoney and with a strong-like-bull looking shower head. Also, notice the MAN sized bottles of shampoo and conditioner they offer. None of this 1 ounce serving size for the SLS!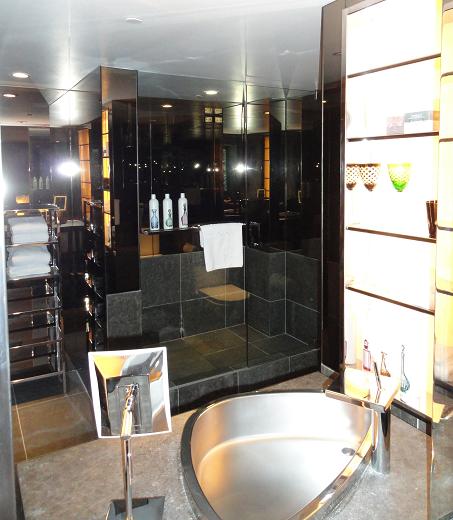 If I happen to go insane and raid the mini-bar, trust that I will be enjoyoing some fine booze like Johnnie Black and Patron Silver, Pleasure Ship sake and Veuve Clicquot.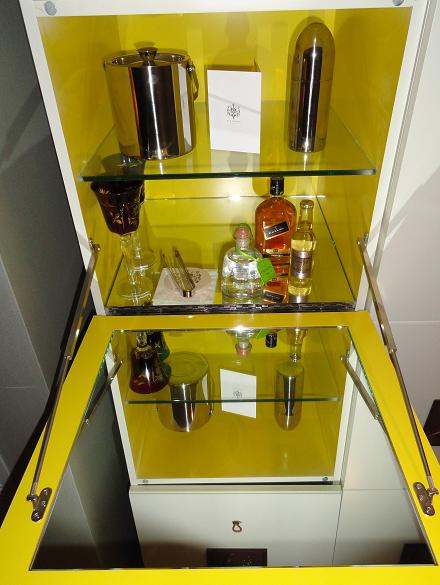 The weather was great in LA -- sorry, Beverly Hills! -- today, 76 with not a trace of humidity and I had 7 hours to kill before the first Sony obligation so I decided to go up to the 6th floor and check out the pool and keep chunking away at "Under the Dome." (I'm on my like 4th checkout on this thing, and have already wracked up enough late charges on this book that I probably could have just bought the damn thing! Look! I have a full time job and this writing thing; squeezing in time to plow through a 1200 page book isn't easy!) So, I get to the pool and it is sa-weeeet! I used my new Sony digital camera (totally unrelated to this trip, but you're welcome for the plug, Sony!) and its panoramic sweep picture mode to capture the pool in all its glory. Unfortunately, the picture is SO wide that it won't fit in this window in a size that is big enough to see. So I chopped it into two pieces. Use your imagination to stitch them back together...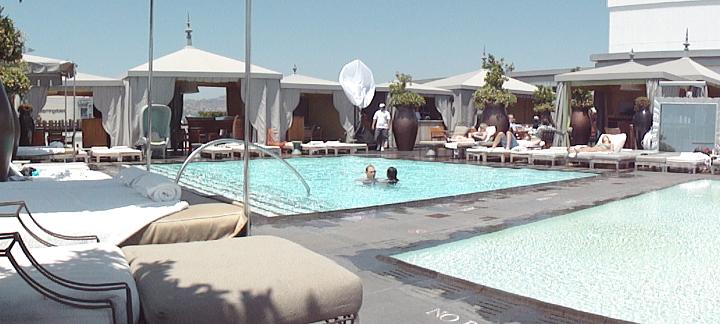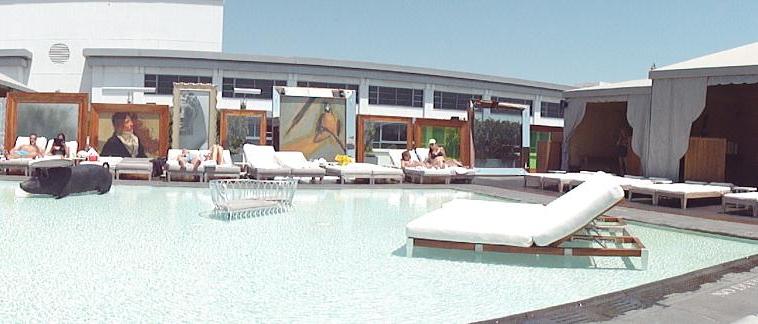 Tons of cool cabanas and art work and lounges. Some covered outdoor areas with TVs. Really awesome. Also awesome? The prices for food and drink around the pool. I figured, heck! When's the next time I'm gonna be hanging by the pool with the beautiful people in Beverly? So I got a beer and an order of chips and guacamole. And a $27 bill.
Thought I'd show a couple of other cool elements from the hotel. This is in the lobby area on my floor when you get off the elevator: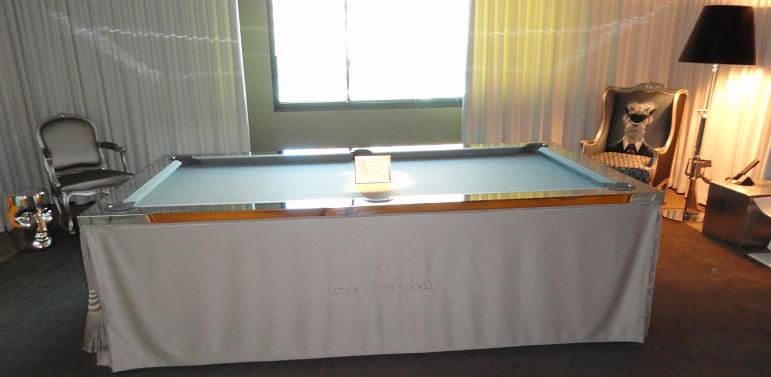 Yeah. That's right. A pool table. And in the corner by the duck chair? The most awesome lamp ever!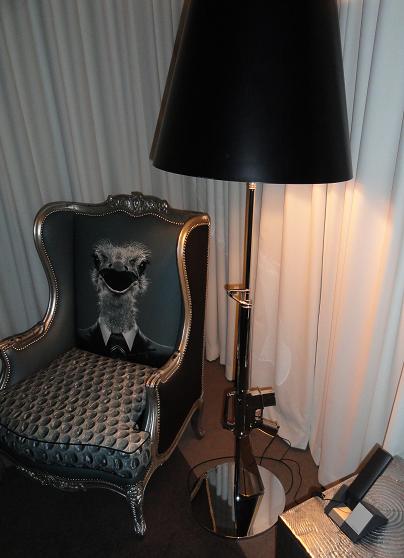 A lamp. Made out of an M16. Dana, can we redo all of our decorating in M16? I didn't even know that was a decorating style. I feel like all of those design shows you've made me watch have been lying to me all these years! And remember when I told you how Bang & Olufsen were the masters of product placement? Well, hiddly-ho, there's a B&O phone, just the kind of thing you'd expect at the SLS! Though I just found the hotel's one little slip up. (Actually two little slip ups...my iPod dock radio didn't work, but they brought me a new one, so I'm forgiving that.) My room's doorbell just rang and the maid was offering me a turndown service. First, it's not even 6:30 here. Am I really ready to turn down? Second, you would think a place like this would bring Godiva truffles or something for your people. She brought me an apple. And as I always say, fruit is not dessert. And definitely not chocolate.
Categories: June 2010
/