Shopping Cart
Your Cart is Empty
There was an error with PayPal
Click here to try again
Thank you for your business!
You should be receiving an order confirmation from Paypal shortly.
Exit Shopping Cart
Features, Reviews and a Blog by John Sciacca
| | |
| --- | --- |
| Posted on July 2, 2010 at 9:52 PM | |
Very late post today and none yesterday, but for a good reason. Yesterday was action-Jackson packed from morning till night. Then I caught a 10:30 PM flight from LAX to Charlotte, NC, arriving at 6:00 AM local. Flew in to Columbia, SC where I met up with Dana. So, a long, pretty exhausting day. But yesterday.....ahhh! Lots to talk about. Let's jump in, shall we?
One thing I will say about Sony -- besides the fact that they put us up in the shizzit of a hotel! -- was that they do NOT want editors to be hungry! It felt like we were eating or about to eat or going to eat almost constantly! So, we started the day with a nice breakfast, tons of fresh berries and eggs, sausages, coffees, juices, muffins, etc. Then we had the meeting, which is embargoed until next week. I'll say that a pretty major announcement that will likely be seen as a game changing move for custom installers.
They showed us a demonstration of a prototype 3D front projector they are working on. They stressed -- repeatedly -- that this was a prototype, and that they flew in a team of Japanese engineers to babysit it while it was out of the lab. The unit was shrouded in a black cloth, so all we could see was the bright light beaming out of the lens. The only concrete info given was the working name (can't print it...), that it was 720p but the final model would be 1080p and that we could expect it later (wink-wink, nudge-nudge, probably CEDIA time...)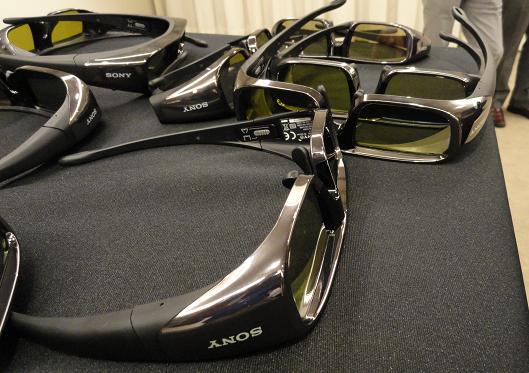 So we donned our glasses (which have a yellow tint as you see here) and prepared to be wowed or dazzled or 3D'ified. But, almost instantly, I got a headache. With love, Sony. L-O-V-E, love, but I felt this immediate throbulating spike in the front of my forehead almost the instant the lights dropped and the images came on. Now, I'll be honest, I will still kind of nursing all that Rioja red wine from the previous night. so I'm sure that didn't help, but I polled a few other editors afterwards and several others also commented on the brain discomforture. The first images were HD video from an acquarium that has that amazing ability to turn a screen into a window -- it's hard to explain if you haven't experienced it, but it is like the screen literally transforms into an entirely different material (they were using a 100-inch Stewart StudioTek 130 by the way). The images didn't look super bright, and it was obvious that the glasses REALLY knocked down the brightness, because when you took the glasses off it was like twice as bright.
Then we took a brief break and then met for...lunch! Yes, it seemed like just minutes before that we finished breakfast but here it was, apparently already time to eat again. Then after lunch we loaded up in a van and headed over to Sony Pictures. This is a working film lot, kind of like Universal Studios but without the tourist and theme park element. And they gave us the full backstage pass treatment. As we were getting off the bus, several people were like, "And please, I can't stress this enough! Make...sure....you....take...a....water! You are going to want a water!" So, like a chump, I took one, which turned out to just be a bit, wet liability. I left it on a table somewhere, cause, you know, who isn't going to just stumble across a random, found bottle of water and decide to drink it?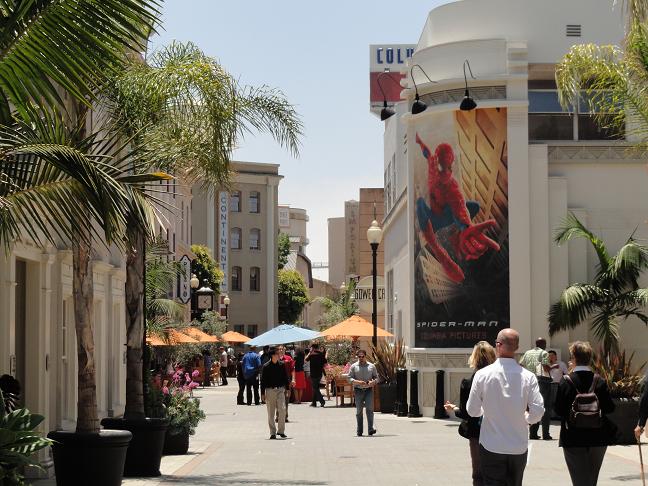 The first part of the tour was a lengthy discussion of 3D from Buzz Hays with the decidedly meta-hip and cool title of "Executive Stereoscopic 3D Producer." I might post more about this later, but suffice to say, Buzz gave us a terrifiic education on how 3D works from the photography and technical standpoint and that Sony is now offering a 3 day course free of charge to Directors of Photography on HOW to film in 3D. (So far 500 have attended.) One great quote from Buzz was, "Making 3D is easy; making it look good is hard" and that 3D technology is not the problem, it's the conent that is the problem and DPs have to undertand how to do it. Thus the need for the education. He showed us several demos on Sony's R320 4K projector which looked pretty amazing.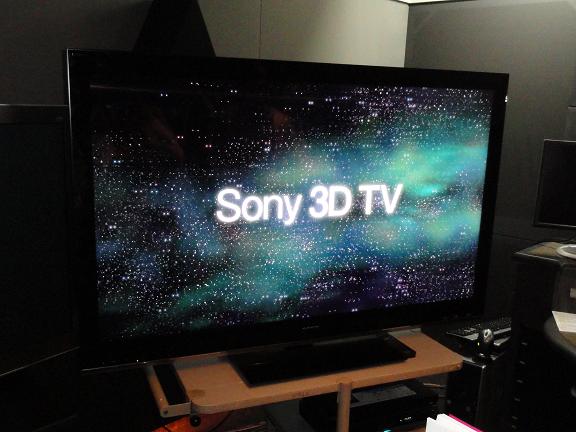 Next we went over to the DAC, Digital Authoring Center. All work done on the lot is done in 4K, which is 4-times the resolution of 1080p. A typical 2 hour film scanned to 4K would take about 12 Terabytes, and the main server farm holds about 2 Petabytes (2 thousand Terabytes) of spinning discs. Here's a stack of 500 Tera: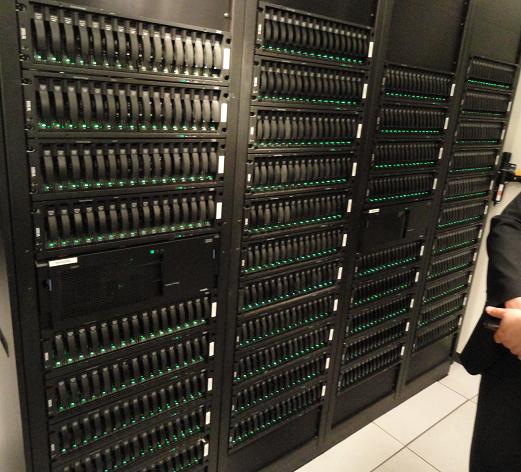 Here's some guys checking the transfer for a home release: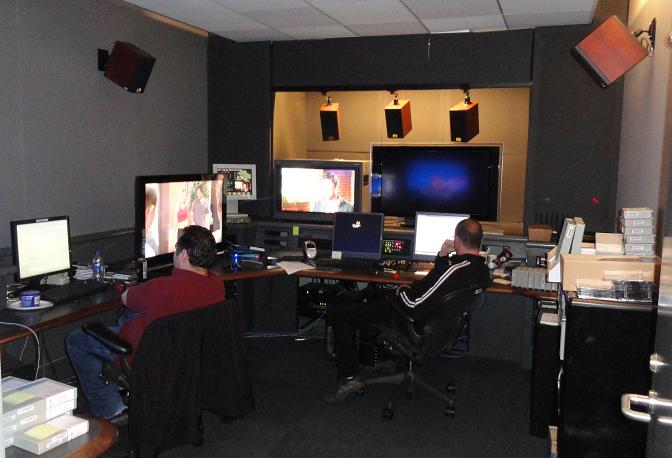 Here's a technician that is working on the 1954 Vincent Price film "The Mad Magician." This was originally filmed for 3D, so they are taking the left eye and right eye stems and touching them up (color correcting each eye, depth correcting, cleaning up the image, etc.) and giving them a 21st Century 3D makeover. The effect was nearly as convincing as modern 3D titles. He keeps the Post-It note on the monitor as a depth reference to understand where to position characters on the screen.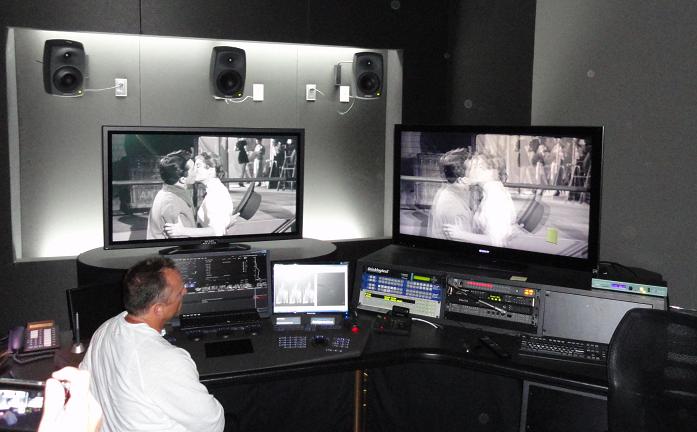 Next up was a visit to the Barbra Streisand Scoring Stage where the orchestral tracks are recorded. I had a chance to watch a live session once at Skywalker Sound and I must say that it is *incredibly* moving. Being able to hear the score played live is really an amazing experience.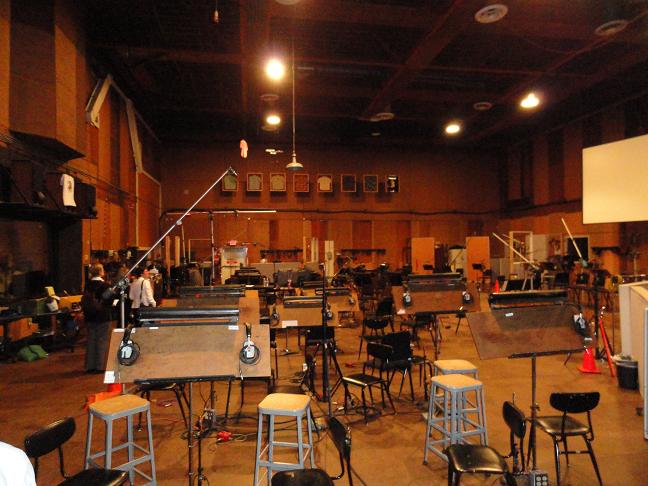 Every musician has his own mic which is then mixed in for the proper overall sound. That mixing is done on this board: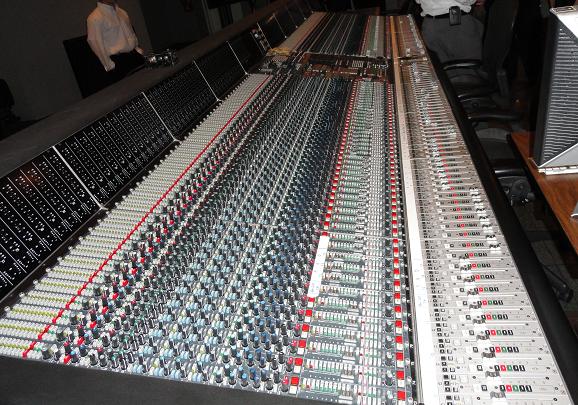 I'm fascinated with Foley, which is the technique of recording all those ambient sounds -- footsteps on gravel, glass breaking, bones crunching, chains dragging, jackets blowing in the breeze, etc. -- that aren't adequately recorded during the original filming. Here is one of Sony's Foley stages: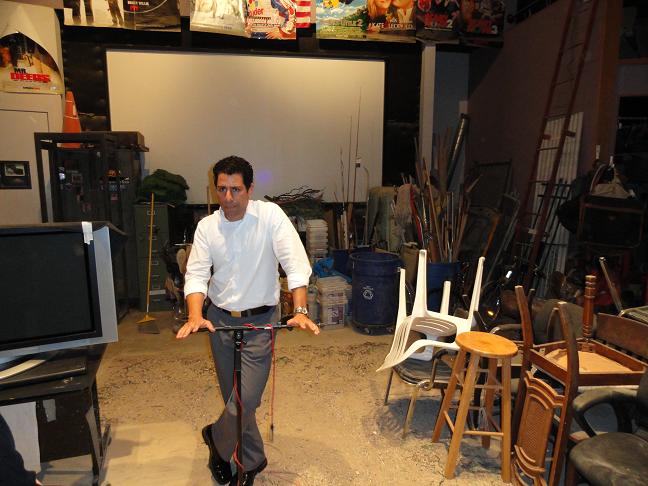 The final stage for the audio is to lay down the final mix, when all of these sound elements (called stems) are put together. We were able to walk-in on Greg P Russell, 13 time Academy nominee for sound editing (inlcuding last year for Transformers: Revenge of the Fallen). As you can see from this, he was working on Salt: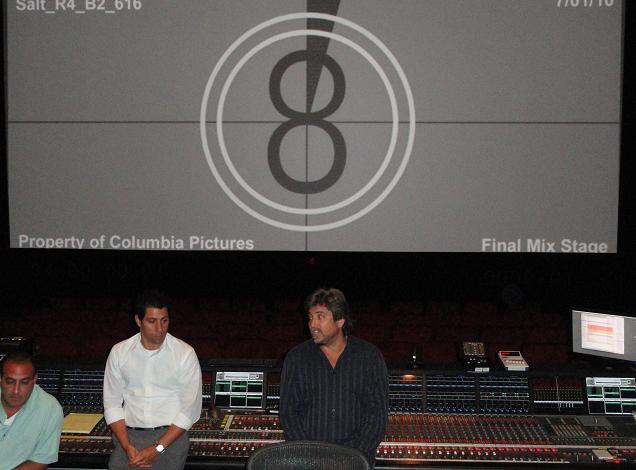 All in all, an amazing day. Capped off by a terrific dinner -- it had been about 4 hours since we'd eaten which was nigh an eternity in Sony time -- at a Japanese barbecue, where, sadly, splitting a giant bottle of sake did nothing to help me sleep on the plane. As the final, "Yep, you're in Beverly Hills" moment, walking back to our hotel there were 3 -- THREE!!! -- Lamborghinis in our parking lot. Ahhh, LA. You are so NOT SC.
Categories: July 2010, 3D TV, Electronics
/