Shopping Cart
Your Cart is Empty
There was an error with PayPal
Click here to try again
Thank you for your business!
You should be receiving an order confirmation from Paypal shortly.
Exit Shopping Cart
Features, Reviews and a Blog by John Sciacca
| | |
| --- | --- |
| Posted on May 7, 2014 at 12:15 AM | |
Ingram Micro held its Spring Vendor Expo last week in Scottsdale, AZ. Ingram is the world's largest technology distributor, owing AVAD and DBL Distributing, two companies serving as major distribution partners to the custom installation industr. The Expo featured more than 125 different vendors, including Samsung, Vizio, Sanus, Sony, Microsoft and Hisense. Ingram invited key dealers from around the country to attend the Expo and meet with their sales and vendor partners to discuss business opportunities. For many that weren't able to attend CES it was an opportunity to see exciting new technologies like UHDTV and Samsung's curved displays.
The theme of this year's expo was "How We Are All Better Together" and it kicked off with a featured presentation by Tom Bamrick, VP and GM of Ingram Micro CE. This was followed by a panel moderated by Ed Hecht, VP/Publisher of Resi System's sister publication TWICE. Panel members included Stephen Baker, VP of Industry Analysis at NPD, Craig Birmingham, VP of Sales at Ingram Micro, Wayne Newton, Sales and Business Development Leader at Belkin, Garry Wicka, Marketing Director at Dell and Stephen Panosian, Director of Marketing at Samsung, and Rick Beiderbeck of Arizona's Spencer's TV and Appliance.
Unfortunately, I didn't arrive at the hotel in time for the panel, (I was waylaid watching OmniMount's & Ergotron Communications & PR Manager, Betsey Banker getting zapped by a TASER. Click link for the video!) but Hecht told me after that the main themes were the need for business diversification, and how home automation is growing business segment especially as things like security cameras and lighting control are becoming more DIY.
Frank Ratel, Ingram Micro' Sr. Business Development Manager, educated vendors on opportunities available within the government and education sector and explained resources and programs available from IMCE to support growth in these markets.
Samsung had a three-and-a-half hour reseller training session explaining it sees big audio growth segments being led by soundbar, multi-room audio and GIGA Audio. Industry sound bar leaders include Samsung, Bose, Vizio, Sony, LG and Sonos.
Samsung's Senior Product Manager, Digital Audio, Bill Hadam, explained that Samsung expects tremendous growth opportunities in wireless audio, which Samsung sees as "the future of audio." To capitalize on this, Samsung brought in many industry experts to assist in design and development and launched its premium audio initiative, Shape. In the Shape world will be speakers, soundbars, Blu-ray players, TVs, HTiB's and the Link Mate to support legacy systems. Each Shape component includes 6 months of premium Pandora subscription which can be stacked, meaning a 4 Shape sale would get someone 2 years of Pandora premium. They announced upcoming support for iHeart Radio, rdio, Spotify, 8tracks and Samsung's own Milk music service.
Another anticipated audio growth area is the Sound Stand TV speaker base option. As people continue to replace older 40-46 inch flat panels in the main viewing area with bigger and better sets, they will naturally want better audio to travel with these sets to the bedroom or wherever the old set will be going and Samsung sees Sound Stands as being a popular, lower-cost alternative.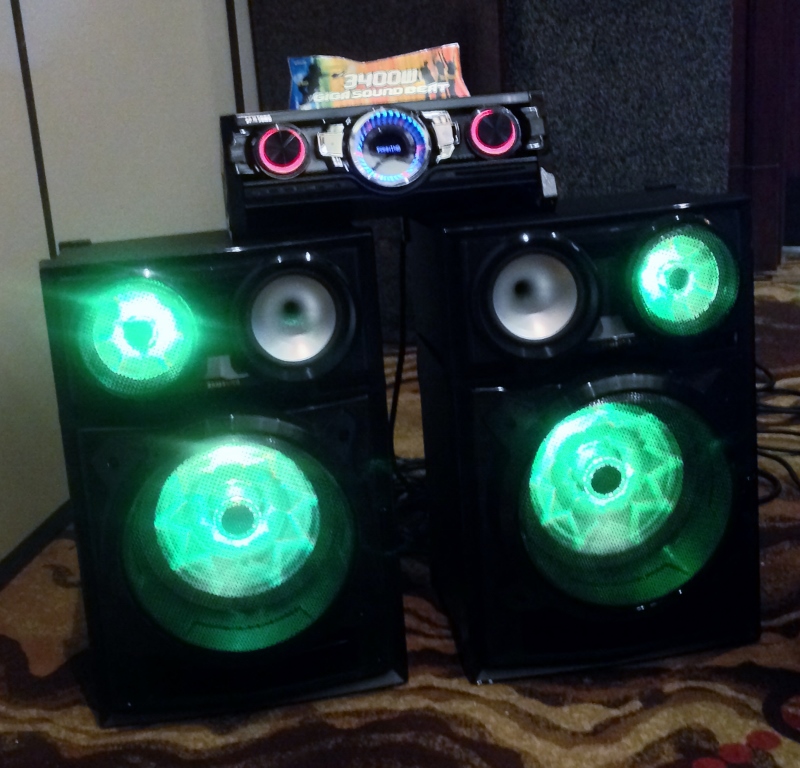 I'm not totally sure how to categorize GIGA other than as an insanely loud, portable DJ/PA speaker system meant to power spontaneous block parties or post soccer celebration flash mobs to insane volume levels. The new GIGA MX-HS9000 system has dual 15-inch subs and 3400-watts of power that can "match the decibel level of a helicopter." (Samsung was unable to confirm what kind of helicopter. I mean, is it an Apache, a Blackhawk, a Little Bird or one of the stealth copters used in the Bin-Laden raid…? Rotary-wing loving audiophiles need to know!)  I can say that the GIGA system powered an after party in a large ball room, and at roughly 35% volume was so loud it was bordering on painful. Samsung says that GIGA has been successful beyond expectations and that dealers that have brought product in can't keep the systems in stock.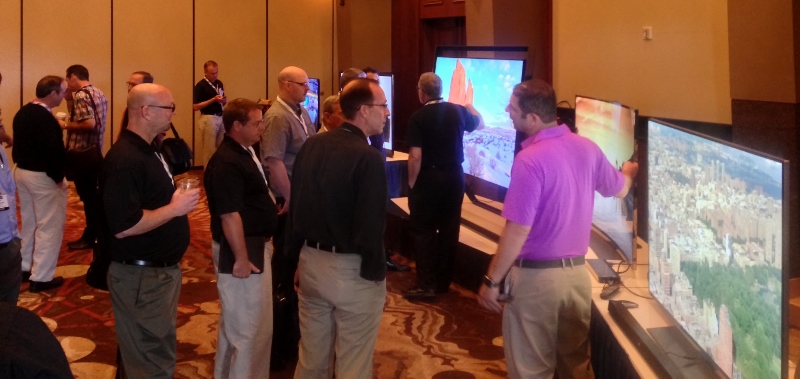 The big video stories for 2014 will be UHDTV as well as curved. Samsung explained that bigger screens require higher pixels per inch (PPI) which is why UHDTV will be important. According to CEA research, 8% of households plan to buy a UHDTV in 2014, however lack of content and pricing remain the big questions and concerns on consumers' minds.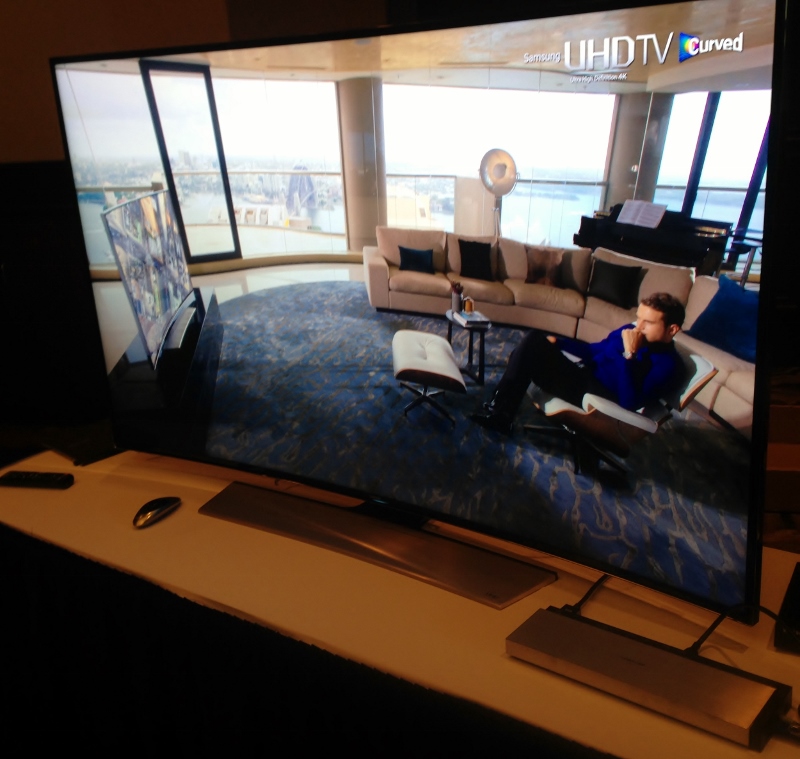 Based on Samsung's research customers will pay more for curved TV and there is a much higher close/purchase rate after people have experienced the curved TV for themselves in person. One of the features unique to the curved line is Auto Depth Enhancer designed to improve contrast and make foreground images "pop." They did caution that calibrators should definitely disable this feature as it "would be impossible to calibrate the TV with this feature on." Video processing, scaling and input switching on the curved models is handled by an outboard box. This box connects to the TV via a proprietary "One Connect" cable, currently limited to 3meters but will be available in a 10meter soon.
Chris Ely, Senior Manager Industry Analysis CEA, gave a forecast and state of the CE industry discussion. Ely said that weather has negatively impacted Q1 CE sales and that tech sales are "suffering" at the hand of pent up demand for durable goods like cars and houses. However on the bright side, consumer credit is growing and the CEA is optimistic about the 2014. The "CE Big Five" sales leaders are smartphones, tablets, HDTV, mobile PC and digital cameras.  Top trends in video include Ultra HDTV and Internet streaming devices and leading audio are wireless speakers, soundbars and headphones which continue to be one of the top planned purchases for 2014 across all spending levels.
Please click here to continue reading much more at Residential Systems...

Categories: May 2014, Electronics, CES/CEDIA
/