Shopping Cart
Your Cart is Empty
There was an error with PayPal
Click here to try again
Thank you for your business!
You should be receiving an order confirmation from Paypal shortly.
Exit Shopping Cart
Features, Reviews and a Blog by John Sciacca
| | |
| --- | --- |
| Posted on July 12, 2010 at 10:30 AM | |
I'm sorry, Gordon Biersch. I loved you, and I'll still love you, but sadly, you are no longer my favorite.
Sure we've had our great memories. Trying to "borrow" a glass with Craig. My first date with Dana. The night I got engaged to Dana. And the many, MANY, and I do mean MANY Marzens I've downed over the years. So, while I'll continue coming back to you, it will be with a twinge of sadness knowing that there is another who holds my heart now. Another that is SO much cooler. Another that is so much.....better. But let's not make this any harder than it needs to be.
While in San Diego for my grandfather's funeral, my brother suggested that we go to Stone Brewing company. He said they had a tour and good beer and that it was a cool place to hang out. Now, I've taken a few brewery tours in my day (macro breweries like Coors and Budweiser and micros like Anchor Steam in San Francisco) so I wasn't really expecting anything too special. But when we pulled into the lot of Stone, it was clear that this was no regular brewery. This place was gi-frickin'-gantic! No joke, the parking lot looked like it could hold like 500 cars and the trail into the brewery was this rock and flower lined path like something out of Disneyland. In fact, if Walt had gone into the beer making business, he would have imagineered Stone Brewery.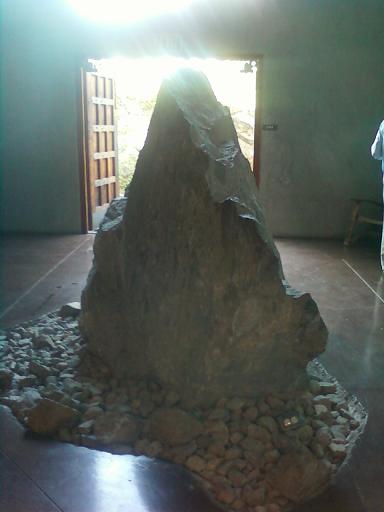 In the lobby you are greeted by The Stone. I thought that lady phone -- whose poor lens was totally overexposed by the bright sun coming in -- captured it in a pretty sweet moment.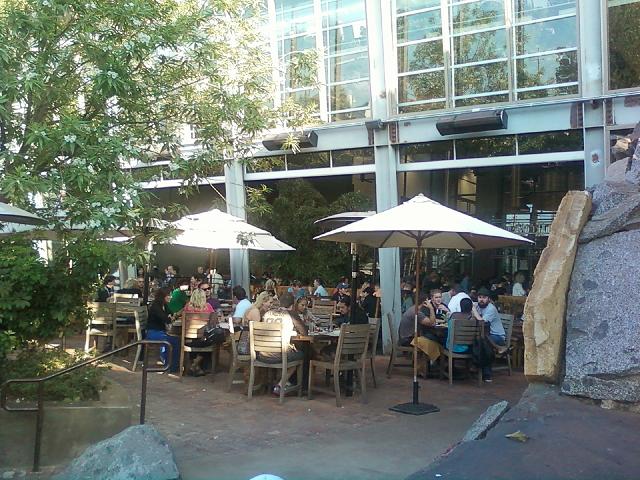 One of the things that made the place SO cool was all the awesome outdoor seating. And they totally needed it because this place was PACKED. Along with beer, Stone was brewing money by the barrel load. We got there about 1.5 hours early and the tour was already booked. The guy let us on because we played the out of towner card, probably one of the first times in modern history where being from South Carolina was actually rewarded.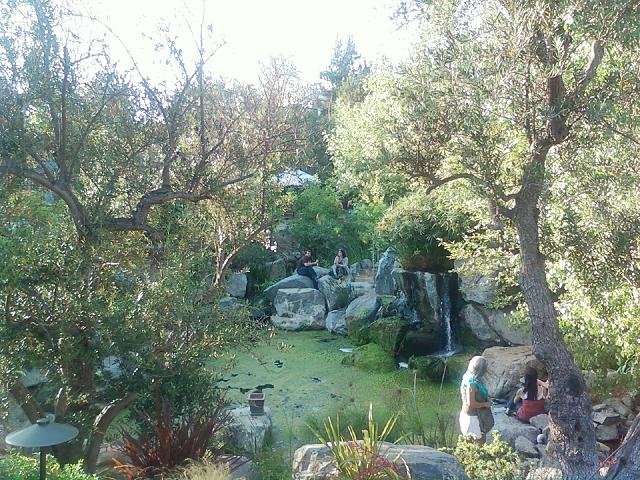 They had all of these natural areas with giant stones to sit on by running waterfalls where you could just take your beer and a book and hang out. It was like the anti-restaurant restaurant. No one coming around hounding you, just people hanging out, drinking and having a great time.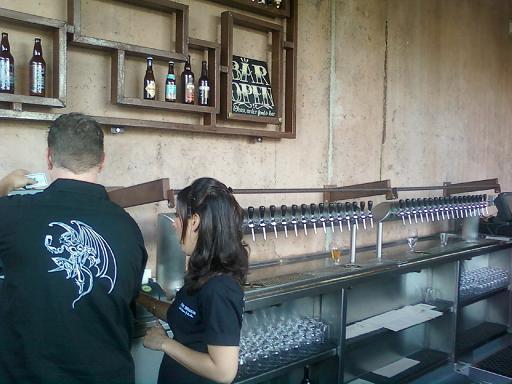 When you were ready to drink -- actually, about 20 minutes BEFORE you are ready to drink you should get in line or send your responsible drink-getting brother -- the Stone taps are there ready to serve you. Obviously, no matter how awesome the place looks, if the beer tasted like piss water, it would be a fail. Rest assured, these are some deliciously crafted brews.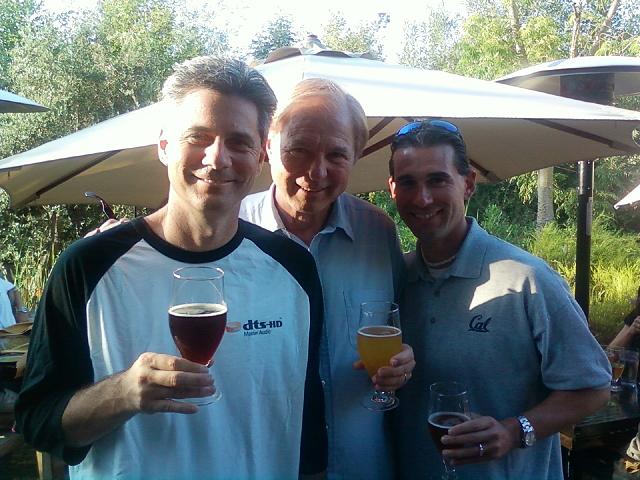 Here's me with my dad and brother enjoying a beer. (I should point out that my dad is NOT a beer drinker, and that he was shouting "Fake! Fake!" while we were taking this picture. He once gave a glass of GB Marzen his ultimate beer compliment in the form of "This beer actually doesn't make me want to throw up!" Why they missed the marketing opportunity of putting that slogan on a T-shit is beyond me....) Also, DTS, you know where to send the royalty checks....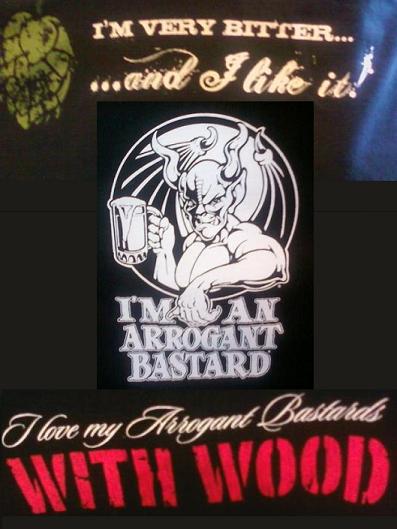 Stone also has a great selection of T-shirts. My brother felt -- and probably very rightly so -- that I needed to purchase the "I'm an Arrogant Bastard" shirts. However I feel like my personality already declaresthat clearly enough without actually wearing it as a slogan. I do rather like the last one for Dana though...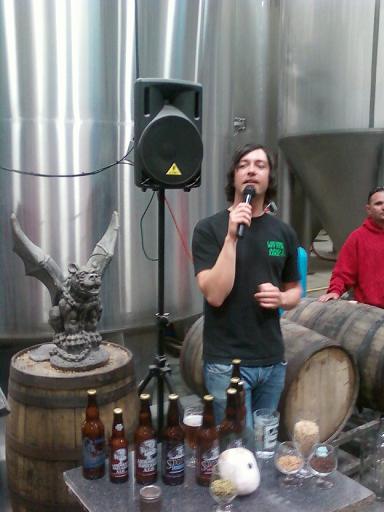 Our tour guide was also super cool -- though he was sporting that disturbingly popular Justin Bieber/Zach Efron hairstyle that seems to say I-totally-don't-care-about-my-hair-though-I-really-spend-a-lot-of-time-caring-about-it -- and seemed like he loved his job and nursed a pint while walking us around explaining the beer making process. His shirt declared that he was Very Bitter, and he liked it. He also said why drink light beer? If you want to lose weight, eat less breakfast or lunch, don't punish your beer. Plus, since light beer just has less alcohol, you're only gonna end up drinking more and then you'll be right back at the same point except that you'll have spent the night drinking sucky beer. Really, it's some touch logic to argue with.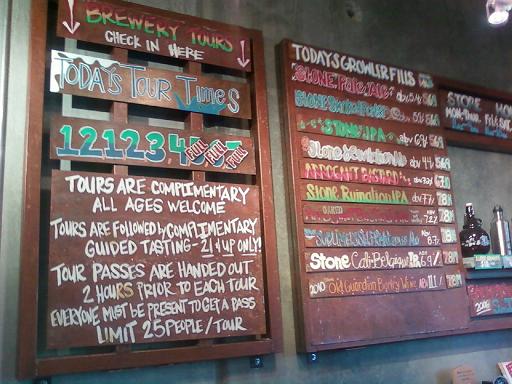 Here's the tour schedule and the growler fill up chart. They offered some seriously generous sample pours at the end, and since neither my mom nor dad were drinking, Adam and I were flush with like 6 never ending little four ounce glasses in front of us. If you plan on touring Stone, definitely get there early. Grab some beers. Enjoy some of the excellent food. (When I saw the home made sausage sampler on the menu, I gave an unhealthy F-You to my healthy eating regime. And oh, so worth it!) Stone also screens movies in the park on Wednesdays in the summer where they put up a big screen and show films. So, yeah, I pretty much want to run off and marry this place. Sorry, GB. It's not you; I've just been Stoned.
Categories: July 2010, Beer/Liquor/Wine
/