Shopping Cart
Your Cart is Empty
There was an error with PayPal
Click here to try again
Thank you for your business!
You should be receiving an order confirmation from Paypal shortly.
Exit Shopping Cart
Features, Reviews and a Blog by John Sciacca
| | |
| --- | --- |
| Posted on July 15, 2010 at 12:50 AM | |
On the last day of my trip to San Diego, my parents and I visited Callaway Vineyards in Temeculah. While no longer owned by Ely, this was another retirement lark for the guy who founded Callaway Golf, of Big Bertha fame. (That we should all be so lucky to have two post-career careers that were this successful! I'd settle for one regular career a tenth as successful!) So while we were on the tour, a couple of things happened that I thought were worth sharing.
First, they had a pretty decent -- albeit expensive -- tasting program. For $12 (or $10 if you can make it Mon - Fri) you get six different tastes. Now normally, a tasting session is pretty structured, "Today we're tasting this and this and this..." and you don't get a lot of say in what you try. (Here comes a sidebar... I can remember one stellar day in Napa *many* years ago, when Dan and I had had WAY too much tasting. Earlier in the day I *might* have reached over the bar when the server wasn't looking, grabbed the bottle and filled our glasses to the top, and then swung a cardboard box until it whipped up and cut me in the forehead. We went to what was to be our final winery of the day and the employee -- probably stopped short by the overwhelming reek of alcohol pouring off us -- said something like "We have four wines available for tasting. You gentleman may only have one." So, his finger scanning down the list of wines, Dan immediately points to the most expensive on the list and confidently slurs, "That one!" And you wonder why I love Dan!) OK, back to my story... So Callaway has like 26 different wines to choose from and with your 6 tickets you can choose whatever you like. Though, I do question the accuracy of their quote-unquote 1 ounce pour. For me, when I hear "1 ounce" I think "Would 12 of these equal a Coke can?" and with Callaway that answer was a sad and slightly resentful no. I felt more like I was getting a 1/2 ounce pour. Anyhow, some good wines, including a really terrific Reserve Cab plus a souvenir glass.
As we're enjoying the valley views from the terrace, they have a tour that is starting so we decide to join in. On the car ride up I happened to ask my mom how many bottles of wine she thought they could get out of a barrel. (This is significantly more benign than the typically "What do you think..." questions I usually come up with which can usually include phrases like "running naked through" or "having feces flinged at," etc.) So when the tour started, my mom asked our host -- whose nametag mistakenly identified him as "Omar" -- how many. So Omar says, "There will be a contest for a prize with that question later." As you know, I hate to lose, so I whipped out Lady Phone and Wikipedia'd "how many bottles of wine in a barrel" and the answer comes back "approximately 300." So, when Omar asks the question later, "OK, to win a prize how many..." I immediately shout out "300! It's approximately 300!" So he goes around asking for other guesses, then says, "Stand by this man (me) because he is the lucky winner. And his prize..." (Here I shout "EXTRA POURS!") "...is...nothing! Ha-ha! I love doing that!" That's when I'm thinking that your name must really be Dick, dick! Dude, totally uncool, Dick! Do...not...make...offers...you...can...not...fulfill! Richard!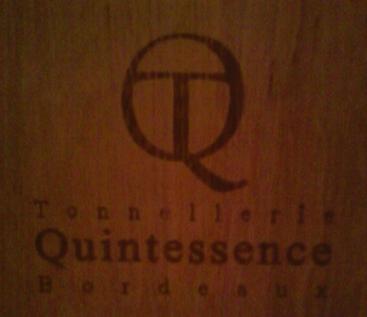 I saw this barrel on our tour and had to take a picture. Lauryn's middle name was going to be "Quintessence," which I originally saw as part of Mont Blanc's slogan ("the quintessential writing instrument") and means the purest form or perfect essence, but we went with Quintessa because it sounded more like an actual name and we saw a winery called Quintessa in Napa.
So, Dick/Omar takes us back into the tasting room where he acts like Indian-giving free pours is no biggie and I turn in my final drink ticket in an effort to quench as much of my disappointment as 1/2 ounce of wine possibly can. As I'm drinking this black girl/woman (I'm guessing 30-ish) taps me on the shoulder and says, "Can I take my picture with you? You are just SO handsome that I've got to have your picture." (I *swear* this happened.) I don't feel like I was looking particularly handsome, but when a first-ever time like this comes up, how can you refuse? (She sadly didn't look anything like Thandie Newton, the most beautifulest, uh, sister of them all. Maybe more like two Thandie's...) She tells me that she's been eyeing me throughout the tour and that "You don't know it, but we've been on a date all day." I told her that I hoped I was nice. Even if she was doing it as a joke, perhaps compiling a journal entitled "All them sad white boys I took pictures with," it still *felt* flattering.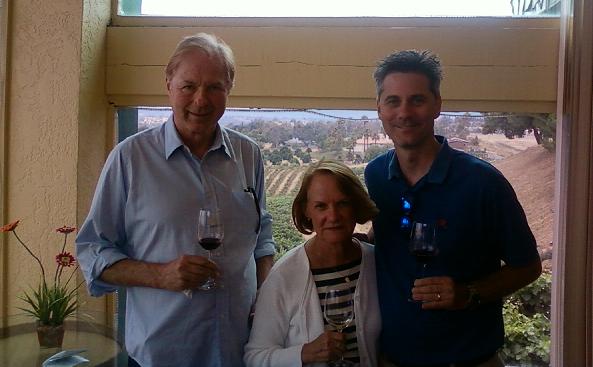 Cheers! (And, seriously! Does that look like an ounce to you?)
Categories: July 2010, Family, Beer/Liquor/Wine
/