Shopping Cart
Your Cart is Empty
There was an error with PayPal
Click here to try again
Thank you for your business!
You should be receiving an order confirmation from Paypal shortly.
Exit Shopping Cart
Features, Reviews and a Blog by John Sciacca
| | |
| --- | --- |
| Posted on July 20, 2010 at 4:29 PM | |
Up until this weekend, if you asked me the last time I ate at a McDonald's, I would have honestly answered "I don't know." (I once asked Dan this question. "Can you even remember the last time you ate at a McDonald's?" I seriously don't even know what combination of bold, underline and italics that I could use to convey the amount of sneer and disdain that was actually in my voice when asking him. But it was like I had just caught him cheating. Turns out he could remember. Very easily in fact. He'd had a Big Mac just that afternoon. It was like I could smell the shame on his clothes. Also, I believe that same day, I totally alienated Dan's wife's friend – a supposed cosmetologist – by saying something like, "You give facials for a living and you want us to stop and eat at McDonald's?" I seem to remember Dan thinking this was hilarious, Colleen silently rolling her eyes and probably thinking something like "my husband and his idiot friends" and the skin lady silently glowering in the car silently counting down the seconds until she never had to see me again.) My fast food of choice is generally Chick-Fil-A (you west coasters are *really* missing out on this place...) and Taco Bell, both of which allow me to eat a meal and leave without feeling all McDonalds-ey. You know, that heavy, filled with grease and self-loathing that comes with eating virtually every Mc-Item.
Anyhow, I found myself having breakfast at a McD's this weekend, a sausage McMuffin that actually was pretty good. So at our table was this large graphic proudly proclaiming all the good that McDonald's was doing. As it was pointed right at me, I couldn't help but notice this image: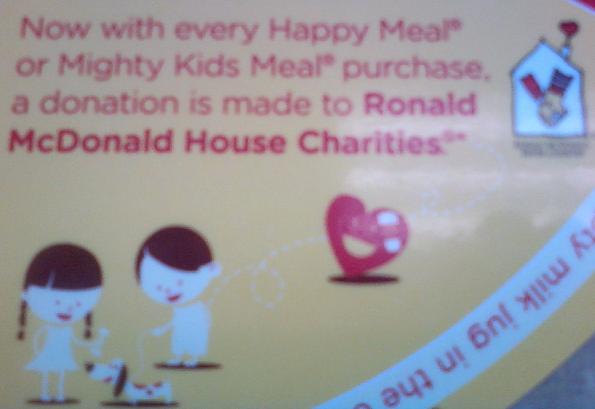 At first I thought, "Wow! That's really great. McDonald's is giving back." Then I noticed the "*" after "Charities." So I started looking around the table for the other shoe. And then I found it. Here:

(Lady Phone's camera let me down a bit with this one; it says "McDonald's donates a penny per Happy Meal or Mighty Kid's Meal Sold.") Seriously, a penny? Really, McDonald's? You are donating a WHOLE penny of each $4 Happy Meal sold and you are proclaiming it with the same enthusiasm as if you were the company behind the cancer cure or stopping the Gulf spill. So for every 10,000 Happy Meals sold, you bring in like $40,000 and donate a whopping $100? Granted, that IS technically better than nothing, but from the deal you were making about it on the tables in the restaurant, I was thinking that you were going to dig a little deeper. LIke maybe a whole dime or the traditional 10% tithe. I know that Paul Newman donated ALL of the profits from his food line (pasta sauces, salad dressings, wines, etc.) and all he has is a small blurb on the label.
I also happened to peruse the nutrition facts on the back of my little tray liner. Turns out the guy I was with ordered THE absolute worst thing possible on the McDonald's menu. I had always thought this distinction belonged to the Double Quarter Pounder with Cheese, but turns out that is only 60% the food nightmare of the real winner; the Big Breakfast with Hotcakes. When you toss in the syrup and butter, you get a heart-punching 1310 calories, 60.5 grams total fat, and 2225 mg of sodium. Cap that off with a 16 ounce McFlurry with M&M's and you add in *another* 1050 calories, 35 fat grams and 144 sweet-sweet sugar grams. Ba-ba-ba-bap-ba...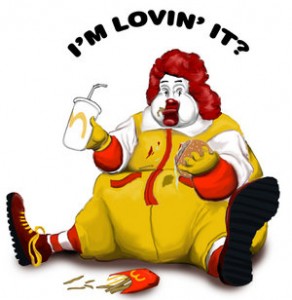 Categories: July 2010
/