Shopping Cart
Your Cart is Empty
There was an error with PayPal
Click here to try again
Thank you for your business!
You should be receiving an order confirmation from Paypal shortly.
Exit Shopping Cart
Features, Reviews and a Blog by John Sciacca
| | |
| --- | --- |
| Posted on July 22, 2010 at 10:33 AM | |
Timing. It's everything. A bit of news could arrive at one moment and be utterly useless. Five minutes sooner or later and it could have changed everything.
My brother, Adam, just sent out an e-mail that happened to arrive at *literally* the most opportune moment possible in the history of every e-mail that has ever been delivered.
Turns out that American Express *just* announced a new benefit for Platinum Card holders. That they can now use US Airways airport club lounges. (This was previously one of the main -- OK, pretty much the ONLY -- reasons why I would fly on Delta. Not any more, Delta! Not...Any....More!!!) This message arrived as I was whiling away 2.5 hours sitting at a Starbucks...IN the Charlotte airport. Not 25 yards away from a Club Room. Watching the beautiful people skip inside, leaving us, the lowly dregs of society, behind in the Concourse, forced to with the...Others. A Club Room where free drinks flow like sweet wine. Where a traveler can use a toilet without wondering what fourth world country has visited  it before. Oh, and where they also gladly hand you a T-Mobile Wi-Fi Hot Spot card for your free Internets.
So cushy. So business-ey. So cluby. Oh, American Express! You ARE everywhere I want to be! I must go now... It's getting hard to type through all these tears of joy. And the bar man is starting to give me that "This will be your last drink if you don't knock it off" look...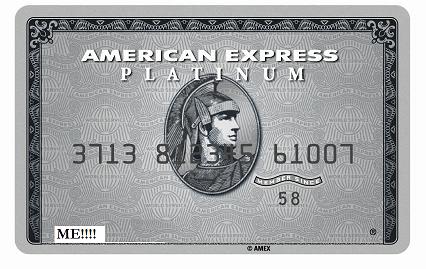 Categories: July 2010
/