Shopping Cart
Your Cart is Empty
There was an error with PayPal
Click here to try again
Thank you for your business!
You should be receiving an order confirmation from Paypal shortly.
Exit Shopping Cart
Features, Reviews and a Blog by John Sciacca
| | |
| --- | --- |
| Posted on July 26, 2010 at 10:47 AM | |
So we were sitting at church yesterday and my daughter, Lauryn, now 3 1/2, grabs a pen and one of my MANY CES notepads and starts drawing. The first thing I notice is that she is totally holding the pen correctly. (Well, she is totally holding it like me, which is something like a two-fingered death clutch with thumb support.) I'm not sure when she made this breakthrough, but this is the first time that I've noticed that she wasn't clutching the pen in her fist like she wants to use it as a stabbing weapon.
So she starts drawing. Fist some big circles. Which then turn into faces. Then some eyes and arms and legs. And she says, "That's us. That's our family." And we are all pretty much to scale. I'm the one with the giant, hydroenephalitic head. Then she draws something else at the top. "That's our TV. We're holding hands watching TV." Then she draws figures in the TV. "We're watching Yo Gabba Gabba. That's why you look angry." I have expressed MANY times my disdain for Yo Gabba Gabba. I believe my techical term for it is "retarded." But Lauryn tries to sneak and watch it when I'm not around. (OK, yes, if you recall the opening, we ARE sitting in church during all of this. So, yeah, I wasn't getting a lot out of it. Do recall that I AM reading the Bible -- just finished Jeremiah -- so I've got that going for me...) Then Lauryn starts drawing people inside the TV. "That's Muno. And Brobee. And Plex..."
So here is the finished drawing: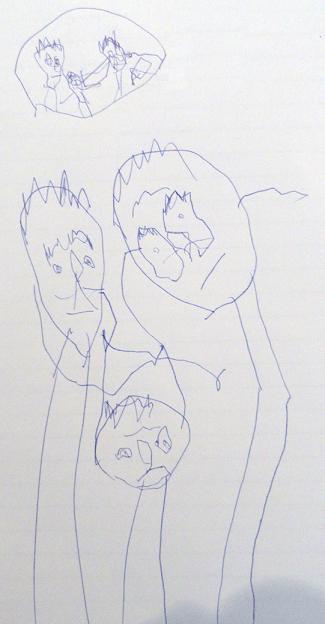 Now, granted, this is not going to get thrown up in the Louvre any time soon, but for a 3 1/2 year old, it's pretty frickin' amazing, the detail and the scale. (Though it does look like Dana might be rockin' a little bit of a moustache, which I can assure, is not an accurate representation...) But then I thought the image and style was kind of reminiscent of other artworkd I'd seen. So I Googled Picasso. And saw this: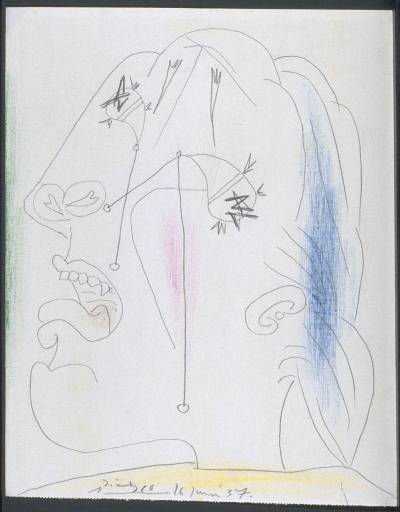 Now, I'm not saying these are identical, and Picasso's has some color and shading elements to it that are missing because we didn't bring Lauryn's crayons. So, with those caveats in place, I feel it is safe to start the bidding at $100,000...

/