Shopping Cart
Your Cart is Empty
There was an error with PayPal
Click here to try again
Thank you for your business!
You should be receiving an order confirmation from Paypal shortly.
Exit Shopping Cart
Features, Reviews and a Blog by John Sciacca
| | |
| --- | --- |
| Posted on July 26, 2010 at 4:58 PM | |
Last night I'm doing some last-minute computering as I prepare to settle in and watch the Season 4 premier of AMC's "Mad Men." (Preparation for Mad Men is a three-step process: Step 1 - find the largest glass you have. Step 2 - fill glass with heavily chilled vodka and vermouth. Step 3 - drink throughout show, imagining that you are, in fact, Don Draper.)
So while I'm several sips into the process, I pull up MSN's home page to basically see if the world is likely to continue spinning for the next hour or so when I find an all out attack against our industry on the home page. Under the giant, bold-type banner of "8 Home Upgrades That Aren't Worth It" is the subhead, "Thinking of adding a whirlpool bath or an elaborate home theater? Why you should think again." Then there is this picture: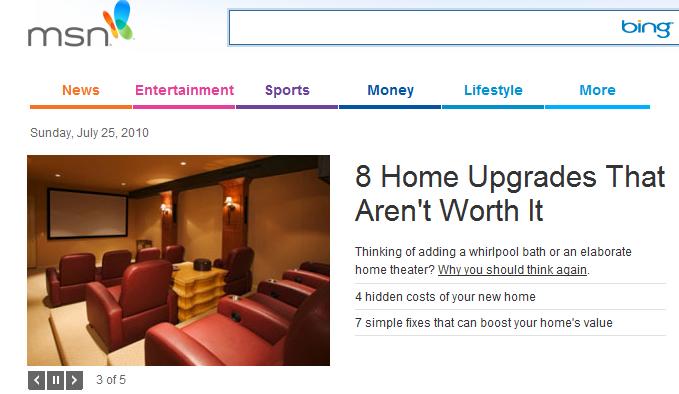 Since I'm a glutton for punishment, I follow this link to the story and click through to sixth "most overrated home project": Elaborate home theaters.
The paragraph claims rooms that only serve one purpose (ie: that dedicated media room our industry is so proud of) are falling out of favor. Then the writer, clearly someone who hates technology and movies with equal aplomb and who probably won't feel comfortable until we've finished steamrolling over the last LPs and then are all standing around a pile of burning books chanting "Kumbaya!" basically says, "Hey, idiot! Don't you know that you can buy a system-in-a-box along with a flat-panel TV and an industrial-sized tub of mayonnaise all on your next shopping trip to Costco! Only that toothless hillbilly from Deliverance would even consider buying something more awesome!" (I might have taken some liberty with my paraphrasing... She didn't actually mention mayonnaise.)
Continue reading the even more inflammatory second half over at Residential Systems...

Categories: July 2010, Movies, Electronics
/