Shopping Cart
Your Cart is Empty
There was an error with PayPal
Click here to try again
Thank you for your business!
You should be receiving an order confirmation from Paypal shortly.
Exit Shopping Cart
Features, Reviews and a Blog by John Sciacca
| | |
| --- | --- |
| Posted on July 30, 2010 at 4:55 PM | |
(Scroll to bottom for update...)

There was a blurb on the Internet today about a guy who bought a box full of old, black-and-white photographs at a yard sale. He talked the seller down from $75 to like $50. Turns out the pictures are a bunch of rare, never-before-seen Ansel Adams originals that are worth like $200 million. (You know that he saw a box of old, B&W photos and we was just hoping to stumble across some prohibition-age nudies or something Bordello-ey, and that when he saw all the high-contrasty pictures of mountains and trees his first reaction was, "Damn! This is it? Really?")
This would never happen with electronics. Never. Not in a million years. There is no piece of stereo gear that you are going to put anywhere that will one day be worth anything. The first Nintendo with boxes of perfectly preserved cartridges and owner's manuals? What? It doesn't play the newest Mario? Junk. The first iPod? It actually *was* junk, and even Apple doesn't want to acknowledge anymore. A Zune? Ha! Oh, God, really? You bought a Zune? Oh, that's rich! It actually wasn't worth anything when you bought it, and it has only gone down in value from there. The very first CD player? Are you selling it to Sony for their private collection and is it serial number 00001? It isn't? Then nothing. In fact, at best you'd have to pay someone to haul the junk away. At worst your family is probably getting some awesome lead/mercury/radiation poisoning from the pre- "we finally figured out what we're doing with this stuff" manufacturing age.
In the history of everything, there is probably nothing that loses value faster than used electronics. Well, maybe food. I don't care how much you paid for that 7 course meal at The French Laundry; I'm not going to give you anything for it once you've, uh, "finished" with it. (And I'm not talking about your leftovers...)
Sure, when they're all shiny and new, we must have them. But – now this pains me to have to say it, but I'm gonna shoot straight – even that new iPad is going to one day be something that you just carry around waiting to slide down a shuffle board table in a bar to get some laughs. (Actually, at that point, the iPad will be so outdated that the laughs will really be out of nervous pity and people will be silently asking themselves, "Why is he still carrying that thing around? Do you think he means to do us harm? Just give him what he wants and maybe he'll leave.")
Two recent events prompted these thoughts. First, we recently replaced a Runco CRT projector for a customer.
This projector was the Mac-Daddy Shizzit years ago. The bomb diggity. Back when you were thinking about line-doubling and maybe "experimenting" with 480p, this thing was already banging out 768p. Just saying Runco meant you were a big-baller. When other projectors left for work, this Runco snuck in and banged their wives and left its drawers in their hamper. I originally sold this projector for $17,995. And that was a CHEAP Runco. So the customer finally decided to upgrade and he asked us to haul it away for him. Honestly, I didn't have the heart to just pitch this thing in the dumpster. Sure our relationship was what I would describe as "tumultuous" (calibrating a CRT is just slightly less fun than setting your arm on fire to watch how long it will burn). But still, this was my first CRT sale, and, you know what they say about your first... So I found a guy in Canada (Curt Palme, and since we've only traded e-mails I don't know if it's "Palm" or "Pal-may"; you can never trust a Canadian.) who still services and sells CRT projectors. So I reached out to Curt and asked if he would be interested in buying it. I sent him pictures of the unit (with original box, manuals and GI Joe Kung-Fu grip), took the lens apart and showed him the surprisingly minimal CRT wear (signs of my kick-ass calibration job!) and asked what he thought. Then I waited, wondering just how much I was going to cash this baby in for. His offer? $50. FIFTY! Five to the OH! That is two-tenths of 1 percent of the original value. It's probably the most disappointed I have ever been in President Grant.
Then I was in Wal-Mart the other day and saw this: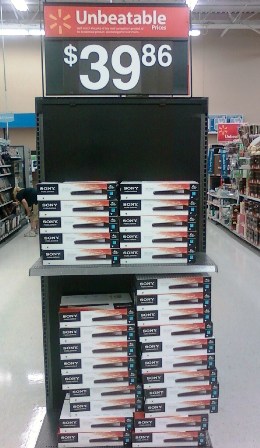 Now, I know. Shame on me. You go into Wal-Mart you pretty much deserve what you find. But here, big as day, just sitting randomly in an aisle was a pallet of DVD players. For $39.86. (Perhaps I'm not pricing things cleverly enough; I mean, I probably would have just punked out and gone with $39.99 or the slightly more edgy $39.95. But clearly modern shoppers want something even more risky...) And these weren't Magna-Phonic, Techno-Vision, Visomagik no-name players. These were Tier 1 Sony DVD players. With HDMI output. With 1080p upconversion. For $39. My first DVD player was a Pioneer. It didn't have HDMI. It also didn't have component. It kicked it S-video style. And instead of burdening me with all the 1080 pixels, it did 480. I. Interlaced. The worse one. And it kept my audio humble by not doing DTS. And it cost me $949. On sale. Through mail order. So, go on. Pick up a 6 pack of players. And grab me some beers while your at it. They're about two aisles over to the left...
UPDATE...
So to further pour salt in my electronic's wound, Darryl Wilkinson, who I thought *might* be my friend sent me a message a bit ago. You know, he's a fellow journalist (if you call Home Theater Magazine journalism....pffft! I kid! I actually love their back page, done by Mystery Science's Michael J Nelson, who is the second funniest journalist in the A/V world!), guy owns an iPad, so on the surface, what's not to like? Then he sends me an e-mail bragging about his new Droid-X phone. Then to prove how awesome he and his new 8-mega pixel phone are together, he sends me this picture from Wal-Mart: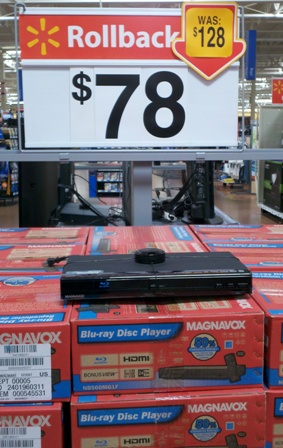 So, if you were thinking about buying that crappy-ass Sony DVD deal I posted, hold on to your money and get a Magnavox Blu-ray player instead. Don't care how good the upsampling on the Sony is, it will NEVER look as good as the true HD the Magnavox will put out. I've asked Darryl if there happened to be a bargain bin of 99-cent HDMI cables and $29 TV wall mounts to just completely complete the A/V blow out.

Categories: July 2010, Electronics, Rants
/