Shopping Cart
Your Cart is Empty
There was an error with PayPal
Click here to try again
Thank you for your business!
You should be receiving an order confirmation from Paypal shortly.
Exit Shopping Cart
Features, Reviews and a Blog by John Sciacca
| | |
| --- | --- |
| Posted on August 4, 2010 at 4:05 PM | |
Well, it's officially ON. After playing with the Control 4 iPad app on Monday, I have decided that our store MUST have one. iPad, you will be mine, you will be mine, you will be mine, all mine. I will be your knight in shining arrrrrrr-mour. Riding across the desert on a fine Arab chaaaaaaar-ger. Coming to your emotional rescue...  (It is completely unrelated that as a side benefit from Custom Theater getting a new iPad that I will be spending 40 hours per week with said iPad on my desk. All gleamy and sexy and Bluetoothing things straight into my head-brain like, "Hey, John, you sure look good today. Want to take me out for a good time?" Completely unrelated.)
"Why even wait till this weekend?" you ask. "We know it's killing you!" you say. Well, dammit, of course it is! When a man makes up his mind to pull a trigger this big, he's ready to pull! (Speaking of which, I had a SUPER bizarre dream where I shot my best friend from high school in the throat. He said he was coming back to shoot me if I didn't shoot him first. Weird! Sorry, Kreg!) Anyway, this is free sales tax weekend in South Carolina, meaning that the iPad suddenly became 9% cheaper. You tell me anything else you can do in life that will net you a 9% gain by this weekend and I'll be willing to send all my MRS. GHAYTH FAIZA money your way....

So to prepare my life for the iPad goodness which is to come, I've reached out to a couple of vendors for some iPad free love. Control 4 has me all squared away. Next up was Kaleidescape. I loved their iPhone app (actually not made by K'scape, but created by Remotescape) which I experienced during a past system review and I have been told they are going to super-sexy it up for the iPad. So, a quick Sound + Vision-ey e-mail to the Dans at Remotescape, and I'm now lined up with a coupon to install my app. Look at me! Getting ready to install apps!  (More to come on this of course....)
As a soon-to-be iPadder, this picture pretty much reflects how I'm imagining my new life will be. Except I look way less like a woman. And the iPad is much less like a dude. But pretty much everything else is spot on.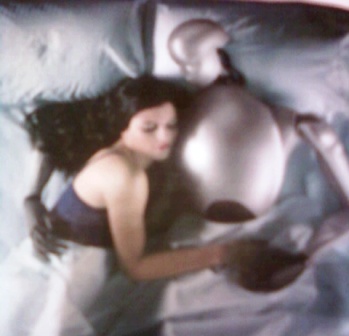 Categories: August 2010, Electronics
/