Shopping Cart
Your Cart is Empty
There was an error with PayPal
Click here to try again
Thank you for your business!
You should be receiving an order confirmation from Paypal shortly.
Exit Shopping Cart
Features, Reviews and a Blog by John Sciacca
| | |
| --- | --- |
| Posted on August 6, 2010 at 2:01 PM | |
Just received a TV delivery – a giga-sized 65-inch Panasonic set that we specifically ordered for a customer because it is dripping in 3D goodness. On the side of the box it says "Step into the 3D world" and shows a father holding his son while the every planet in the universe is cresting around them. Kind of like something that Dave Archer would do if he was forced to sell his soul to corporate Japan, give up the million volts of electricity and the crazy-thick rubber boats and strictly work in the medium of black-on-cardboard. This TV will be our first cure officially administered to relieve the "I must have 3D!" swelling.
So while the truck driver is man-handling the set off the truck – literary using his pallet jack to shatter boards on the pallet the TV is sitting on; ummm, buddy, that set is like $4,000, I'd hate for it to break in the last 10 feet off the truck – he starts asking me about TVs.
Now, usually when you here people referring to TMI -- too much information -- it is about things of a personal nature. Like instead of just, "I went to the doctor. Full stop." It is "I went to the doctor. I needed to have my prostate checked. While he was rooting around up there he found some things. Here is a picture..." However, TMI can also be an issue when someone asks a seemingly innocuous, don't-really-care-to-know, just-making-conversation kind of question like, "How ya doing?" when you *really* don't want to know how the person is actually doing. (Really, I just want to hear, "Fine. And you?") This happened with the truck driver.

"Yeah, I was hear t'other week, and I was asking one of yer fellas about that new TV Mr. Sulu is selling. The one with the yellow."
"The Sharp Quattron?"
"The who?"
"The Sharp Quattron. That's the set that has the fourth color. They added a yellow pixel."
"Yeah. That one. What do I need that fer? I got a TV. And I can already damn sure see yellow."
So, this prompts a VERY basic edumacation on the way that color works and that how adding additional colors – like yellow – can produce deeper saturation for any colors that contain that color.
Then, because I like to take my brain to the very brink of aneurysm – and because I want the one with the Wi-Fis and the bigger Gee Bees  -- I hold up my fingers into a triangle and decide to start explaining the CIE color chart. To a truck driver. Who could seriously have been named Cletus.
At the end after I've given the "Idiot's Guide to Understanding the International Commission on Illumination and the Chromaticity Diagram" and a side course on "Rec 709: Friend or Foe?" it's abundantly clear that I have given WAY more than he wanted and that all of a sudden the broiling interior of his truck is looking better than further discussions on the topic of color points versus Hollywood studio video mastering processes. So grabbing his clipboard and pallet jack and slowly back away he says, "Well, I guess it's just like that Mr. Sulu says then. I've got ta see it fer ma'self."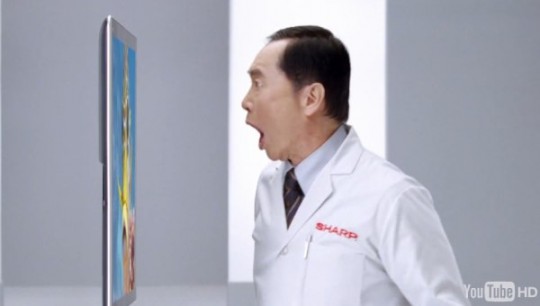 "OH, MY!!!"

Categories: August 2010, CTA, TV
/