Shopping Cart
Your Cart is Empty
There was an error with PayPal
Click here to try again
Thank you for your business!
You should be receiving an order confirmation from Paypal shortly.
Exit Shopping Cart
Features, Reviews and a Blog by John Sciacca
| | |
| --- | --- |
| Posted on August 6, 2010 at 8:57 PM | |
Remember just a few days ago when I declared that this weekend was to be declared iPad-John Love-in?
So, this is how the day went... I left my store, at about 2 PM and drove to a client's house to deliver a replacement Harmony remote. I tried to hand this menial task off to someone else, but the customer *literally* called and said, "My wife is dying of pancreatic cancer and I don't have a lot of time left myself. What is it? You just don't want to come and see us yourself any more?" Yeesh! Truly a question that begs not to be answered truthfully... While I'm driving to their house there is like a Mach 5 thunder-lightning-rain storm. A mega-sized lightning bolt whip-cracks right overhead and blasts a tree in this guy's front yard, blasting bark off one side of it! So I deliver the Harmony and start heading north.
But the traffic is SO heinous -- welcome to Myrtle Beach every single person from the state of Ohio! -- that I have to bypass Best Buy -- and my iLove -- to head to an appointment to spec out a system at a restaurant. So, I get to the restaurant and do the spec out. Then the manager offers to buy me lunch which seemed awfully gift-horsey to turn down so I accept. So there I am, sitting alone at a counter, eating a grilled mushroom and onion gouda cheeseburger with onion rings, and thinking about the soon-to-be myPad. 
By this point I am WAY up on the north end of the beach, and have agreed to do another service call for Andy, further pushing back iPad ownership. This little errand involves installing a phone cord to a fax machine and replacing a faulty hard drive in a Kaleidescape. the traffic is even more evil, literally coming to a complete stop for like 5 miles. So I finally get to the house, and there's a car in the driveway and lights on but no one answers the bell. I try the door and it's open and I lean in and shout, "HELLO? HELL-OHH?!" So I go in and start going about my business but it just *feels* like someone is in the house. So I walk out and there is this HIGHLY cute girl in the kitchen. Wearing what appears to be bra and panties. (Turns out to be a bikini. A small one...) So I'm like, "Uhhh, wow! Ummm, sorry! I, uh, rang the bell and yelled but no one answered. I'm the stereo guy. I'm here to fix the stereo." To prove this point, I lamely hold up the phone cord, looking *near* her but not daring to look like I'm looking *at* her.  It was probably the smoothest male-to-female interaction in the history of the species. She's like, "Oh, OK." and then prances up the stairs where she leaves our story...
So, finish up; confirm that new hard drive is 5 by 5 and that the fax machine is indeed faxing. Jump in the van, sights set on Best Buy, ready to be a freak about it and I'm a see about it; speak about it, no bitch, I'm a be about it! So I drop the hammer on the Dodge Caravan and fly...straight back into traffic. And a MASSIVE, making-me-slow-to-35-on-the-freeway rain storm. And a "My God he must be running on vapors..." gas situation. Manage to risk life and limb and fly straight in the face of Oprah's advice and text some friends " In car. Right now. Driving to store. To buy. iPad!" Finally arrive at Best Buy and I'm feeling all: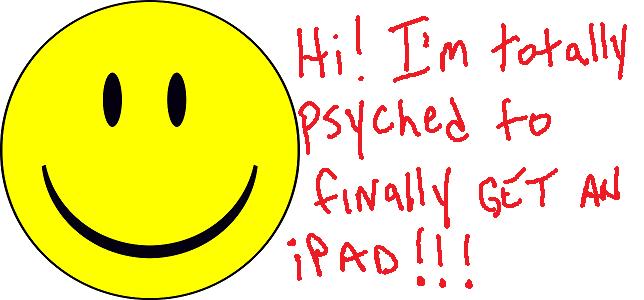 So I head back to the computer section and Best Buy is HOPPIN'! And it is PACKED with a "Girls of Moscow" collection of young Russiang girls who seem bent on purchasing every computer and computer related accessory in the store. I mentioned it is POURING rain right? There are these two girls that look about 18 that have BIKED to Best Buy. They are drenched, but smiling and laughing and Glastnosting their way into the store to get some Intel inside. I make it to the computer section and it is roped off like a damn club. And like a damn club, I'm on the wrong side of the ropes! So I'm issued a number and assigned a sales person and like some kind of 12-stepper I declare, "Hi! I'm John. And I'm here to buy an iPad!"
Instead of responding with a resounding, "HI, JOHN! Let's get you and that iPad all joined in holy matrimony!" his  temparment immediately changes. And not for the better like I told him, "Hi! I'm John and I know nothing about computers but have this big case of money and just want you to pick out something for me. And, by God! I want that warranty. On everything!"
"Oh, man! We're out! We sold out this morning! There were like 50 people in line when we opened."

"But I want an iPad. With the Wi-Fis. And the Gee Bees."
"Yeah, we had like 300 and they're all gone. Wait. Larry! We have any iPads left?"
(off camera) "Just the 64 Gig. With 3G." (Which is 48 Gig and 3 full G more than I need. And also an extra $330.)
Now, my emotion is this: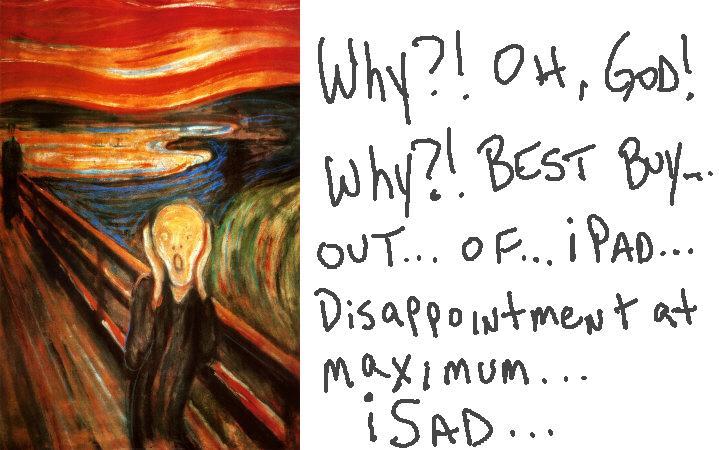 Offer to get a rain check? DENIED! Offer to order one from another store? DENIED! Possibly that more will be coming in soon? NONE! Remember when I was sitting on the plane...in San Diego...in First Class...ready to fly home? And the pilot comes on and tells us that the flight is being cancelled. That was Disnley Land compared to this Chernobyl level of disappointment meltdown. Oh, Best Buy, you blue-eyed Satan!
In the car on the way home, a plan is hatched. A back-up to salvage the day. I shall get home. I shall drown the temporary sorrow in vodka. (Oh, well-chilled, clear liquor...is there nothing you can't make better?) Then I shall log-on to Apple.com. And I shall order that iPad. Which I did. And in 14-17 business days, it will be mine. I think...
Categories: August 2010, Electronics, CTA
/