Shopping Cart
Your Cart is Empty
There was an error with PayPal
Click here to try again
Thank you for your business!
You should be receiving an order confirmation from Paypal shortly.
Exit Shopping Cart
Features, Reviews and a Blog by John Sciacca
| | |
| --- | --- |
| Posted on August 9, 2010 at 5:35 PM | |
When traveling, there are few joys greater than the pleasure that is stepping out of the sweaty, crowded, microbe infested confines which is the main concourse and into the cool, creamy, leathery bosom of a private lounge room. I've talked about lounges here and again here and I used to go out of my way to fly Delta and even book trips to purposefully suffer the inhumanity which is the Atlanta airport JUST to enjoy the Delta Crown Room privilege. (Yes, I'm a sad, sad boy to go that far out of my way for a free pint of Sweetwater 420.)
However, when it comes to traveling, I am but a novice; a Padawan-learner if you will, to the Jedi Master of traveling who is my brother. Adam, who collects MBAs like I collect Mont Blanc pens (the count stands at two a piece...), is a VP for Bank of America and he usually spends a week or more per month on the road. Adam planned a trip to Fiji for his 1 year wedding anniversary (likely trying to chump my awesome engagement story; nice try!) and I knew that such a journey would wind Adam through airport clubs both near and far. So I asked him to compile a list of the lounges so you, dear readers, could know what joys you are missing out on behind those closed doors.  So, here is my brother Adam's report:

For those of you who know my brother, The Wizard that's John, you won't argue with me when I say that he tends to be a Subject Matter Expert (SME) in most topics (I'll allow it.) . So you can imagine how honored I was when he asked me to be a "guest blogger" on Airport Travel Lounges.   Naturally, you are wondering why my brother would defer to me on this topic.  Allow me to present my credentials:
•    Continents Traveled To: 5

•    Countries Visited: 27
•    States Traveled To: 46 (Montana, Both Dakotas and Wisconsin still allude me)
•    Airline Frequent Flier Miles 285,726
•    Airline Elite Status: Gold
So while I might not have my Ph.D in traveling, I certainly have my MAF (Master Airline Flier). You also might be asking, "Why should we care about airline clubs?"  Well, for those unfortunate of you that have not been to one, read on.  Airport Lounges offer clean bathrooms AND even shower facilities that only the "selected few" can use.  Additionally, an arrangement of light hors d'oeuvres is yours for the plucking.  And to eat your tasty delectables, only the finest assortment of airline glasses, mugs and metal utensils (though I think they've all gone to plastic knives. The urge to jab an airline employee with a real knife is just too overwhelming a temptation...) will be allowed!  And the reason I insist on taking my family and guests -- free drinks.  Oh, did I mention airline personnel who actually help you if there is a problem?  To steal from Ferris Bueller, "If you ever get the chance to try one, I seriously suggest you do."  (Because it is on my Top 10 movies list, I must correct him... The actual quote is, "It is so choice. If you have the means, I highly recommend picking one up." Of course, the "it" was a Ferrari 250 GT California.)

So now that you know why you want to go to the club, you next logical question is how do I get in.  There are several ways.  One, fly first class internationally.  This is a sure fire way to get a day pass.  Two, get a really long delay and speak to a supervisor demanding admittance so you can catch up on "the work you are going to miss from their delay".  Not the best approach as weather won't help you; in my experience, it must be mechanical.  Three, become an American Express Platinum Cardholder (full disclosure -- this is how I get in). (If you're truly a Big Baller, your Black Card will also get you in...) Fourth, purchase a membership from the airlines.  Fifth, purchase a day pass for $50.00 per person.  (Sixth: Speak to the Alitalia check-in girl in Italian, expaling -- in Italian -- that you are flying to Italy for your 10 year anniversario and could you please be admitted to the lounge. All in Italian. Worked for me...)

Which now brings me to my story.  I recently celebrated my one year wedding anniversary (ask John how you can send your tax free contribution to the Adam and Lisa Omnibus Charity).  My wife and I decided to go someplace exotic.  We picked Fiji.  It's a LONG flight to Fiji.  Distance 6,600 miles; flight time, 12 hours.  Needless to say, we were NOT looking forward to that amount of time in an airplane.
On the day before the trip, I call my brother, and very happily tell him we got "promoted" to First Class.  So naturally, after exhausting the topic of how great it is not to be with the proletariat, we turn to airline lounges.  Since I met three of the six qualifiers mentioned above (Platinum Card, Gold Status, International First Class) I readily accept John's quest and volunteer my wife and I to set out on a Lewis and Clark expedition to find the best airport lounge.   
We start in United Airlines Red Carpet Club in San Francisco.  When we first entered, I thought, "Man! I really like this club!" It has pictures of The City, quotes from famous people about how great San Fran is (check the bathroom out…third stall from the end…classic Adam).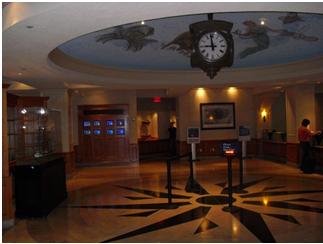 It also has a lot of themes from the city, such as boats, fire engines and art. The seats are nice and spacious and give you plenty of room to ignore others.  Notice the guy in the picture when I violate the "Do Not Disturb" nomenclature.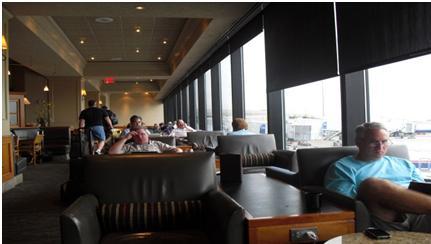 So after checking out the club we thought we would critique the food.  They had a nice variety of breakfast cereals, yogurts, fruit and toast.  However, I thought the best feature about this club was the coffee maker.  It made a very strong, frothy cappuccino and was VERY simple to use.  It would prove to be the best coffee of any of the airport lounges.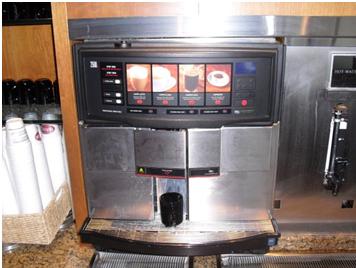 What I don't like about United Red Carpet Clubs is the fact you have to pay for drinks.  It breaks the cardinal rule of "Though Shalt Not Pay" in the club.  The bar looked really nice and offered a lot of great local bottled microbrews and wines.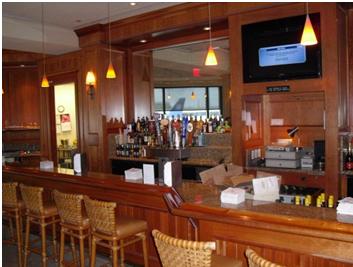 All in all, I give this club a B+.  Very spacious and nicely decorated.  Food was good but having to pay for drinks just irritated me.
We fly to Los Angeles and visit another club.  I used to live in LA and am very familiar with Continental's Terminal 6 President's Club.  We have four hours before our next flight so I am determined to visit a myriad of clubs.  So, as determined as Young Lewis, I drag my reluctant wife to the Tom Bradley International Terminal in search of the Holy Grail of airport clubs.  
Now, I spend three hours researching all the clubs I could get into in Tom Bradley and I must have looked like a kid at Christmas when the bus dropped us two terminals down from our actual departure gate.  I was warned that once I leave, I will have to reenter security.  My answer, bring it on!  Nothing, and I mean NOTHING is going to stop me from visiting.  Take a look at the Star Alliance Gold Club in LA.  Are you telling me that you wouldn't defiantly stare down a TSA agent and tell them to go ahead and frisk you for this?  I had four clubs to visit and damn it, I was going to go!   I will spare you the painful details of how I was denied access past security because my flight didn't depart there and how many attempts I made to get through security (three).  Alas, I would have to settle with Continental's President Club.
The President's Club in LA is not my favorite.  It is tiny and therefore cramped.  They also don't have the best arrangement of food (cheese, crackers and chips).  However, they do have a very nice bar.  The furnishing is old but the décor is of old Hollywood movies.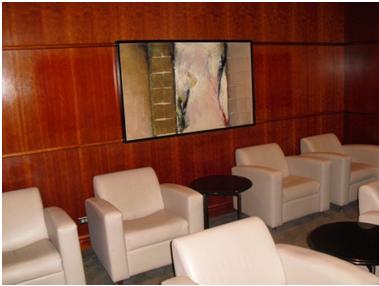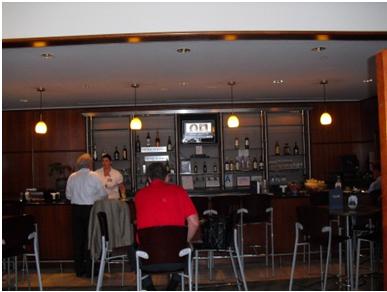 All in all, I give this club a B-.  If it wasn't for the free drinks, I would give this a C-.  It is a nice retreat away for the common traveler but if I had to pay $50 to get in, I would have been pissed.
So after two hours (I killed two trying to get into the other clubs) of relaxing in this little beauty, we are off to our next destination, Honolulu, Hawaii.  For those of you who have not been to this airport, GO!  Besides being a fantastic vacation destination, this is my favorite airport that I have flown into.  It is really nice and open and has THE highest end shops I have seen at an airport (Gucci, Prada, and Coach to name a few).  I am allowed access to the Continental President's Club and United Airlines Red Carpet Club.  But check out the view in front of Delta's club (note to reader…AWESOME CLUB but that was a different trip):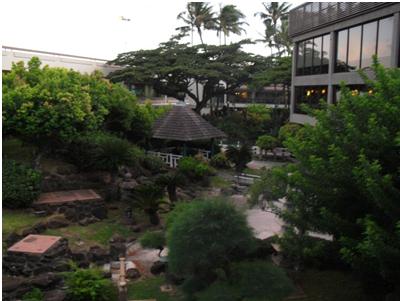 We start at the Continental President's Club.  I have not been here but I am hoping it gets redemption from the poor showing in LA.  We check in and it is very large, open and has two big screen TVs, one showing golf another showing a movie.  The furnishings are a little more tropical and upscale (there were a LOT of very wealthy Japanese travelers so Continental had to represent!)  My favorite feature here is the open bar (self-serve so you can make that J&C as strong as you want her) and the fresh pineapple and grapes they provide.  The staff is very down to earth and ensures you are happy.  Just ask for the pineapple juice they have hidden in the back…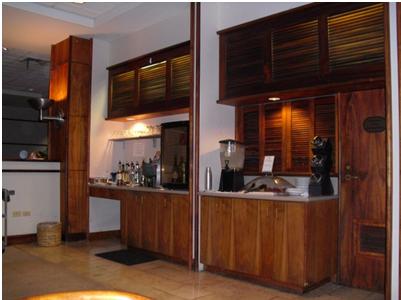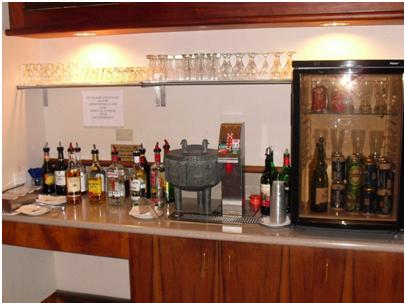 I give this club a solid B+.  It lacks a little in food but makes up in self-serve and fresh fruit.
After about an hour here, Lisa and I go over to the Red Carpet Club.  This turned out to be the BEST experience of our adventure.  We get in and after 10 minutes of arguing why I am allowed in (International First Class and Gold Status) the employee finally lets us in.  I was starting to think this was a mistake until we walked around the corner.  It was as if we had pilgrimaged to Mecca.  The décor was totally Asian/Hawaiian and very upscale.  So after getting our bearings, we check out the food.  Again, I think I found the Lost City of Gold.  Freshly baked gourmet cookies, trail mix, assorted cheese, fresh fruit and crackers.  What could only make this better would be free drinks.  Ask and ye shall receive.  While the club was waiting to reestablish its liquor license, all beer and wine was complimentary.   They had Ichiban, Sam Adams, Bud and a few others.  They also had some nice wines.  We had found our home for the next three hours.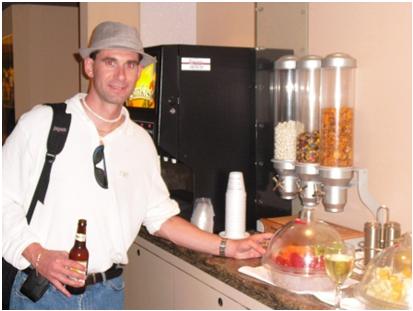 (My brother gettin' his drink and fruit on!)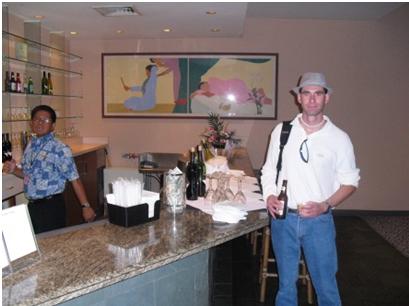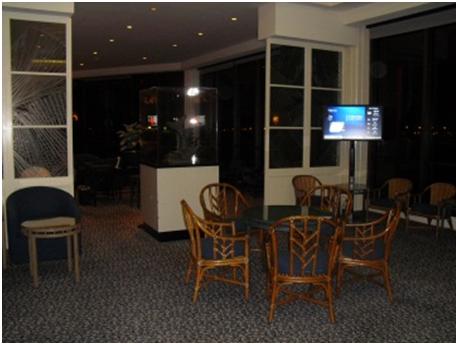 This club gets a straight A+.  Even if you had to pay for drinks, its grade would only drop to an A-.  This is the way a club should make a brother feel.  
It was time for us to enjoy our next six hour flight to Fiji and start our vacation.  I had planned on visiting one more club, but unfortunately, it was closed on our return flight home (Air New Zealand, how could you dis a brother?).
So my verdict on clubs?  If you spend any real time in an airport (we spent over 12 hours in airports flying to Fiji), I would totally pay to get in.  If you have a quick layover, don't bother.  Clubs are a great retreat from the hustle and bustle of hectic airport life.  The clubs let you return to the days, once upon a time, that airport travel was a fun experience and let you regain the thrill over and over again each time you go.  And they let you realize just how elite and special you really are (some have viewing windows allowing you to watch the minion below).  Safe travels my friends, and stay thirsty!
Thanks, Ad! A great round-up. As a farewell, I'll share some pix from my favorite club experience, the aforementioned Alitalia First Class Lounge at JFK. After sweet talking (did I mention it was in Italian? I did? Excellent...) my way into the club, I was at first less than impressed.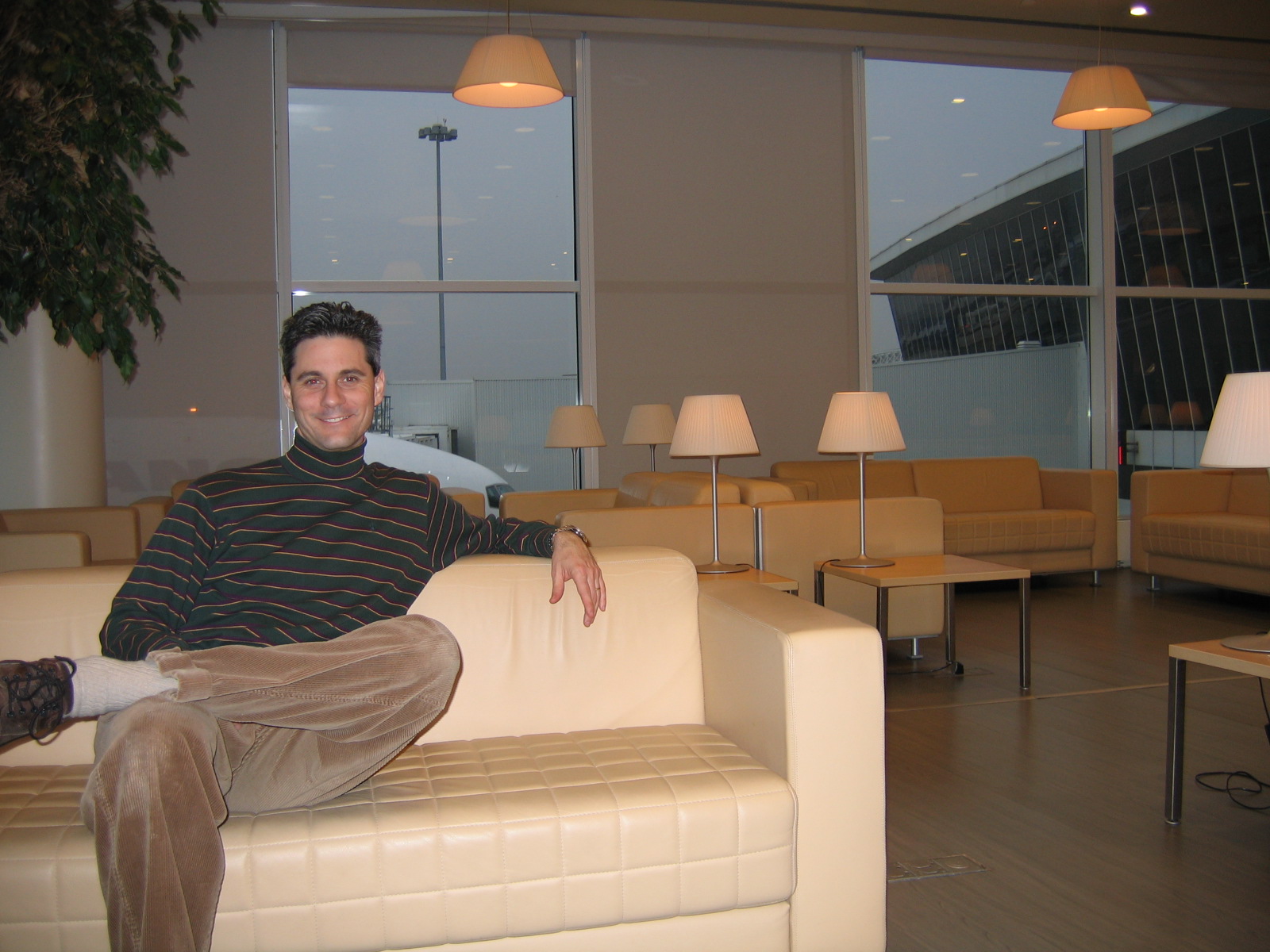 Sure it had cool, Euro-styled, buttery furniture. But it was eerily empty; Dana and I were the only people in the place. In fact it was so modern and chic, with no one there it felt cold and lifeless and sterile. And I imagine that soccer was on TV, making it even that much more unwelcoming. So Dana and I just sat on this modern furniture and...looked at each other. Setting our new (Wow! 5 whole megapixels! This is amazing!) digital camera up on a piece of furniture to take pictures of ourselves as we prepared to fly to Roma.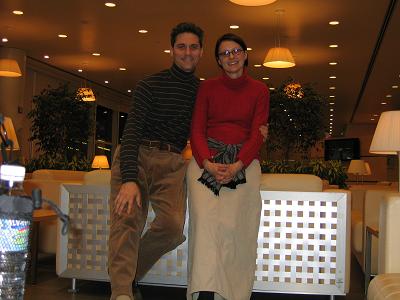 Then I got thirsty. So I went up and asked the attendant if I might have some water.
"Water, signore? There is a full bar around the corner..."
And around the corner was a giant spread of liquors, and ales, and Italian sodas and cheeses and breads and fruits. It was amazing. And, as you can imagine, a totally sick coffee machine. Sadly, the only memories that I captured are stored in my head, so you'll just have to take my word for it.  Until next time...Buon viaggio!

Categories: August 2010, Guest Blog
/