Shopping Cart
Your Cart is Empty
There was an error with PayPal
Click here to try again
Thank you for your business!
You should be receiving an order confirmation from Paypal shortly.
Exit Shopping Cart
Features, Reviews and a Blog by John Sciacca
| | |
| --- | --- |
| Posted on August 12, 2010 at 5:53 PM | |
Last night we went out to the World Market, ostensibly to cash in a punch card for a free 12-ounce bag of coffee beans (the Saeco is insatiable and must be fed a regular diet of quality Columbian beanery).
But after I've finished explaining to Therese (is the last "e" silent or not? We'll likely never know... ) why I was entitled to the free coffee and then she initiates this bizarre, ritualistic procedure of first ringing up a coffee and then returning the coffee on the same bill and then running my AmEx through for a $0.00 transaction, and actually having me SIGN for the $0.00 balance. And, in an unrelated off-topic, if someone were to ask you, "Hmmm, your accent sounds like you're from…the Dakotas?" "Noooope." "Quebec then? Or Montreal or somewhere else in C'nada?" "Nooope." At what point do you just frickin' go ahead and volunteer where your strange and obviously-from-Dakooota accent comes from? If you're mystery e Therese that answer is never. Look---you have a long ooooh, you're from Minnesoooota or Dakoooota. I don't care. I'm just killing time while you run my card through for nothing. And like the mystery e, we're likely destined to live a life forever unfilled of knowing where the accent originated. Of course, by "we" I mean just me, since none of you heard it or, until this very moment in time, cared. 
So after all this, I head back to the coffee section. Which is where what I wanted to actually tell you about begins…
So, as I'm walking back to the coffee aisle, I pass this center merchandising area filled with all manner of candy and assorted sundry. And a sign. That says "75% off all nostalgia candy."
Now, I'm not much for candy (I'm really more of a gummy guy; and by "gummy" I do NOT mean "jelly." Gummy, as anyone who knows can tell you, has an entirely different consistency than jelly. And they don't make jelly Cola bottles either. Ask me to tell you about the Wonkatania that was this candy, ney, Gummy store in a Switzerland mall. It was a sugar and gelatin Mecca!) but I am A LOT for 75% off. So I start picking through and I grab a few items. And then I check out. And I see that a theater-sized box of Jujy Fruits rings up and only cost me $.37. And that a huge bag of frosted Animal Cookies (AKA "a pink-and-a-white" if you're Lauryn and you've been good at dinner) was $.49. So, I drive away. But it's gnawing at me. I can still hear all those candy bags rubbing against each other on the shelves. They're cheap and they want me to buy them.
"I think I should go back."
"What?"
"I think I should go back. To the store."
"Why?"
"To get more candy."
"Really?"
"Yeah. I am. I'm going back."
So, U-turn, bypass Therese and her stupid voice and head straight to the candy aisle. Where I clean them OUT.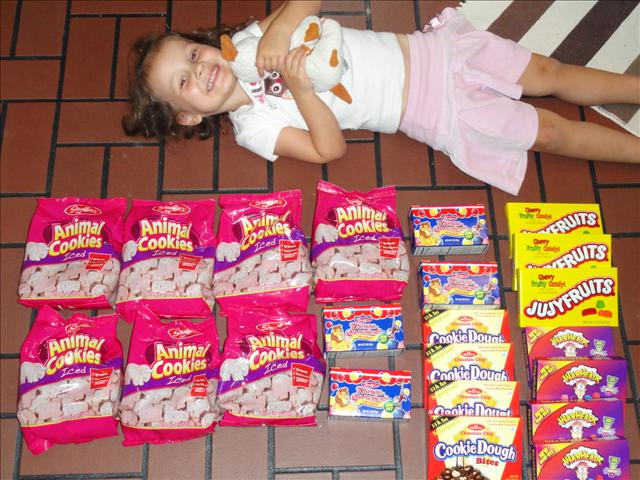 Here is Ooompa Lauryn with Pup and our candy stash. (Floor look any sweeter now, PR Buddha?!) As you can imagine, Lauryn was beside herself; getting a contact sugar high just from the THOUGHT of all that candy in the house. ("Ohhhh, daddy! Can I lay down by the candy? Can I?!") She quickly discovered that, yes, she DOES like Jujy Fruits. Then almost as quickly discovered how to open the box and help herself to more Jujy Fruits. I got ALL beautiuflly refined and highly carnuba polished sugary goodness for under $10. I now have enough candy to fuel an entire years worth of Wilfred Brimley's diabetic episodes. I'm not even totally sure what some of the stuff is -- a Cookie Dough Bite? Atomic Sour Warhead? -- but it IS candy so how can it be bad?
So, you want to know who can take a sunrise, sprinkle it in dew an dthen cover it in chocolate and a miracle or two? I can. Me. With my giant ready-for-the-end-of-the-world candy stash, that's how! Who's your Candy Man now, B!
Though my teeth just started crying a little...

Categories: August 2010, Family, Coffee
/