Shopping Cart
Your Cart is Empty
There was an error with PayPal
Click here to try again
Thank you for your business!
You should be receiving an order confirmation from Paypal shortly.
Exit Shopping Cart
Features, Reviews and a Blog by John Sciacca
| | |
| --- | --- |
| Posted on August 13, 2010 at 5:32 PM | |
For years, fathers have been passing things down to their sons. Stories, bits of wisdom, genetic abnormalities, a ceremonial carving knife, that Bulova automatic watch that my mom's father gave to my dad that he now keeps in his top desk drawer. You know, stuff like that.
One of the things that my dad passed on to me – and that I am now passing on to Lauryn – is: The Salt Shaker Trick. But more on that later…
When we were growing up, about once a month our family did something that my dad referred to as "Couth building night." Now, I'm not entirely sure that "couth" is ever even used as a word on its own, but the point of "Couth building night" was to teach and educate the mongrel, barely-a-step-up-the-ladder-from-flinging-feces youngster that I was in the ways of civilized public behavior. In essence, how NOT to be UNcouth.
So, once a month we would go out to these nice dinners as a family. We would dress up, often with me in little blazer and tie – every bit as frickin' cute and adorable as you are picturing this moment, thank you very much – and go to a place where there would be linens on the table and an array of silverware that would challenge Emily Post. "No. That knife is for your butter, not for stirring your iced tea." "No. That is a marrow spoon, not for stirring your iced tea." "No that is a relish fork, also not acceptable for iced tea." "That is an iced tea spoon. But put it down. You're having milk tonight."
Sadly, I don't remember a whole lot about the actual meals themselves, only little snippets of memories. Like going through a trout almondine phase, where I was enamored of the cooked and slivered nuts. Or another time where I ordered iced tea after iced tea only to discover that the concept of "free refills" hadn't yet reached this hoity-toity establishment and that my dad was less-than-pleased over my hefty tea bill. Or another evening where we dined in San Francisco at meals close to $100 a plate, but left so hungry that we stopped off at McDonald's for a Big Mac night-cap. Or another time where they actually brought the ladies -- and me, 'cause I was so darn cute -- footstools and after the dinner someone dining with us ordered a cigar and they wheeled out a cart filled with cognacs and brandies and other cigar related paraphernelia. I have never wanted to smoke so bad in my life. And I think I was like 7.

Anyhow, the point of "Couth building" was to learn how to behave in proper, genteel society. So that when the days of mustache waxes, sipping mint juleps and declaring a proper duel by glove slapping a man in the face return, I shall be ready. Suh. (However, if the alien overlords come down first, I will either be a well-trained, housepet, or be forced to cage fight other fancy-boys to the death, using my arcane fork selection knowledge for eye gouging. Its really a toss-up that depends on how our new alien masters roll.)
And I must say that I think much of Couth building did indeed rub off. I've eaten with many company presidents and big wigs, and I almost never feel out of place or out-classed.   I realize that sealing up the salt and pepper shaker holes with melted candle wax is best reserved for places that don't actually have candles on the table. Or even salt or pepper for that matter. (The pipe/cigar room afterwards is certainly fair game, however.) I know that the steam rising from a fajita plate is not the time for a self-administered facial and that no matter how hot one might be, removing ones tie and unbuttoning ones shirt are seriously frowned on. I also know that one does not drink a glass of poured wine before the host raises his glass. I'm not even totally sure that this is technically required by etiquette, but from the way my grandfather taught me -- and by "taught" I mean screaming obscenities at me in a crowded European restaurant – I'm going to just error on the safe side and wait.
However, something else that my dad passed down was: The Salt Shaker Trick! And while you might think that The Salt Shaker Trick and "Couth building night" might be in direct conflict with each other, you would be wrong. (Actually, even I am kind of seeing the odd juxtaposition which is fancy, well-behaved dining with sprinkling out little piles of salt on the table, but I'll not be side-tracked!) My dad was no heartless etiquette drill sergeant who merely administered silent hair pulls and forced liver eating. No! He would, prior to the arrival of the salad course, wow us like a salt balancing Sheherazade. And while I have yet to educate Lauryn in all manner of things couth, I can pull this off pretty regularly.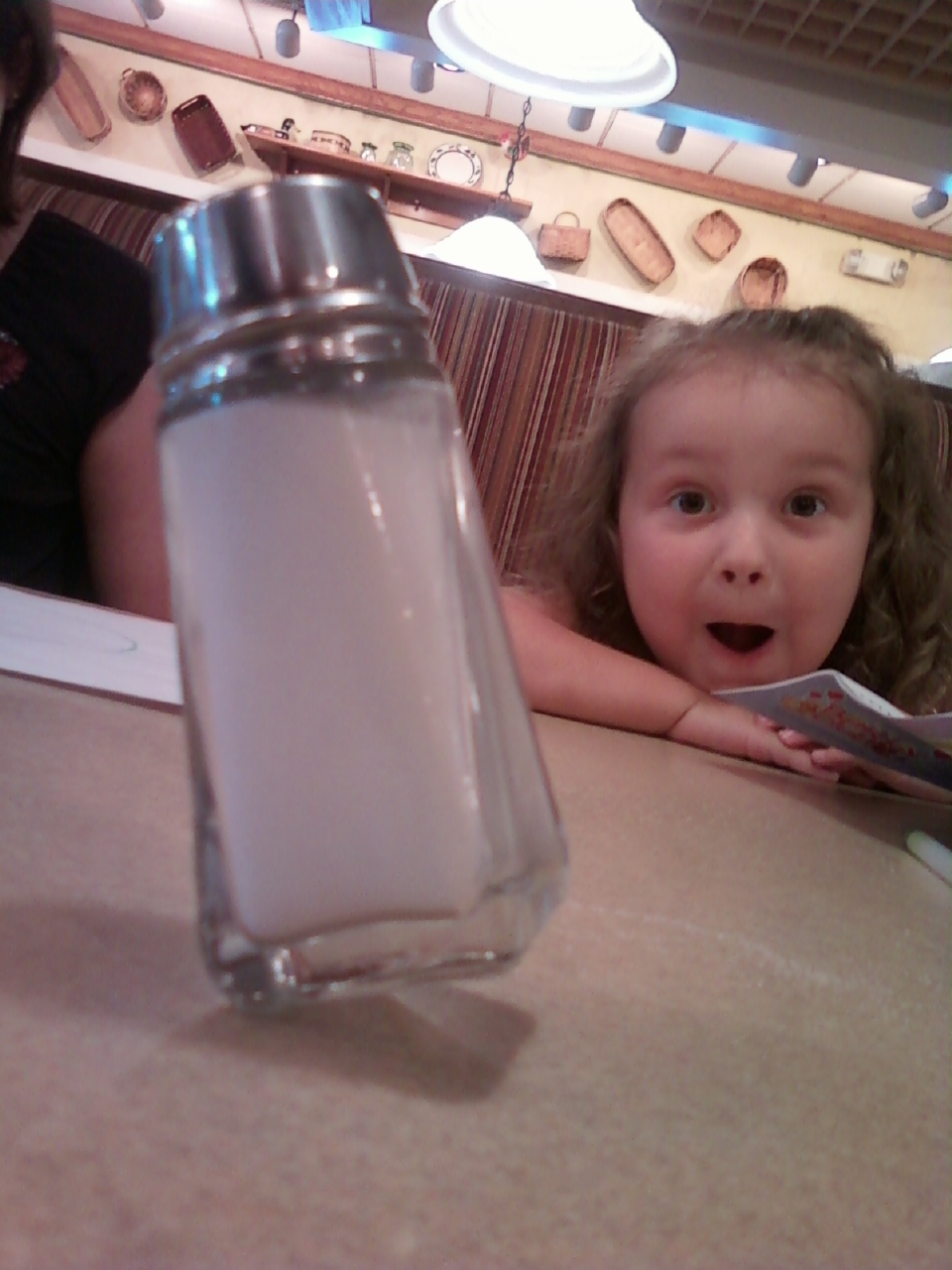 A salt shaker, balancing precariously on edge, held up by seemingly nothing. Sure to impress and win the hearts of 3 and-a-half year old daddy's girls everywhere! Thanks, dad! It never gets old! (Well, except for maybe Dana. She is starting to seem a bit Salt Shaker Trick-ed out... )

Categories: August 2010, Family
/