Shopping Cart
Your Cart is Empty
There was an error with PayPal
Click here to try again
Thank you for your business!
You should be receiving an order confirmation from Paypal shortly.
Exit Shopping Cart
Features, Reviews and a Blog by John Sciacca
| | |
| --- | --- |
| Posted on August 18, 2010 at 9:59 PM | |
I'm almost embarassed to admit that Lauryn is approaching 4 and I have yet to spend a full day alone with her. I believe that prior to today, my longest time alone with her has been about 3 hours when Dana has reached max gross load and just had to have a completely Sciacca-free afternoon.
But with the summertime free cinema coming to a close, I decided that the time for a Daddy-Daughter day was nigh. Nay! The time was now! So I took today off of work and dedicated the entire day to spending it with Lauryn. And I have to say, she is just great fun to be around! Usually I only see her at the end of the day. She's tired. I'm tired. She wants a story and to go to bed. I want a TV and a go to drink. Neither of us is really at our best. So for a few days I've been hyping this day. Telling her that it's coming. Kind of prepping her to the fact that it is going to be all daddy all the time. For a mostly momma's girl, this could have been a tragedy if suddenly sprung on her kamikaze style. Then I started playing it up. Telling her all the great things that we were going to do. And, I'll be darned if we both didn't start getting totally psyched for it! To her her say, "Daddy, we're spending the day together. Not the next day, but the next day." (The concept of tomorrow, the day after tomorrow and pretty much any event in the future time eludes Lauryn.)
So, our day started by seeing Ice Age 3. This was a great movie for Lauryn because she had seen it before and thus I knew it wasn't going to be too out there, but she hadn't seen it so many times that she would be Rocky Horror-ing it. We got a couple of boxes of popcorn and dipped into the candy stash from home. Since the movie was free I'll not be too critical of the presentation. I'll just say that the film print looked so worn and had so many scratches down the middle that there was a moment where I imagined an airport shoeshine guy saying, "Give those boots a sparkle, cap'm?" as he whipped out this film reel and started vigorously chamoising a pair of leather brogues.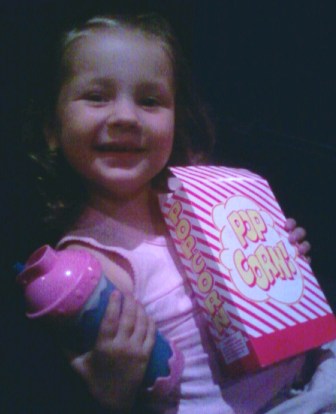 After the movie we hit a park but the slide was just too darn hot to use. Welcome to South Carolina in August. So we headed to Barnes & Noble where I talked Lauryn out of a Nook presentation and we headed to the kid's section to see Thomas the Train. Another girl walks up to Lauryn and says, "Hi. My name is Sarah. S-a-r-a-h. Sarah. S-a-r-a-h. Do you want to be my friend?" I was put off by Sarah's presumptuousness; first assuming that we missed her name the first time and that we needed two passes at learning how to spell it for future correspondence, but Lauryn, always keen to make a new friend, and obviously impressed with S-a-r-a-h's choice of pink scarf, heartily agreed. So we Thomas'd and read for a bit and then headed to Chik-Fil-A for lunch. (Apparently Dan was 3 hours away almost simultaneously trying to drive another nail in his coffin with a Filet-O-Fish. Dan: Filet-O-Fish is still McDonald's. And I'm not even sure that it's technically fish.) They have a little play area which has a a climbing slide area which faintly resembles the Slide for Life from the SEAL's O-Course. At least to Lauryn it did. I'm happy to say that after some tears and several false starts, she finally met muster and climbed to the top and slid down. Then we got a vanilla ice cream cone.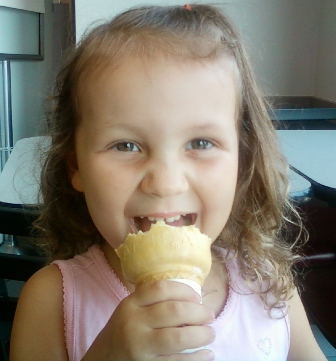 Afterwards we headed to Toys R Us where we bought about $.57 worth of repackaged Chinese plastic carefully marketed and repackaged into $7.99 worth of something called "Littlest Pet Shop." For some reason Lauryn loves these things and can't seem to get enough "new guys." So, today she got three new guys. I'm not sure if there was anything particularly special about these 3 guys excpept the fact that they were packaged as three and all the others were pachaged as 2. With Little Pet Shop guys, more seems to be the most important factor.
Then we headed to Pet Smart to see if Nutsy -- oh...did I mention that we got a guinea pig? About two weeks ago. It was absolutely proof positive that if you nag long and hard enough, you can indeed achieve your dream. And that dream is a little biting guy named nutsy. Actually he is pretty soft and cuddly when he isn't trying to use the sensitive webbing of your thumb as a salt bite -- had a brother or sister. But to Lauryn we were going to pick out a kitten that she will be able to get at some mysterious date in the....future. The term "when I get older" seems to be enough for now to explain away all things that she isn't ready for. Kittys. Disneyland. Me getting an iPad. So we go and stand by the kitty adopting window and the woman invites Lauryn in to come play with the kittens. So Lauryn gets to spend about 10 minutes in a small-roomed, 4 kitten filled heaven.
After that we headed to a park to swing and walk around a lake. Sadly, I had to be home for a 5 PM vendor call, but then we picked the day right back up by going -- with Dana and a granny this time -- to Gordon Biersch for the tapping of a new beer. Lauryn capped the day off with a ham and pineapple pizza. I capped it with two draughts of Blonde Boch. What a day! If you haven't spent a full day with your son/daughter lately -- no matter how old they are -- take a day off work, plan something entirely for them and do it! If for no other reason, maybe you'll get the joy of hearing your child say, "Daddy is more fun." (Just kidding!)
(but not really!)
Categories: August 2010, Family, Movies
/