Shopping Cart
Your Cart is Empty
There was an error with PayPal
Click here to try again
Thank you for your business!
You should be receiving an order confirmation from Paypal shortly.
Exit Shopping Cart
Features, Reviews and a Blog by John Sciacca
| | |
| --- | --- |
| Posted on August 19, 2010 at 5:17 PM | |
A few days ago, I got a call at the store from a builder that we have done *a lot* of work for. Back when the economy's big wheel was really turning, shooting out wads of money like a hacked ATM, this builder would routinely send us several near 6-figure jobs a year; so this guy calls, I'm makin' like E F Hutton. This call, sadly, was not about some new great job that was going to pull us Luke-from-carbon-freezing-chamber style out of the recession. Rather it was asking me to do him a favor.
Turns out he had us look at a project a few months ago. This was a giant, over-the-top custom house that was being built for someone stretched beyond their means, who then lost the house to the bank. The new customer – that purchased the house for dimes on the dollar at auction – hired our builder to finish up the house and he got in touch with us to see about completing the audio system. Turns out the homeowner, an older woman, thought we were too expensive. Like WAY too expensive. (I didn't spec the original job, but the $18,500 quote that we gave her for full house central vac, security, TV/Tel/Data trim, 3 rooms of audio and a dedicated 7-channel media room is certainly WELL in line with a typical bid. It isn't like we were trying to cram in a Runco SC-1 double stack and a full Meridian 800 system expensive. Because, really, can a house truly be called a home if each room doesn't' have its own fully-balanced dual mono-block amplification system? I think not.) But like so many people buying these McMansions, she was reaching above her means to buy a house that should have sold for close to $2 million, and now she was going to kit it out and treat it like a $500k house. So, the lady went with someone else.
Then she found out that the other people sucked. Stuff didn't work. Couldn't figure out how to work things. And, shock-of-shocks, couldn't get them to come back. So, she calls the builder. Who calls me. And asks if I can do him a favor. (My previous history with being asked to "do a little favor" proves that these are often not little. And this favor came with the absolute certainty of no pot of sex at the end of the rainbow.) But I told him that I'd call and go over and take a look. And swallow my pride at not getting the job and now being asked to go over and EXPLAIN the work that the other company did. As a favor. He magnamimously offered that I could "bill her for my time." Oh, may I?

So I meet with the homeowner this morning and go through the house, noticing all the TVs that the other company sold her – may they not kill anything as they crash to the floor – and things haphazardly wired. A receiver just sitting on the floor in the living room. Then we get to the coup de grace. The dedicated media room.
Honestly, at this point in our civilization, all capable-of-walking-upright bipeds should have mastered the concepts of wiring for a surround system. OK; there MAY be some trickery when using multiple pairs of sides and rears. And OK, if you are going with height or width channels, I guess there is room for argument depending on whose system and logic you want to use. But when we are talking plain, slow-churned, double dipped vanilla 5.1, can I get an AMEN! that anyone billing for this "professional" installing these systems should be able to get it some semblance of close? What I find in this house is this: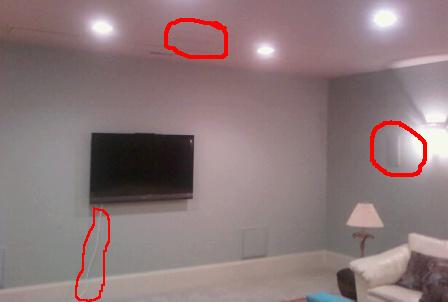 The front left and right speakers are in the front SIDE walls. So, all those great localized, pinpoint stereo directional cues that the front speakers provide are shooting directly across the room into the other wall. Even if you sat directly between them, you would only achieve a HORRIBLE in-the-head headphone effect. Then there is my next favorite bonehead move: the center channel in the ceiling. Firing straight down. So all that dialog is directed straight into the carpet. Where it is absorbed. For the finishing touch, there is a nice wire strung up the front wall to connect the Blu-ray player. I didn't bother circling that other square which is just a painted piece of wood nailed into the wall where a subwoofer might go. A subwoofer wired only with speaker wiring instead of the FAR more common line-level cabling. I didn't bother because, well, it's really not the piece of wood's fault.

I was kind of lost for words. I just started shaking my head and pulled out Lady Phone. "I need to take a picture of this. Because, well, I've never seen speakers placed so poorly. Ever. Like in my entire 12 years doing this."
Turns out the lady is totally unconcerned. "I never wanted a dedicated media room. I don't care about movies or sound. This is for the grandkids. To play their games." So fine. Honestly, I'm past caring and kinda over it. When she hired the other company she made her bed, now she has to lie in it. And i hope it's like pissing in her pants and never changing her pee pants all day and still sitting in her dirty pee pants. Frankly, there's no way she'll pay what it would cost to do it right. And at this point, why should she? She doesn't care. She COULD have done it the right way for ZERO more money to start, but she didn't. So, pee pants. My stamp is not going on this room and I fo shizzle don't have to live with this so you like it, I love it. Only problem is, none of it is working. Since all the wires are just in a jumbalaya at the back of the room. So I start telling her the equipment she needs to get the room working.
"Oh, my . It sounds like you're talking around $1500 to 2000!"
"Yes ma'am. At least."

"So, that'll fix everything?"
"No. That won't 'fix' – big sweeping gesture to the one-toothed named Chomper inbred Hillbilly of a home theater which is this room -- this." Seriously, could you go out of your way to pick worse colors for a media room? White carpet and light sea foam paint?! AND a white leather couch? Joel Silver AND Theo Kalomirakis both just had aneurysms. Thanks, lady, you just killed two industry greats. I guess Home Depot was out of THX1138 high-gloss white enamel that day. "But that will at least get it working."
Then I start talking about remote control options, you know, so she'll be able to actually USE the system. (When pressing TV then Power on the cable box remote was like asking her to solve Rubik's Revenge with her feet, I knew a smart remote had to be in her future.) So while I'm describing it she just interrupts me with, "You know, I'm just going to go with the cheapest one."
Then I pull out my favorite line. I love this line. I can't even remember when I started using it, but I love it. It's like that blazer you have hanging in your closet. You're go to blazer that just works with everything; jeans, khakis, or formals. The one that just frickin' *works* every time. (Ladies, I'm not sure if you should substitute "shoes" or "lucky bra" for blazer. Maybe both.)  I say, "Ma'am, we're not in business to be the cheapest. This – again, the grand Moses-like hand sweep – is what 'the cheapest' got you. We're in business to be the best. To do it right, once, the first time, so we don't have to keep coming back and fixing it." Throw the mic onto the ground and Johnny out!
And add one URC remote to the PO!
Categories: August 2010, CTA
/