Shopping Cart
Your Cart is Empty
There was an error with PayPal
Click here to try again
Thank you for your business!
You should be receiving an order confirmation from Paypal shortly.
Exit Shopping Cart
Features, Reviews and a Blog by John Sciacca
| | |
| --- | --- |
| Posted on September 15, 2010 at 4:40 PM | |
Last night was another tapping party at GB, so I left work early and we headed over. (You can read about our previous tapping party good-fun times here. If for no other reason, check that link for some great pix of Lauryn rockin' my Revos pre left lens falling out onto our looks-like-but-really-isn't brick kitchen tile floor and the ensuing massive scratching.
The new beer was something called Festbier, described as "A rich, moderately hopped, bronze lager, in honor of the famous German Fall Festival!" And it was actually *really* good. In fact, I might go as far as to say that this might be the one beer that I would order in place of my beloved Marzen. (Might. I'm still not totally decided. I've had a love affair going with that Marzen for so long I practically have it coursing through my veins at the DNA level.)
So, any time you offer people a free Stein of beer, with quasi-free apps (they are now charging $5 for the apps – last night a sampling of some sauerkraut potato concoction, with steamed cabbage, some pressed-flat and breaded meat that might have been chicken or pork or veal with a brown mushroom sauce and salted pretzels with beer-mustard – supposedly the money goes to a worthy cause, though I felt like me keeping the $5 for myself was also somewhat worthy) and some live music, the place is gonna be crammed.
Usually we prefer to sit outside, but that was full. Dana approached one couple at a table who was obviously finished; their glasses were empty, their plates were cleared and their check had been paid. She asked how long they were going to be. "Oh. You want OUR table?" No, militant lady, we are just standing around with our 3.5 year old taking a random sampling for our poll. I'm going to go ahead and put you down in the "going to be hanging around like a total B" column.
So we sit inside and the group that plops down next to us is straight out of the L-Word. Except they are totally NOT out of the L-Word, with its beautiful, girl-next-door, guys-you-might-could-turn-them, lipstick lesbians. These are the OTHER L-Words. Seriously, I didn't think it was even statistically possible for there to be a table of 6 lesbians and for EVERY one of them to be THE Butch one. It defied all lesbian logic. There were a couple that for a minute I thought were the male friend that comes out with the gang, but no. These are a group of lesbians where even Ellen with her new haircut would have been a super model. Heck, this is a table where I would have been a beautiful lesbian! Here's a photo taken as discreetly as you can when you are sitting mere feet away and pointing a pink phone (which was way more femme than ANYTHING at their table) directly at them to capture an image on the low-low. (The beer glass front and center was acting as my Beard.)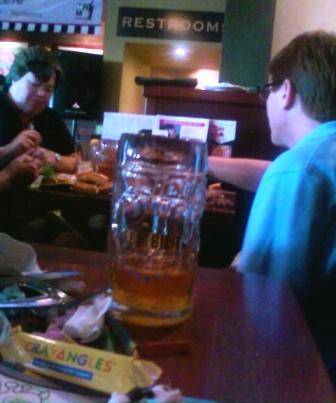 So, when we finished Dana had downloaded me a coupon for a free face moisturizing after shave lotion from Aveda which is immediately next to GB. I'm oblivious to such things but apparently my face is beginning to look dry and weathered and haggard or something. (I can't remember exactly the wording that Dana used to couch the fact that I need to definitely start considering using a free sample of Aveda after shave.) So I go in and the woman hands me a sample that is SO small that if the micro-tube were instead filled with fissionable, highly enriched U-235, it would be SUCH a small quantity it wouldn't even be a crime. Honestly, I'm not even sure that it can technically even be considered a sample as I doubt it will actually cover my entire face post shaving. The bottle is so small that printed on it is simply "see card for use." Since I didn't receive a card, I guess I'll just squeeze out the single droplet, rub it in as far as it will take me and then proceed with life, somewhat more moisturized and less dry.
Categories: September 2010, Bizarre, Beer/Liquor/Wine
/