Shopping Cart
Your Cart is Empty
There was an error with PayPal
Click here to try again
Thank you for your business!
You should be receiving an order confirmation from Paypal shortly.
Exit Shopping Cart
Features, Reviews and a Blog by John Sciacca
| | |
| --- | --- |
| Posted on September 16, 2010 at 11:42 AM | |
After a very late embargoed video chat with Kaleidescape last night (starting at 9PM!), it was time to enjoy some time with the ones that I love; Dana, TV and a bottle of Red.
Last night saw the ending of one show that we've really enjoyed – MasterChef – and the beginning of a new season of another that we've loved for years – Survivor: Ni-har-ahh-hwaa.
If you watch MasterChef and have yet to see the finale, then you'll want to just move along, nothing to see here. (Go on, season ending spoiler a-brewin'... )  This series was surprisingly enjoyable, and offered another side of I-can-be-such-a-prick, Gordon Ramsey. Seriously, whatever you think of the guy personally, he has a spectacular knowledge of food and fine cuisine. And his wife bought him a Lamborghini, so, well, Lamborghini. So, I've been rooting for super-cute, southern gal Whitney Miller from the start. (My other pick to go all the way was Asian server, Mike Kim. I really liked his style and he seemed like he had a lot of heart and personality. And, I'm gonna guess that his days of being a server are pretty much over. Surely he'll at least advance to wok cook.) First off, thanks for the GIANT spoiler yourselves, Fox! It really took a lot of the drama out of Whitney's runner-up challenge (and, seriously, I really wanted to see Whitney go head-up against Lee in the finals, not the semis) when your preview before the show even starts shows Whitney dropping something. So, as they are coming to the finale judging of Whitney and Lee I said, "Hey, you never saw her drop anything. Guess that means she means and goes on to the finale." Which, she did and she did. So I always felt like David Miller was an over-cocky, doucheington, but he did seem to have some cooking style, and he proved himself handy with a salt shaker. (Though, he served this dual portion appetizer where his opening comments were something to the effect of, "Uh, don't eat these together. They are two completely separate items just on the same plate." And also, if you have EVER watched Hells Kitchen, then you know that serving a Beef Wellington is virtually guaranteed to end up with Ramsey screaming and smashing something into a wall. That and cooking whatever the hell kind of fish that John Dory is. Guaranteed…to…fail! So totally ballsy – and ultimately foolish – that he tried it.) Anyhow, even though I *knew* that Whitney was going to drop something, when she actually did drop her chicken entrée splat! onto the floor with 7 minutes to go, I literally bolted up on the couch and went, "Oh, God, NO!" But, she rallied, made another chicken and won. (Though, I must be honest, if I were voting solely on whose dishes I would have preferred to eat, in that challenge it would have been David.)  I'm not saying that Whitney is going to change my stance on southern cooking (firmly in the con column), but if she opens a restaurant like Weaver D's Automatic, I'll definitely try it.
Also, I must say that I spent the entire season watching judge Joe Bastianich – who was such a massive jerk much of the time; like an over-the-top jerk, which is not easy to do when you are standing next to Gordon Ramsey, King of Jerks – saying, "Man that guy looks like that mentalist/magician guy!" Ask Dana. This was my comment every week, sometimes multiple times during an episode. So, here is a photo of the two of them – or are they the same person? The secret ingredient is….my mind! If only Bastianich were rockin' a Widow's Peak!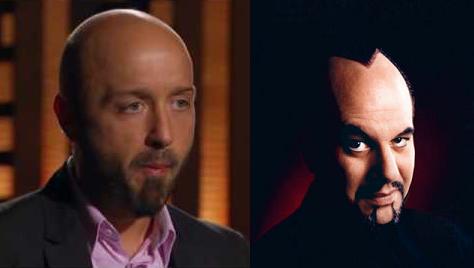 So, last night was also the premier of Survivor, which, sadly/shockingly, I had absolutely NO idea was coming on until one of my installers asked if I was up for the new season of Survivor. Like Pavlov's dogs, I have been trained to expect my Survivor to come on Thursday nights, except for during the NCAA's March Madness when I allow a Wednesday night exemption. (Also, because they change the name every season, my DVR wasn't on the trolley with recording it, so I would have been BITTER if I hadn't known. Thanks for the advertising campaign, CBS!)  have to say, I will definitely watch every episode, but the opener left me a bit flat and uninspired. There were no standout personalities that engaged you. No evil Russells. No hot Courtneys. No carved from obsidian by the very hands of Zeus, James-es. There is one blonde-haired guy named Jud whom they are calling Fabio (though he doesn't really look anything like Fabio) who they are at least editing to look stu-hooo-pid. From stepping on a fishing lure (I think) to getting something stuck in his hand, to just general "Huh? What?"-ness, they are not editing this guy favorably. Or maybe he really is a tool. Time will tell. Clearly, after the awesomeness which was the past two seasons – Survivor Russell #1 (Samoa) and Survivor Russell #2 (Heroes vs Villians) – it is going to be a bit of a letdown, but I wasn't expecting it to be a TOTAL letdown. Also, lady who got voted out; when even your own family is telling you that you are super annoying and that you are going to be the first one voted out, take that as an invitiation to NOT tryout for a reality show. Probst was, of course, awesome, running Tribal Councils like he is conducting a symphony. Hosts don't get much credit because they normally suck (I'm looking at you, Rose Ceremony guy on the Bachelor and everything you EVER do, Ryan Seacrest!) but Probst owns Survivor and totally improves it. Also, Medallion of Power? Cool twist but did they fire the writing staff because that is about the hokiest name I've ever heard. What is it, something out of Hercules or He-Man? And now, by the power of Grey Skull, the Tribe has spoken...
Categories: September 2010, TV
/