Shopping Cart
Your Cart is Empty
There was an error with PayPal
Click here to try again
Thank you for your business!
You should be receiving an order confirmation from Paypal shortly.
Exit Shopping Cart
Features, Reviews and a Blog by John Sciacca
| | |
| --- | --- |
| Posted on September 22, 2010 at 10:15 AM | |
Left today for the 360 mile trip to Atlanta for the CEDIA Expo, and despite the fact that my Magellan GPS has repeatedly proven itself to be a spiteful and vindictive guide in the past – much like an evil Sacajawea that really is only curious in seeing how big of pile of white-man heads she can pile up – I "agreed" to follow its turn suggestions. Look, I suck at directions. Like suck-diddily-uck. Normally I rely on Dana who has been called – by her sister – the Homing Pigeon. Dana has a supernatural ability to guide us to a location provided she has been there at least once before. However, on longish road trips, Dana is often on sit-in-back-minding-Lauryn duty. Or sleeping. So, I use the Magellan which is just slightly better than me trying to navigate by sextant in the total broad daylight.
So, generally I tell the Magellan to get me there via the Fastest Time. Because, let's be honest, when it is nothing but miles and miles and MILES of black road and kudzu covered trees between you and your destination, Fastest Time is the best alternative to using a teleportation chamber. And, since Steve Jobs has yet to perfect a teleportation chamber that can somehow fit into an iPod form factor, I'm left with driving. However, sometimes the Magellan takes Fastest Time as a decree to do whatever is computerly possible to make sure that the vehicle NEVER strays from a freeway. Never. As in even if that means going many, MANY miles out of the way to pick-up and or stay on a freeway. So, I stopped using "Fastest time" when a couple of weeks ago it the Magellan tried to suggest a route that I knew should have been about 220 miles that showed up as over 300. WTF?! So I switched over to "Shortest distance." This does indeed chart out the shortest possible route from point A to B, but with NO logic or intelligence whatsoever. So, today on two separate occasions the Magellan had me get off the freeway to go over an overpass to then get right back onto the freeway. Now, I'm not going to argue that this little over-round wasn't indeed possibly 13-inches shorter over our entire 360 mile journey but a MASSIVELY pointless exercise.
Is there no way to imbed these stupid things with a modicum of logic that says, "Hmmm, OK. He wants to get from A to B. Lets create a hybrid of shortest and fastest and not shunt him onto a frontage road for a tenth of a mile or through a random parking lot to shave .001 miles off the trip" etc. Perhaps this new route logic could be called "Least aggravating."
So on the road today I noticed a multi-state (well, South Carolina and Georgia) anti-Meth ad campaign. I'm not sure if this is nationwide or not, or even if you are contemplating using Meth if a billboard is going to be the thing to turn you back from that crystalline, tooth-rotting edge, but I thought I would share these billboards for you in order or crazy horrible awesomeness. First was the picture of a cot in a jail cell with the text, "No one thinks that a romantic evening will end up here. Until you start taking Meth." Now, I can't really see any possible upside to this one, unless you're homeless and the offer of getting ANY bed is better than another night under an overpass. Runner-up was the picture of a totally raunchy toilet. I mean picture the worst gas station bathroom that you've ever had to pull into for an emergency "personal moment" and that toilet looks like something out of Martha Stewart's guest house in comparison. The text here was "No one expects to lose their virginity in a place like this. Until you start taking Meth." I can't even imagine how much Meth it would take for Dana to let me LOOK at her "virginity" or even get an on-top-of-clothes touch of, you know, in a bathroom that looked like that, let alone actually doing anything to it. Which just goes to show what I know about the power of a good sheet of glass. The hands-down winning board showed a close-up of a sink filled with what looked like gross, chunky blood. (I realize that the adjective "gross" is likely redundant, since, really, what other kind of "chunky blood" is there? Gross is probably pretty much already assumed.) With the text, "No one thinks about trying to tear off their own skin. Until you start taking Meth."
I didn't actually *see* this billboard, but it totally fits into the marketing campaign. Enjoy!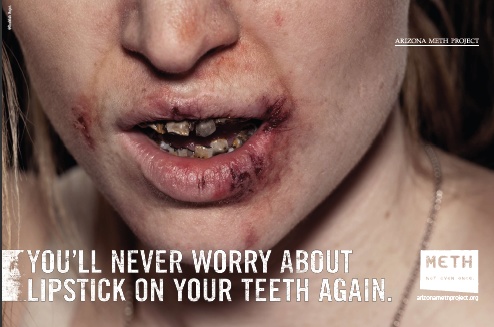 So, now I'm in Atlanta, totally Meth free and staying at a really nice hotel courtesy of Priceline and Peter Hoagland. Of course, as I've mentioned in the past, the nicer the hotel the less they like to givey-givey. No free Internets. No free breakfasts. No free parkings. And the smallest TV that I've ever lived with since my 6th grade graduation present.
Press Day starts tomorrow and I'm psyched to get on with the Show!
Categories: September 2010, CES/CEDIA
/