Shopping Cart
Your Cart is Empty
There was an error with PayPal
Click here to try again
Thank you for your business!
You should be receiving an order confirmation from Paypal shortly.
Exit Shopping Cart
Features, Reviews and a Blog by John Sciacca
| | |
| --- | --- |
| Posted on September 22, 2010 at 10:46 AM | |
Usually when Kaleidescape makes some new announcement it is something along the lines of, "Blah, blah, blah, very cool new feature, blah, blah, best in class, blah, blah, terrific experience, blah, blah, many, MANY thousands of dollars, blah, blah we expect to emerge victorious from the lawsuit."
Now, I'll be honest, I am a giant Kaleidescape fan. GIANT. I think their system is not just awesome, but totally awesome. And if I had an extra 18 grand lying around – as in Lauryn's education was all paid for, my swimming pool didn't look ready to go all rogue spear at any moment, PR Buddha and Dana had finally combined powers and teamed up together in an epic shaming that finally convinced me to change out the not-brick tile in my kitchen, I pony'd up and got that stainless Rolex Daytona I've been eyeing, Dana and I each had Gen 2, 128 Gig iPads, and I had the imminent arrival of the Publisher's Clearinghouse people at my door – I would totally buy one. Because, honestly, the only drawback to a Kaleidescape system is the price.
So, for a long time, during press briefing calls, Kaleidescape has continually stressed how important the system is for the entire family. How that it is SO easy to use, that the entire family can enjoy the system, thus giving it more use, thus giving it more value. But with this latest release, they are actually doing something to specifically address their youngest users. With today's announcement, Kaleidescape is doing the way less creepy equivalent of standing outside the school in a van giving out candy by releasing a new "child's remote" that will allow even the youngest users to enjoy and operate the system without any fear that they are going to stumble across something totally inappropriate – you all know what I'm talking about; say them accidentally watching The Phantom Menace first and you having to explain that, "No, no! Really! Star Wars is cool! Honestly, Jar-Jar is barely even in the other movies! Really! Please! Give them another chance!"
So with this new bright-and-colorful remote, pressing any button makes the system immediately go into "Kid's" mode where only the movies placed into a special "Kid's Collection" are visible. The most recently viewed movie or TV show from the collection automatically goes to the middle and the GUI has been reworked so that it is entirely cover art based, without any text descriptions unreadable by this release's target audience. The new remote is as simple as it gets with up-down-left-right and enter, play, pause, stop and a star key that shuffles movie titles. I would love to have Lauryn take this for a spin, but, as mentioned previously, I am finding myself without a Kaleidescape system. (Michael Malcolm? Cheena? Linus? Hello? Guys? Number one fan here... )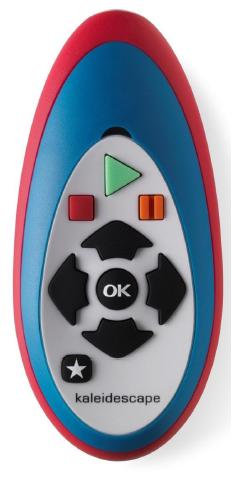 Possibly the most shocking bit of all from this announcement is the price. Sure, when Kaleidescpae says something is going to be "affordable"it usually means that it will be coming in sub $5000. But with this remote, they come in at the real world price of only $39, making this by far the LEAST expensive SKU in the entire Kaleidescape inventory. Meaning that now everyone can actually afford a Kaleidescape. (Granted, the remote on its own is pretty useless, but you could honestly say, yes, I own a Kaleidescape. And it is very colorful and less-bright children could probably be convinced that yes, it did actually control the TV.) For those Kaleidescape owners not wanting to spring for the rainbow remote, it is really just emitting a new set of discrete IR codes that could be learned into any control system. So if you'd rather have your 3 year old handling your Crestron panel or iPad with sticky, ice cream and pooh encrusted fingers instead of a kid's only sub $40 remote, then, well, good news! You can!
Also in this release are the first images of the new disc vault: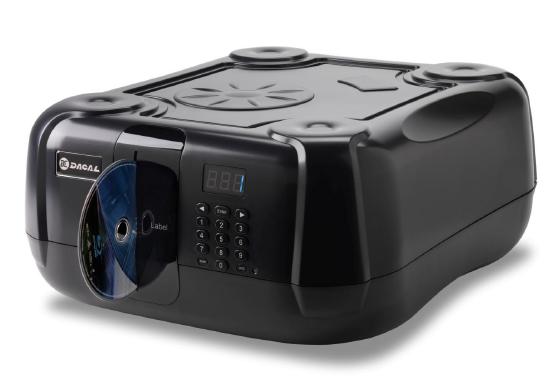 And now that I've actually seen a picture of it, I can think of no name more apt for this than Disc Vault. That is unless you wanted to find a way to gussey-up the marketing term "Giant Hunking Black Box." This is a big, hunking piece of electronics that in no way, shape or form resembles the elegance and glossy-white beauty of any other Kaleidescape component. It is so vaulty looking that instead of just putting Blu-rays into it, you might be tempted to cram it with jewelry, wills, pre-Civil War silver certificates, rare stamps, etc. This thing could likely withstand several blows from an aluminum bat and have a fire burn rating of like 180 minutes. The third party Disc Vault is almost as if Kaleidescape is saying, "The Blu-ray association is making us do this, so blame them on how ugly this utilitarian hunk is." Anyhow, we at least officially know what the Disc Vault will look like and how much -- $1500 – it will cost. For Kaleidescape owners looking to add Blu-ray to their collections, this device – while ugly – can be locked away in a cabinet where no one will ever need to look at it, and securely hold up to 100 of your favorite Blu-ray titles.
Categories: September 2010, Electronics
/