Shopping Cart
Your Cart is Empty
There was an error with PayPal
Click here to try again
Thank you for your business!
You should be receiving an order confirmation from Paypal shortly.
Exit Shopping Cart
Features, Reviews and a Blog by John Sciacca
| | |
| --- | --- |
| Posted on September 27, 2010 at 11:03 PM | |
Those of you with discernment will realize that a few days ago I mentioned that Dana and I DROVE to Atlanta for CEDIA. (You can see the post here, with an awesome anti-meth billboard campaign.) And then during my little "Your life can change in an instant, young man" moment, I was on my way to the Airport to FLY home from CEDIA. So, surely some of you were wondering, "John drive there, but fly home? Whatta-whatta?"
Well, turns out that Dana wanted to spend some extra time with her family in Alabama, and I am so overwhelmingly, generous and self-sacrificing and an all around great husband-father-man in general that I said, "Baby, looky here. I want you to be happy. You take the car and you go see your family. I'll fly myself home. Now come here and show your man how much you love him."
OK. That could have been the reason. And it kind of was. But also perhaps making up a *slightly* larger percent of the equation (surely no more than 51.5%) was this program that US Air was offering. They called it "Hop, Skip and Jump for Preferred Status." Basically, if you got 4 points, you would be "bumped" to the next Preferred level. I had 2 points already. So I was two points away from increasing my Dividend Preferred level from Silver to Gold for the entire next year. Gold, Mr. Bond. All my life I've admired its color, its brilliance, its divine heaviness. I welcome any enterprise that will increase my stock which is, sadly, not very considerable.
Unfortunately, the way the program worked, it wasn't just ANY two flights but two rather specific flights. I had already "Hopped" from east coast to west coast and back (thus my 2 points), and I could do that flight 100 more times and not get any more credit. I needed to "Skip" onto one of their shuttle flights – DC to La Guardia, or La Guardia to Boston, or DC to Boston – and then "Jump" onto one of their new routes – Phoenix to Montego Bay, Jamaica or Philadelphia to Halifax, Canada or Charlotte to Rome, Italy or Rio de Janeiro or Puerto Vallarta. Or Boston to Plattsburgh, New York.
Now for those of you not in the airline miles game, getting preferred status is huge. Like stumbling across a "Hey! That's a new "lost" iPhone!" in a bar huge. You get free luggage check-in, upgrades to first class, preferred seating, bonus miles for air travel, etc. And the higher the level (Silver, Gold, Platinum, Chairman) the better the perks. I got a report from US Air and they say that so far on flights that have offered it, I have been getting upgraded to First Class 62% of the time. And I'm Silver. And now I want to be Gold. So, Silver takes 25,000 miles or 30 flight segments and Gold takes 50,000 miles or 60 flight segments. So, getting these 2 points was like 25,000 miles of flying.
Screw the 2012 games. I'm going for the Gold NOW!
So I charted out a route. It was crazy. It was insane. It was AWESOME! And when I mentioned it to anyone -- yeah, I'm talking 7 flights to get home from Atlanta --  the reaction was always the same. "Ha, ha! Oh. That's funny. No. How are you really getting home?" And now, you get to relive it without the cramping back aches or the nearly getting made into a prison-bitch in Atlanta or the 4:30 AM wake-up call.
So it started by calling the US Air representative to book the travel. If you remember from my little F--- US Air!!! missive, which is a scather if you haven't read it, I received a $100 flight voucher for their ill treatment. So I called up the lady and started explaining my route.
"Hi. I need to purchase a ticket. I'd like to go from Atlanta to Charlotte."
"OK, Atlanta to Charlotte. Will that be it?"
"Oh, no. Not even close. This is a long one. So then Charlotte to La Guardia."
"OK."
"Then La Guardia to Boston."
"Umm. There is a direct flight from Charlotte to Boston. And I see there is availa…"
"No. I don't want to go directly to Boston. I need to fly to Boston FROM La Guardia."
"Ummm. OK."
"Then Boston to Plattsburgh."
"OK. Yes, that's one of our new routes."
"Yeah. I know. OK, then I'd like to immediately turn around and go back to Boston."
"The next day?"
"No. That night. Like the very next flight out.  Is that possible?"
"Ummm. Uhhh. Wait. You want to fly INTO Plattsburg from Boston."
"Yes."
"And then immediately turn around and go back to Boston FROM Plattsburg?"
"Yes."
"That same day?"
"Yes. That same day."
Click, click, click. "Well, I'm sorry. But that just isn't possible with schedule from your other flights."
"OK. First flight out the next morning. Then Boston to Charlotte. And then Charlotte to Myrtle."
All told, ticket cost me $469 less the $100 credit so $369. Plus $80 for a La Quinta in Plattsburgh. Keep in mind that the drive mileage from Atlanta to Myrtle is 360 and takes about 6 hours. Let's begin our journey, shall we?
Flight 1 – Atlanta to Charlotte. Travel time 1 hour 28 minutes. 226 Miles.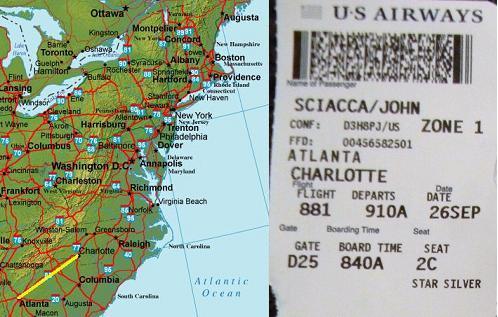 Day starts off with the near mugging, and then some mass confusion as I try to figure out the Marta ticket booth and ticket gates. Probably due in equal parts to residual stunned "What the hell just happened?" and actual "How do you work this thing?" Fortunately another passenger helped me work the machine. So I get to the airport and the self check-in computer kiosk will not even print out my boarding slips. There are too many legs. So I check in at the counter and the man goes, "Oh, my! Just where are you goinog today? And...wait...Son?! Just how many legs do you have?" He has to HAND fill out my bag tags since the computer can only do up to three legs. He also puts a PRIORITY HANDLING tag on my bag to insure that everything ends up with me. (Foreshadowing...) Also bonus? Upgraded to First Class. Flight is pretty uneventful. I order a coffee and OJ and go on a commando RAID of the little snack basket. Four bags of Cracked Pepper and Sea Salt chips (they're as good as they sound), 3 Cranberry Snack mixes, 1 Apple Cinnamon breakfast bar. Also grabbed the Sky Mall (which I hope you all enjoy reading the 3.0 post as much as I enjoyed writing!).
Flight 2 – Charlotte to La Guardia. Travel time 1 hour 53 minutes. 536 Miles.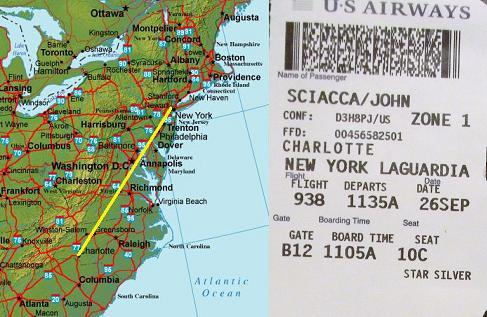 We were delayed on the ground a bit in Atlanta, so I don't really have any time for any shenanigans in CLT other than a quick restroom break and getting into the queue to board. Jump on the plane and have a great seat. No, it isn't in First, but for actual leg room, it's better. Here's a flight tip for you. Seatguru.com. Type in the airline and the plane style (Airbus A-321 for instance) and seatguru.com tells you the BEST seats on the plane. It's awesome. So I had seat 10C and plenty of stretch out room. Like I could extend my leg literally as far as it would go and still had a foot of free space. The woman next to me was wearing a Panerai Luminor diving watch which I dutifully commented on. (Hey. I like watches, and this is one giant-ass watch you don't often – as in ever – see on a woman. You know. Unless she hasn't a giant-thick punching arm. And some sweet prison tats. Then she probably wouldn't be wearing a $7,000 wristwatch. So you see the conundrum and why I felt obligated to make a comment.) One woman on the flight bought a seat for her giant cello, so I asked the flight attendant if a cello could be a frequent flier, and she said she didn't know. Can you imagine if your cello got upgraded to First Class and you didn't? Frickin' cellos. That's just the kind of "Quiet down and enjoy your peanuts back there! The grown-ups are trying to enjoy free liquor up here!" thing they would do if given the chance.
Flight 3 – La Guardia to Boston. Travel time 1 hour 13 minutes. 182 Miles. (AKA - "The Skip")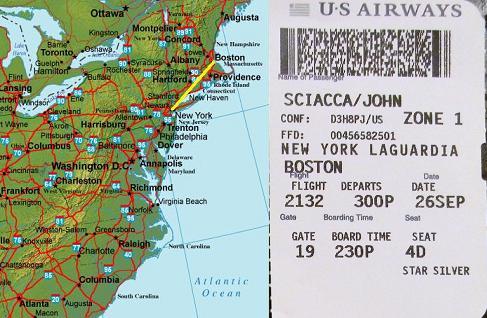 La Guardia airport is kind of, well, ass. It just seems dirty. Fortunately, there is a US Air lounge so I leave the grime of LGA behind for the relatively less grime of the lounge where I grab a glass of red wine and sit and watch the planes for a bit. The food selection is lean, but they have a bowl full of 2-pack Pepperidge Farm Milano cookies. I grab four packs. I also use the lounge to check my flight status and hello-hello! Upgraded to First Class. So I mosey on down to the terminal comfort in my powerful masculine air and plop into seat 4D. There is a fairly pretty (well, airplane pretty, not like real-world pretty; airplane pretty has a broader, looser standard, where, due to the drinks flowing in First Class the scale might arbitrarily award someone 2 – 3 extra points onto looks category) woman in the seat across the aisle from me – though she turns out to be a lesbian or at least is moving out to Austin, Texas to "be with her girlfriend" which at least sounds highly bi-curious – and the woman that sits next to me is actually a minor celebrity. Her name is Swanee Hunt (you can see her Wikipedia page here), and she has been like an ambassador, has published several books on Bosnia, was a war correspondent and lectured at Harvard. I, uh, kept my little blog thing to myself. It just doesn't seem very Bosnia-Harvardy. Though I'm not sure how great an author she is as she had to borrow my pen to "journal" to her daughter. She heard about my amazing technicolor journey and gave me a ziploc bag with an apple and an orange. "Take these for your journey." Anyhow, Lez and I put down four glasses of red wine during the flight. Yes. It was 1 hour and 13 minutes. Yes, I said four glasses. And 2 more bags of chips and Cran snacks.
Flight 4 – Boston to Plattsburgh. Travel time 1 hour 15 minutes. 200 Miles. Times Two. (AKA - "The Jump")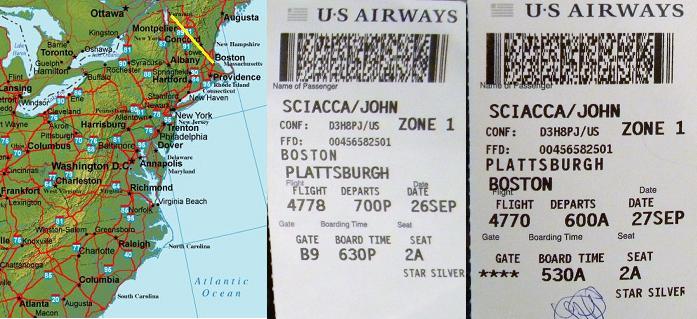 This was my longest layover, close to 3 hours. And I knew from previous experience that Boston's lounge didn't have a liquor license ("yet" they say; "get on the frickin' license ball!" I say) thus the packing it in on the previous flight. I grabbed a club soda with lime and 4 packs of cheese and 4 packs of crackers. Pull up a chair, plug in the laptop and type-type-type. Here is where I completed the post on my run-in with Atlanta's most recently paroled killer. This is where the day really started to hit me. I started dozing off in my chair.  I had started a new book by my one of my new favorite authors, Lee Child. His main character, Jack Reacher, is a total bad ass but also incredibly smart and analytical and perceptive. This story is 61 Hours and this little bit which I read on the previous flight I thought was great and funny and typical of Reacher:
"They don't need to feel pain. All they need to feel is conscious or unconscious."
Holland asked, "You want to explain why I had to call for two ambulances?"
Reacher said, "Because I slipped."
"What?"
"On the ice."
"That's your story? You slipped and just kind of blundered into them?"
"No, I slipped when I was hitting the big guy. It softened the blow. If I hadn't slipped you wouldn't be calling for two ambulances. You'd be calling for one ambulance and one coroner's wagon."
BAD ASS!
So, get on the flight and I'm talking to the flight attendant and I get a second wind and start telling her about the madness of my trip and just within earshot of our conversation four – FOUR just within earshot on a super noisy plane! – people chime up. "Oh, yeah. Hop, skip and jump. That's why we're here too!" One guy flew 172 segments last year. That is SICK. He is "only" flying in the 80s this year, so her wants to keep his Chairman status for next year. Thus the flight to Plattsburgh.
Get in to the airport which seriously has like two gates and wait for the 6 bags to come off the conveyor and there is one of my bags and….no second John bag. Damn! So no change of clothes for tomorrow. But fortunately my toilet kit showed up so my hair would remain properly gelled and locked down for tomorrow's fun. Grabbed dinner at Applebee's because, frankly, it was the ONLY thing within walking distance, tried a local brew that was pretty good, watched some of the Yankees-Sox game and then a shower and a bed and a 4:30 wake-up call. Totally feeling all Ryan Bingham and Up in the Airy, except, fortunately I'm not needing to fire anybody.

Flight 5 – Plattsburgh to Boston. Travel time 1 hour 15 minutes. 200 miles.
Rinse and repeat yesterday's flight with practically all the same people except for today's flight leaves at 6:00 AM. And I now have several flights, tons of miles and way less sleep under my belt. The 172 flight guy went out and got hammered the night before closing down 3 bars. He looked rough and said he nearly puked when the plane was all hot and rattley. I try to sleep but my seat in the front of the plane is face-to-face – or more accurately junk-to-junk – with the male flight attendant so it was a tad, err, awkward. "Do you mind if I stretch my feet out between your legs?"
Made it into Boston, with just enough time for a quick run into the lounge to grab a cup of coffee from the crazy Flavia machine which seems to be US Air lounge standard issue. (You can read about the coffee machine here.) I was totally squared away on the two step process now, and made a latte with nary a moment's hesitation.
Flight 6 – Boston to Charlotte. Travel time 2 hours 21 minutes. 718 miles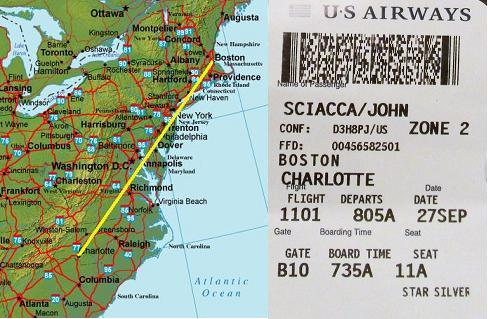 Again scored a nice seatguru.com pick and had good exit row seating. There was weather in Boston so we were on the ground for a while, each minute cutting into my already narrow connection in Charlotte. Tick-tock, tick-tock, I'm supposed to arrive at 10:26 and begin boarding at 10:50. Tick-tock, tick-tock it is gonna be tight.
Spend the flight in a combination of dozing, catching up on Bible reading and iPodding. We land and I deplane at 11:12. My next flight is scheduled to depart at 11:20. I'm in B-18, one extreme end of the CLT spoke, my plane leaves from C-18 the other extreme end of the spoke. The Dharma Wheel is turning slowly, and it wants to crush my soul by leaving me in CLT. I have made this dash before with Swim Buddy from my San Diego trip and I knew the secret. Hail a special services cart. So I sprint until I find one.
"Can you take me to C-18 please?"
"Let me see your boarding pass." While she is s-l-o-w-l-y jotting down info from my boarding pass onto a well used clipboard, using a pen but going with the speed of someone who has just seen their first QWERTY keyboard EVER and is one-finger stroking their way through a term paper, another guy walks up.
"Can I get a ride too?"
"Let me see your boarding pass."
"Uh, ma'am. My flight is getting ready to leave in like 5 minutes. Is there any way you can just take the info down after we get to the gate?"
"I need to write down the information before we leave."
So she finishes and we start. And it is like a golf cart with a dead battery being driven by a militant woman with a dead soul through an airport crowded with people totally oblivious to a golf cart literally about ready to parallel part between their butt cheeks. So we FINALLY make it to open space and this oversized couple wheezes over.
"Oh. Thank. Goodness. Can we. Get a. Lift?"
"Let me see your boarding passes."
"MA'AM. PLEASE! I AM SUPER LATE. Can you JUST do that at the gate."
"No! Now listen! I won't let you tell me how to do my job! I have to write down…"
Bail. Just jump out of the cart and head out on foot patrol. Sprinting down the people mover, dodging pedestrians, jagging around bags. I could totally feel bike-riding helping me basically maintain a 70% sprint for like a quarter-mile with The Burden banging into my shoulder with each stride without too much heart trauma. So, I see C-18 in the distance and there is no one standing around. Ruh-Roh, Shaggy! Not good. So I cruise up and...hey! They're still boarding! Yay! Grab my seat, mop my brow and settle in for the final leg. The end is in sight!

Flight 7 – Charlotte to Myrtle. Travel time 51 minutes. 155 miles.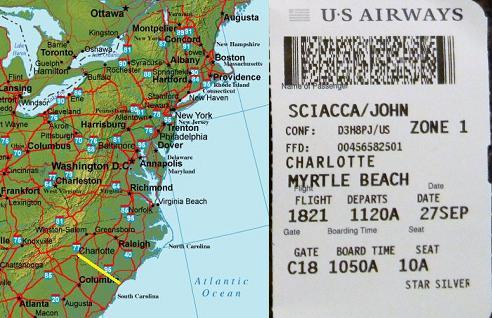 So after all the racing, we just...sit. For like 45 minutes. Pretty much exactly like sprinting for the shuttle bus in CEDIA pre-facial plant. For the shortest flight, this flight is awful. Terrible storms and turbulence and sudden plummets and I had to put away all of my reading materials and take my headphones out and just focus on riding this baby through cause I felt some nausea a brewin' and if there is any kind of a brew I don't like, its nausea. Finally break through it all and land about an hour late. Fill out the lost baggage form ("Is there anything distinguishing about the contents of your bag?" "Yes. I'm coming from a technology tradeshow and I have like 50 USB thumb drives in the outer pocket. Is that unique enough?" ) and am promised it will show up tonight (Which it did. Do you tip the bag delivery guy? I didn't. I mean, I didn't lose my bag, why should I have to reward someone for bringing it back to me. Dick move? I can't even tell any more.)  Here's the whole crazy route in one colorful pictograph: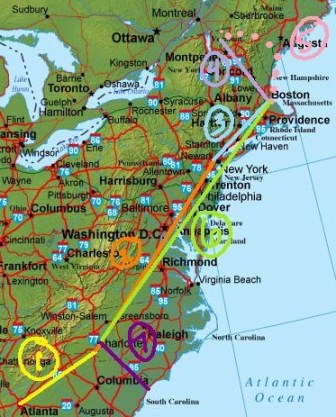 So, that's it. What would have been a 360 mile, 6 hour drive ended up taking two full days of flying and a total of 7 flights and 2,217 miles. But for the rest of this year and all of the next, call me Member. Gold Member.
Categories: September 2010
/