Shopping Cart
Your Cart is Empty
There was an error with PayPal
Click here to try again
Thank you for your business!
You should be receiving an order confirmation from Paypal shortly.
Exit Shopping Cart
Features, Reviews and a Blog by John Sciacca
| | |
| --- | --- |
| Posted on October 5, 2010 at 3:00 PM | |
Back in the glorious, pre-economic meltdown days of the swinging Early-Double-Oughts, you could count on returning from CEDIA with a backpack, NAY! A suitcase filled with swagoliciousness. And being a card carrying (more specifically a card-handing-outing) member of the most power A/V publication going, walking into a booth was much like the local Don coming to pay a visit.
"Oh, Don Sciacca. We thank you for your time and for honoring our humble booth with your presence!"
"Si. You may kiss the ring. And please...take a card."
"Oh, mille grazie! Please, you are too kind."
"Si. It is true what you say of my kindness."
Clap-clap! "Summon the beautiful PR princess, immediately! Tell her that Don Sciacca is here to hear of her news!"
"And while I'm waiting. Perhaps there is something..."
"Oh, of course, Don Sciacca. Please, as a tribute, accept many of these fine trinkets and gifts. If it pleases you, perhaps you will find room for even a single sentence to mention us in your powerful magazine."
"Certo. If it pleases me. Now, bring on the dancing womens!"
In the past I would return with a duffle stuffled full of CEDIA treasures. Flashlights, T-shirts, Blu-rays, DVDs, CDs, coffee mugs, multi-tools, etc. This year. Meh. Not so much. So, here's a rundown on the state of the CI industry economy as measured by the press giveaways.
Crafting the People's Lunch Box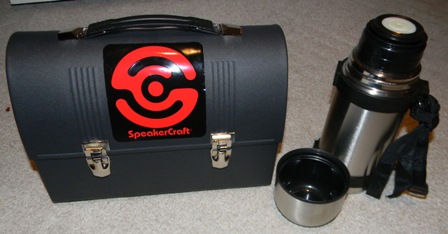 The Craft holds the honor of supplying the BEST EVER CEDIA Press Giveaway in my book. It was a few years ago, and Jeremy starts the press event saying, "Hey! Press! You're gonna wanna stick around til the end of my show. Because I'm gonna reward whoever pre-registered by giving them a 30 Gig Video iPod." And, POW! He did! Engraved with my name and with a personalized video message. So, needless to say, I *always* attend the SpeakerCraft events and *always* pre-register. You might find an AmEx gift card for $25, you might be entertained by nearly naked, Cirque-du-Soleil-esque dancing girls, you just never know. This year we got a frickin' black industrial, Proletariat styled welder's lunch box. Inside was a T-shirt and a pretty sweet thermos, but it still suck-diddily-ucked to have to tote this thing around all day. (Though I did get a moment's entertainment by walking into the Daily room and proudly announcing to Kirsten, "Hey! Look at the lunch box that Jeremy crammed an iPad into! Sweet, huh?" She might have then either threatened to kill herself, me, or both of us in a ritualistic iPad murder-suicide pact if I actually got a free iPad while she was stuck in her black leather Daily command central office chair. Sans Starbucks.)
From Sharp Minds comes…Nothing
Sharp usually throws a pretty good event as well. (They also had one of the cutest PR teams going from Stanton-Crenshaw. Alas, Melissa, Kristen, Ryan and Robin, you have all moved on...) Previously I have scored some completely random, non-industry items like fold-up binoculars, a nice microfiber blanket, a cool leather bound journal. This year, there was...nothing. Well, they did have Crown Royal Black in the well-stocked bar, so that was something. But they didn't look too happy about my suggestion of taking the bottle as "a traveler" so I have to score Sharp for no giveaway.

Round, Shiny, and Full of Free Data

There were years where I would come home with my case crammed with discs. CRAMMED. Multiple titles in multiple formats. Four disc special editions of LOTR. SACDs of Miles Davis. Transformers Blu-ray. And several, now we just look at you through the rose-colored memory lens of nostalgia, HD-DVDs. (I think I have a dozen of 'em still all shrink-wrapped and waiting for that alternate universe to arrive where they suprass Beta as the biggest comeback format ever!) This year I came home with three discs total, and two of them were the same, the new Disney Wow discs in DVD and Blu-ray. And the new THX Calibrator Disc. I was kind of expecting that Sony, Panasonic and Samsung were going to be handing out 3D Blu-rays like they were falling off the trucks and they had somethin' to prove, but they weren't. I didn't want your stupid, headachey 3D Blu-ray anyhow! Whaaa!

I'm Cleaning. I'm Cleaning Again.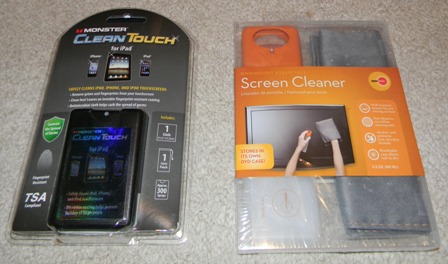 Monster Cable is almost always good for a give out, and they have – finally, all praise to Head Monster! – moved on from their Outlets-to-Go kick and moved onto giving out something different. Of course, that something different isn't a cool set of Beats by Dre headphones but an impossible to open bottle of Monster Clean product. This is specifically formulated and designed for iPhone and iPad use so I'm going to spray it all over Lady Phone and hope that she'll pick up a few new tricks. Omni Mount also handed out a cleaning kit that included this TV clean spray and glove, which will actually come in quite handy for giving the o'le 60-inch Elite dust magnet a wipe down. Omni also handed out a nice spray bottle of hand sanitizer which when I showed to Dana I said, "Wow. This is actually really handy. I mean I can throw it in my backpack, you could keep it in the car, toss it in your purse. I should have really grabbed more of these."
"Uh, ya think?"
My Free Kaleidescape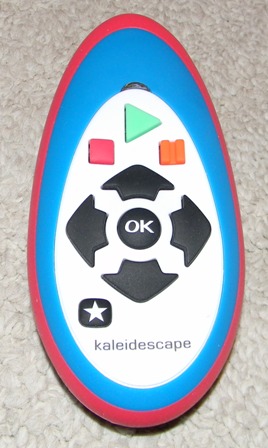 Linus told me to stop by and pick up my free Kid's remote. (For more on this product, read this link.) So I did. So now I *technically* own a Kaleidescape. I told Linus that all I need now is the free 3U server to go with it. He said that then I'd just need to buy some Movie Players. I told him you get me the server and you let me worry about getting the Movie Players.
Thumb Drives on Parade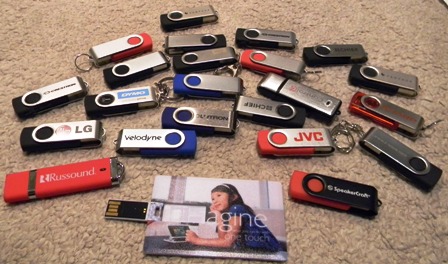 The USB drive is the new preferred delivery of press kits. They're small, they hold a ton of info and they are useful upon completion of the show. I can't tell you how many times I've shuttled a quick file to and fro and whatnot on a previous press drive. This is my stash from the show. Most generous: Crestron with 2 GB. Least generous: Sharp with a 64 Meg. (Really, Sharp? Do they even still make those?) Most "What the?": Philips Pronto with a 4 GB credit card sized thing. Though it is pretty thick so I don't know if I will actually be able to walletize it.
Another for the Collection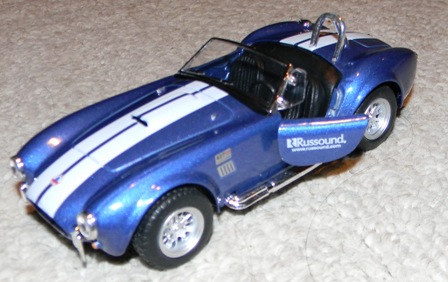 Several years ago Russound started a trend of handing out a little toy car at tradeshows. These have built kind of a cult-like following to the point where the cars are kept hidden in the booth and you must come up and ask for them all let-me-into-the-secret-Rave style. (Big ups to Josephine who let me in on the low-low car getting technique. Also, if you get a chance to attend a Russound dinner, try and sit next to Josephine, you know, if I'm not there. Cause I'm sitting next to her. She will let you share food off her plate, which is especially useful if you can't decide between the steak and seafood, or the chocolate torte and cheesecake. Also, she doesn't like lobster, so, score!)  I used to give these cars out to other kids, but now they are a perfect bring home for Lauryn.  Instead of collecting them with the reverence and passion and store-on-shelfness of most of the other people that grab them, Lauryn drives them around on the floor, fills them with Little Pet Shop guys and plays with them. Until they break. (We have a doorless, hoodless B&W M3 hoping that it will one day be mercifully lost beneath the couch.)
MacGruber Lite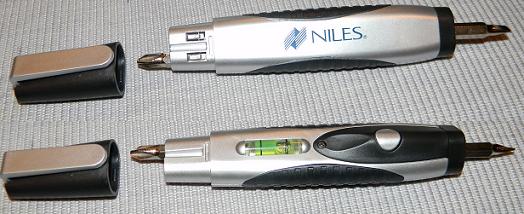 Installers love hand tools. Mini screwdrivers, interchangeable drive heads, flashlights, cutters, we just can't seem to get enough of these contraptions. And if there is something we love even more than hand tools, it is a MULTI tool that combines several of these features into one! Then add on a snazzy pocket clip for us to wear it in out button-down breast pocket and, well, brother, you have got yourself a tool that is going to make for one very happy CEDIA crowd! Niles wins best tool giveaway at the show, with a 4-head, leveling, tool with built-in LED flash light for low-light screwdrivering. This also managed to elicit an, "Oh. Guess you didn't think to grab more of these either, huh?" from Dana. (There's a delicate poignancy to her comments, don't you think?) Actually, this only appears like I have two of them. Sadly, I have one. You're just being fooled by my mad-awesome photo editing skillz in MS Paint.

CEDIA What the?! #1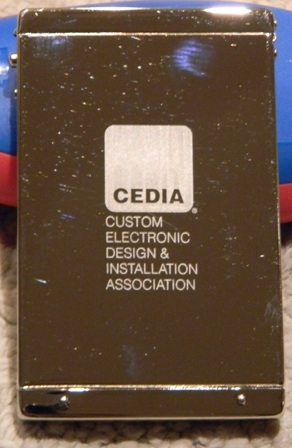 The CEDIA press room usually contains a table lined with little welcome gifteys. In the past I ransacked several (OK, perhaps "multiple" or "numerous" or "backpack full" would be better adjective choices) really nice aluminum covered notebooks and pen sets. These are great for their intended purpose (taking I'm-not-a-journalist notes during the show) but even better for Lauryn to practice her drawings. (See a previous notebook drawing here.) This year there was this.
What is it? A flask? No, doesn't look liquid-tight and this would hold just enough of the "What's that? You want me to drink you? Now?! But can't you see that I'm in a press event!" smooth-brown liquor to get you thinking about MORE smooth-brown liquor. A cigarette holder? An odd gift as well. Some kind of electronic doo-dad? I overheard several people wondering if it were a camera or MP3 player. But, press the discrete button and pop open the switchblade styled top hinge and voila! A super shiny, chrome, overly complicated to open, business card holder! I opted for the far less shiny, but more faster on-the-draw option of just keeping cards in my pocket. Then started thinking about how awesome a CEDIA flask actually would have been.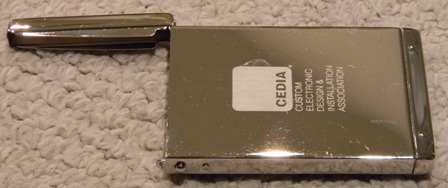 CEDIA What the?! #2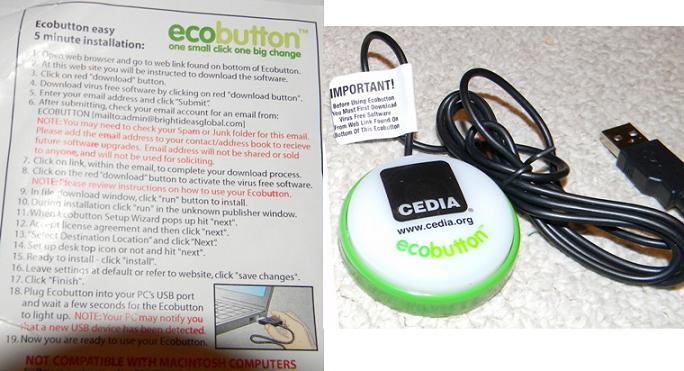 And the award for the lamest Expo giveaway goes to...ecobutton! This is supposed to be a "Green" button that makes it easier to turn off your computer. And by "easier" they mean following the "easy 5 minute" 19 step installation instructions, sharing your e-mail address, registering and then downloading the "VIRUS FREE!" software onto your computer. (And, like those "Fax here to be removed from our spam fax list!" numbers, when something is telling me how virus free it is, that's when I start worrying exactly how bad the virus is actually going to be.) And then instead of pressing Start and Turn off Computer, you press this button. Of course, this button would also make it WAY easier to accidentally turn off your computer in the midst of something, pre-save of course, eliciting screams of just how great ecobutton green living really is. Or, far more likely, giving Lauryn a much easier option to grabbing the mouse, moving the pointer to the upper right hand corner with uncanny quickness and "pressing the red X" when she strolls over and says, "Daddy, let's go play. Turn off the computer."
Categories: October 2010, CES/CEDIA
/